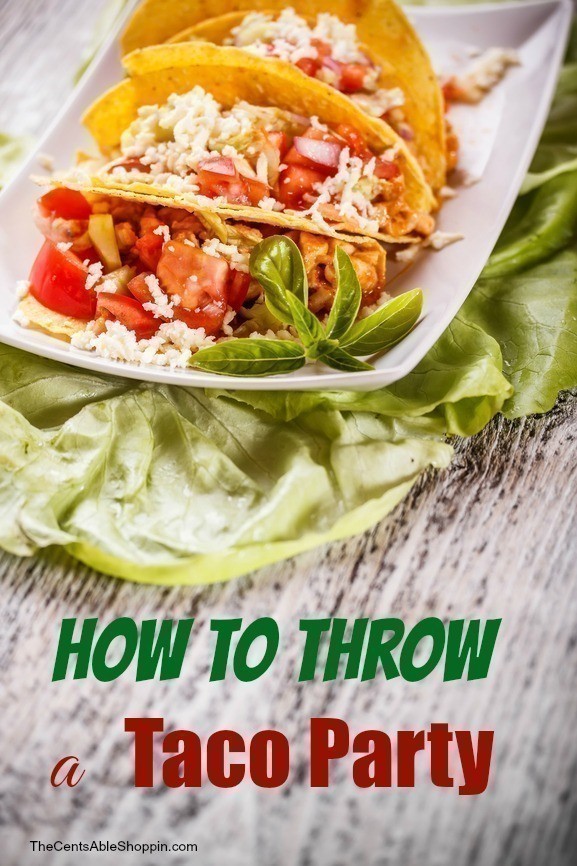 You want to spend some time with friends or family and wrap up 2014 in a fun yet frugal way? Don't want to resort to $5 pizza pizza?
We suggest throwing a Taco Party – not only is it easy to put together, it won't break the bank and you don't have to be Rachael Ray to pull it off.
From Tacos to Topping, and everything in between, here are our tips for hosting one for less.
Choosing the Right Taco Shells. Do you want Hard or Soft? Hard Shells are easier to have out and heat up, soft corn tortillas can get cold and flakey fast. You can pick up a great deal on taco shells everywhere from Walmart to the 99 cent store or you can try to make your own. I love to make my own, especially when there are amazing deals on corn tortillas like this one at Safeway you could easily make 30 for 87 cents!
Here is a great step by step on how to make your own Taco Shells.
OR, use a muffin tin to make some great homemade tostada shells and hang on to that pan because you are going to use it later on too!
Do you want Meat or Chicken (or maybe both?) Depending on your budget and amount of guest as well as you knowing what your family and friends prefer you can cook up ground beef, shredded beef or chicken to serve as the meat filling. Turkey or Soy are also options.
What kind of Taco Seasoning (will you make it or buy it?) Here is a quick and easy one HERE. Or pick up cheap packets at the store – you can find them at Target and Walmart, even Fry's for $.75 or less.
Have better things to do then stay in the kitchen all day long? Try this amazing Slow Cooker Chicken and Black Bean Taco Filling recipe to whip up the meat for your tacos … the crock pot will help you stay out of the kitchen so you can get other things done at home (like picking up your house for those arriving!)
Easy Low-Cost Condiments. Depending on how you like your tacos you can use muffin pans to set out the toppings! Choose from sour cream, cheese, onion, tomatoes, different kinds of peppers, cilantro & more. Go as conservative or as fun as you want to. We get great prices on fresh produce weekly using our Weekly Price List so make sure to buy what is on sale.
You can also use another muffin pan to set out salsa or salsas, everyone loves a good spicy red salsa or a pico de gallo. It is so easy to make. You can even doctor a canned one. My favorite is Herdez Salsa Casera, I take sea salt, a fresh serrano pepper, maybe some fresh tomato and pan fry it in a little olive oil. I mix in the can of salsa casera and BAM! Almost homemade! OR, try this EASY Pico de Gallo recipe.
Throwing a taco party might just be a better alternative to pizza, or even going out to eat – these tips would also work super for birthdays too!