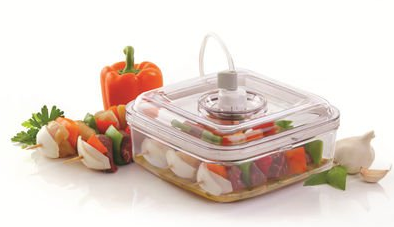 FoodSaver has the 2.25 qt FoodSaver Marinator for just $8.99 with code SAVE10 plus it ships free.
FoodSaver Quick Marinator is a 2.25 quart canister that vacuum marinates meat, fish, vegetables and more in minutes and can also be used for convenient storage.
Designed for use with FoodSaver vacuum sealing systems, the Quick Marinator infuses food with flavor – in minutes instead of hours – using vacuum power to penetrate marinades deep into the food. BPA-free.