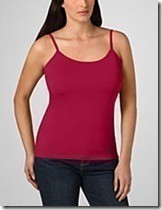 I was experimenting today…. (haha!) and as much as I hate to spend money, I need tank tops.
A few days ago I let you know that Fashion Bug has 40% off tanks, shorts & capri's this week – so I went to work. 
They have Camisole tanks starting at $7.79 ea… after the 40% off.
Even better, use code TRY300603FB for 30% additional savings…lending way to camisoles for just $5.45 with FREE store pick up at any Lane Bryant, or Fashion Bug near you – for me it's the Superstition mall.