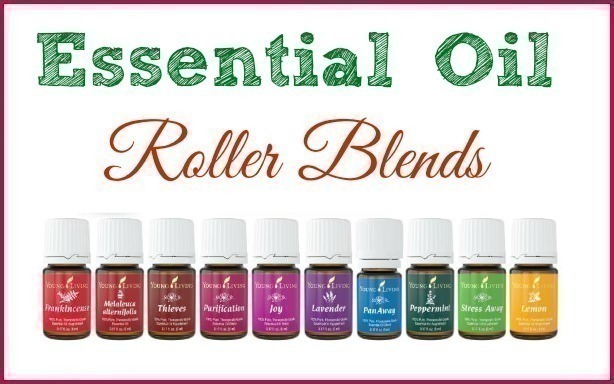 We had a Twitter Party this week where we discussed how we use Essential Oils, and many had questions on using them in Roller Balls for immune support & more.
If you use Essential Oils, (or, even if you don't)…you may have, at one point, seen Roller Balls. We have 5 right now that we keep within arm's reach – most of the time they can be found in my purse, or near the bedside since we use some before bed on the kids. Sometimes you'll find my boys putting oil from the roller on their OWN feet.
Therapeutic Essential Oils can be taken internally, applied topically or diffused aromatically – all 3 provide a tremendous benefit for your health. If you prefer to apply topically, you can use Roller Balls to do so instead of dropping oil and carrier liquid in your hand.
You can pick up a set of 6 Roller Balls on Amazon – you want to get dark colored glass.
Here are 6 DIFFERENT Roller Ball Recipes… You'll want to add your Essential Oil to your Roller Ball Bottle, then top off with a your carrier oil (I use Grapeseed but you can also use Fractionated Coconut Oil).
Blemishes
10 Drops each Tea Tree Oil & Lavender, 5 Drops Rosemary & 3 Drops Lemon
Seasonal Relief (Sneezing!)
10 Drops each Lemon, Lavender and Peppermint (apply this behind the ear lobes, your temples, and your neck)
Head Pain
5 Drops Lemon and Frankincense, 2 Drops Peppermint
Itch Stick
3 Drops Peppermint, Lavender & Purification
Relief of the Ears
7 Drops Melrose, Purification and Lavender, 5 Drops Thyme, 3 Drops Panaway
(Apply every hour, until 1-2 days past pain)
Healing Stick (Bug Bites, etc.)
10 Drops Lavender, Frankincense, and Melaleuca Essential Oil and Witch Hazel
MOST of those listed above come in the Young Living Essential Oil starter kit – see my last post for more.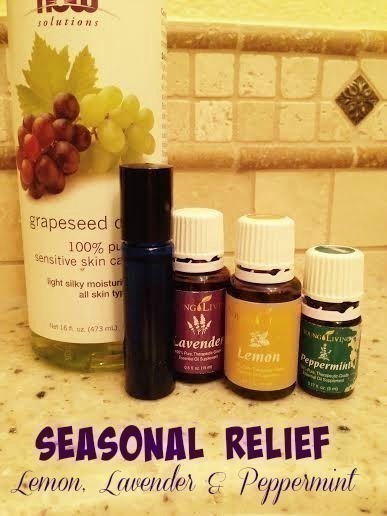 For those of you who suffer from the seasonal changes we have in Arizona, this one is great – Add 10 drops of each Lemon, Lavender & Peppermint to a Roller Bottle, then top off with your carrier oil (see above for Grapeseed Oil). Carry it with you as often as possible. (I have one in my office, and another in my purse!)
When I make these roller balls, I use Young Living Essential Oils – for me they are the BEST option because they are Therapeutic Grade and have a Seed to Seal Guarantee. I have been using Young Living Essential Oils for over a year in our home with fantastic results.
And right now you can score the Young Living Premium Starter Kit (which includes 11 bottles of Essential Oil pictured far above AND a Diffuser!) along with a $20 Amazon Gift Card AND a 400 page Quick Ref. Guide ALL for $150 – a great offer if you have been wanting to try Essential Oils.
Disclaimer: These statements have not been evaluated by the Food and Drug Administration (FDA). These products are not intended to diagnose, treat, cure, or prevent any disease.