These Instant Pot Baked Beans are a little bit of sweet and a little bit of smoky! They are easy to make, and perfect for the next summer BBQ!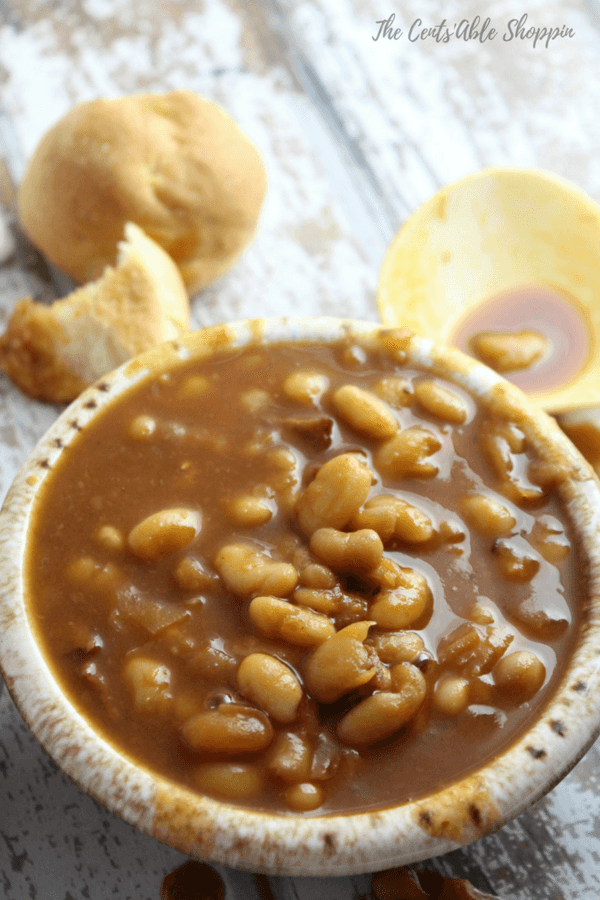 Do you love baked beans? We do too! They are amazingly easy to make, and one of my kids favorite foods.
Baked beans are super popular in the summer with get togethers and picnics. They are also just as popular at our fellowship group at church. Someone always, always has baked beans!
Thankfully.. they are super easy to make in the Instant Pot. If you don't have an Instant Pot, I would invest in one – it'll make your life so much easier!
Sure, you can make baked beans from canned beans. But one of the best reasons to make your own from scratch is to avoid high fructose corn syrup – right?
Instant Pot Baked Beans
We started with dry beans, and instead of doing an overnight soak, we did a quick soak of the beans in the Instant Pot. A quick soak is super easy. Dump one pound of dry, rinsed beans in the Instant Pot with 2 quarts of water and place on manual (high pressure) for 5 minutes.
Once done, allow the pressure to release naturally and then drain.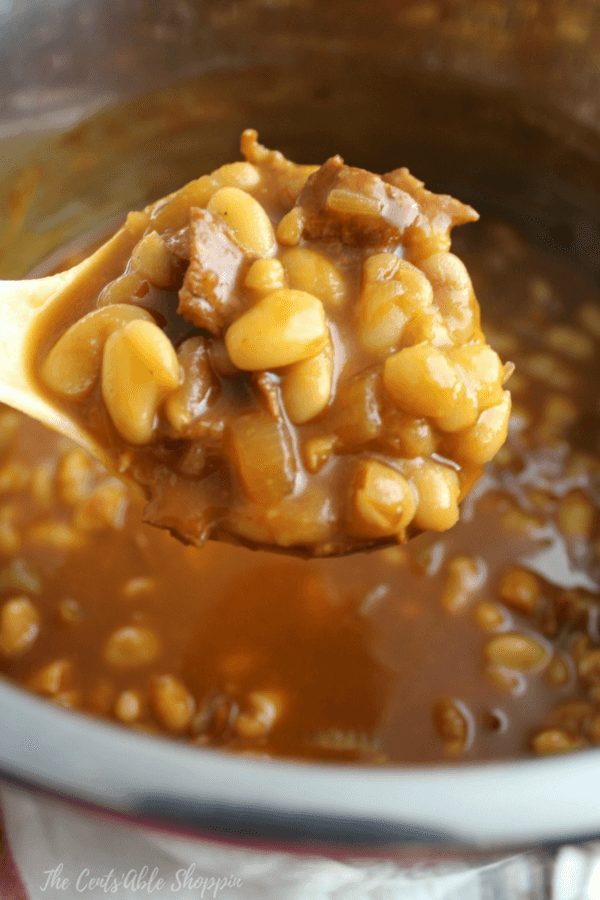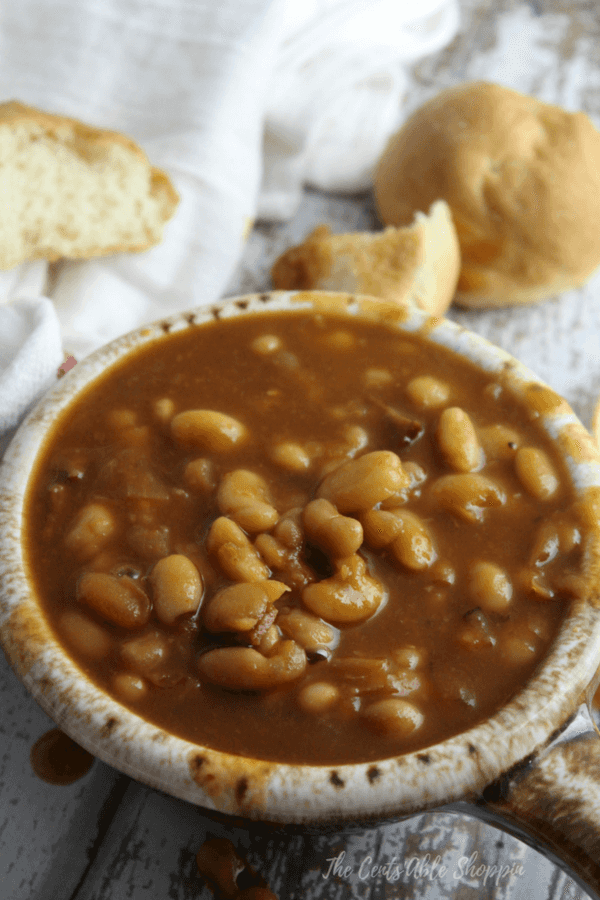 We had to run the kids to church group so I used the quick soak method right before I left. When I got back they were ready to cook into beans. At that point, I threw the rest of the ingredients in and pushed the button. By the time I picked them up from church group the beans were done.
Ready to eat.
And inhaled.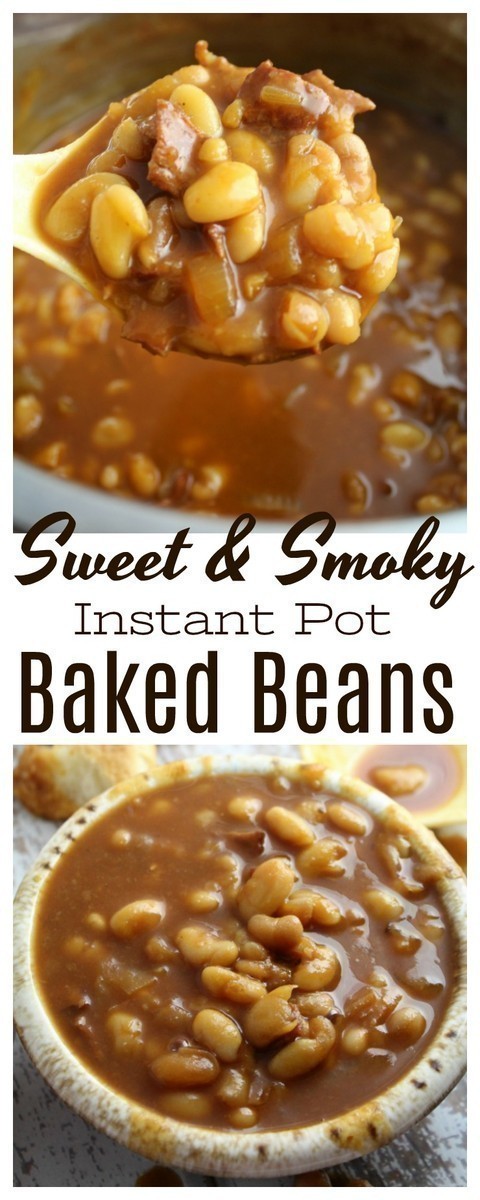 They really are pretty incredible and very forgiving. If you want them a little sweeter, then increase the brown sugar.
If you love more of a smoky flavor, add more bacon or a tiny bit more liquid smoke. Or, if pork isn't your thing, then sub out turkey bacon (we have and it tastes just as incredible).
Homemade baked beans from scratch in a thick, sweet and sticky sauce, perfect for all of your favorite get togethers or summer cookouts!
Ingredients
Quick Soak:

1 lb great northern beans, dry
2 quarts water

Baked Beans:

10 slices of bacon, cut into 1/2 inch pieces
1 onion, chopped
1/4 C. molasses
1/2 - 3/4 C. brown sugar (your preference)
1/2 can (3 oz) tomato paste
1 tsp dry mustard
1 tsp salt
1/4 tsp black pepper
optional: 1/2 tsp liquid smoke
Instructions
Quick soak the beans by rinsing the dry beans in a colander and adding to a clean Instant Pot. Add 2 quarts of water, place the lid on the Instant Pot and set the pot to manual (high pressure) for 5 minutes. When done, allow the pressure to release naturally, and then drain the beans discarding the water - set aside.
In a clean Instant Pot, add the bacon and select saute. Cook until crisp - 4 to 5 minutes. Remove to a plate you have lined with paper towels. Then add the onions to the bacon drippings in the pot and cook until clear, an additional 4-5 minutes. Remove the onions from the pot and combine with the bacon in a bowl off to the side.
Without washing the Instant Pot, pour the beans inside and add the molasses, brown sugar, tomato paste, dry mustard and 3 1/2 - 4C water. Give it a stir. Place the top on the Instant Pot and set the timer for 30 minutes at high pressure. When the pot beeps done, allow the pressure to release naturally.
Check the beans at this time - do you think you need more time? If you think you do, give it another 10 minutes in the pressure cooker (which is unlikely you'll have to). Stir in the bacon, onions, salt, and optional liquid smoke and then give it a stir. The sauce will thicken upon standing.
https://www.thecentsableshoppin.com/easy-instant-pot-baked-beans/
Looking for more Instant Pot recipes? If so, you are in luck! Check out over 100 Instant Pot Recipes from several varieties of tamales to yogurt, chicken paprikash, orange chicken, beef and potatoes au gratin and more.