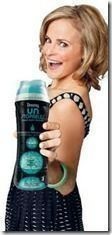 Reader Susan emailed me today.. in excitement of a new profound use for Unstopables. I know that many of you love Unstopables… and use it in your laundry but she found a NEATER way to use them.
Dump a quarter capful of Unstopables in a bowl. Being very careful, add hot water, and stir until dissolved.  Now take an empty windex bottle, and pour the dissolved solution into the Windex bottle and top off with cold water for the remainder of the space left.
Not only does it smell good in laundry, she uses is much similar to that of Febreze Air Effects: On her sofa & bed linens. Two days later, she said her house still smells like Unstopables…..
This might be a thing to consider if you love to experiment & try new things.
Thanks Susan for sharing!
Related Posts: