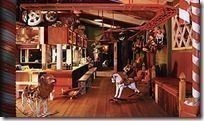 Deal Chicken has a great offer today for a place we havent talked about much – The North Pole Experience in Greer, AZ.
For just $26.00 you can get a ticket for ages 18 mo. & up (regular price is $55) – you are saving 53%. 
The ticket is only valid on certain dates: Nov. 18, 27 and Dec. 1, 4, 8, 15, 18, 19, 26-27.   Folks this is a VERY limited opportunity – you must book online and I have a feeling this offer won't last all day.