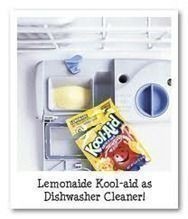 Something that I always keep in my house are packets of lemon Kool-Aid. They're relatively inexpensive – when in a pinch, and out of milk, my kids will drink it.
It also functions as a dishwasher cleaner. Now I don't use my dishwasher at all – in fact, I despise using that thing because I feel like it does a lousy job… but that could very well be my dishwasher.
Lately, my dishwasher hasn't worked anyways… it's brand new, and I tried a load last week only to smell smoke.. I quickly shut it and haven't opened it since.
Lemon Kool-Aid, on it's own, works better than any other commercial dishwasher cleaner you'll ever buy.
Pour it in the tray of the dishwasher and run an empty cycle.  A cheap packet of Kool Aid has citric acid ~ the citric acid cleans lime deposits & iron stains – in fact, it's the only flavor that works (so don't buy anything else, stick with lemon).
Related Posts: