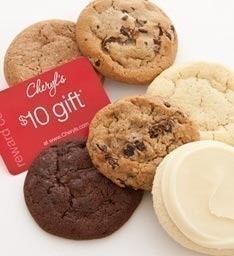 Have you ever had Cheryl's Cookies? I have.. once, and oh my – so SO good!  I love Cheryl's because she offers FREE shipping to APO and FPO address, which (to me) is super. Anyone who offers that is amazing in my eyes.
Cheryl's is offering 6 FREE Cookies for $6.99 Shipping – even better, as a bonus, you'll get a $10 gift card good on your next order.
This would make a great gift for someone – maybe even a pick me up – it comes with 6 of their most popular flavors: chocolate chip, oatmeal raisin, sugar, snickerdoodle, chocolate chocolate chip and YUMMERS – their FAMOUS buttercream frosted cookie.