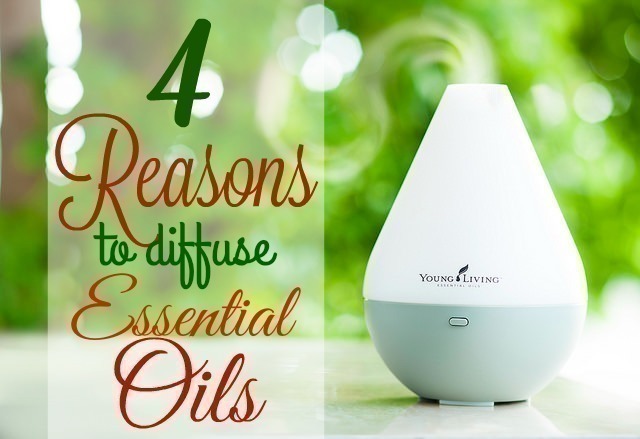 One of the BEST & EASIEST ways to enjoy Essential Oils is through diffusing – and when you say "Diffuse", most people assume that just means making the air smell great.
And while that is true…. there are many OTHER reasons to diffuse, too. We use Essential Oils daily around our home, in the car, and even at work in our office, and while we use them a variety of ways (topically, internally) we use them the MOST by way of many, many diffusers.
We have eight diffusers amongst the rooms in our home – they play a huge part in the health and wellness of our family.
Believe it or not, there are several reasons for diffusing Essential Oils.
Diffusing Essential Oils means that you are allowing those molecules in the air, in a specific way that allows you to breathe them in and thus, allows your body to take advantage of the benefits.
To properly diffuse, you will need a really good quality diffuser – I have eight, (crazy right? EIGHT? Everyone that comes over thinks I'm over the top but .. that's ok with me).
A GOOD diffuser is not cheap – I guess in a way you can consider it an investment in your home and health.
#1 Essential Oils can Benefit Everyone at ONE Time
Of all the reasons to diffuse, this one is my favorite – when I put on my diffusers, no matter what room of the house, they benefit everyone that is there at the time. They are in the air, so everyone who is present can breathe in, and breathe out – too easy.
#2 Freshen your Household Air
I have diffused my oils in the car on a cross country road trip. My diffusers go with me when we go out of town so I can have them in my hotel room, and I have a diffuser that plugs into the USB port on my computer to help me focus while I work.
I also diffuse them by wearing a bracelet on my arm – so no matter where I am, I can freshen the environment and reap the benefits. They always, always travel with me.
#3 Support your Health
The benefits of diffusing are HUGE – not only will Essential Oils improve your mood, they will support your immune, respiratory system, and help reduce stresses of everyday life – work, relationships (sometimes even kids)…
#4 Cleanse the Air in Which you Breathe
Diffusing helps remove toxins from the air – depending on where you are, that might be a small few, or many in number — increases ozone and negative ions (which is explained HERE):
Increases atmospheric oxygen
Destroys odors from mold, cigarettes and more
Removes metallic particles and toxins from the air
Negative ions stimulate your nervous system – which in turn controls your sleep, digestiona nd relaxation. If you are in an area with a lot of electronic devices (positive ions), then you can diffuse a negatively ionizing oil to balance your air (some good ones are Bergamot, Cedarwood, Grapefruit and even lavender). This might be why I'm so attracted to Grapefruit during the day – because I'm constantly surrounded by a laptop or computer.
Likewise, if you live in an area near the ocean OR, in the country, you are surrounded by positive ions – so you'll need negative ions to balance out your air — some good ones are Rosemary, Ylang Ylang, Pine, and even Cypress.
Of our 8 diffusers, 2 of them run ALL night – that's 8 hours. It's really great especially when the kids need that immune support at this time of the year. We co- sleep … and we keep the 8-hour diffusers on all night, with Cedarwood and Lavender, and it helps us ALL unwind at night.
We put together 9 diffuser recipes for this fall that you can try in yours too .. if you don't have a diffuser, a cold-air diffuser is best to pick up. It allows you to enjoy the therapeutic benefits of your oils that you are diffusing, and the properties of the oil aren't broken down by the heat.
I'm confident using oils from Young Living ~ you can read more about that by heading HERE. We would LOVE to know what combinations you like for this time of the year… so comment, so we can try them too!