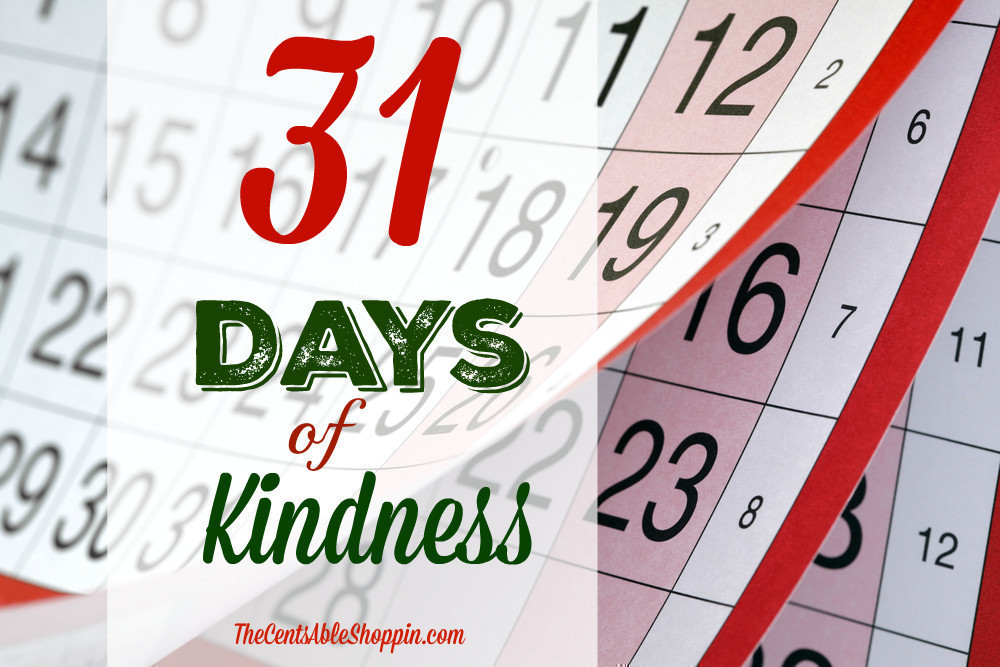 We are in the Holiday Season – and I have seen some great Random Acts of Kindness in the days following Thanksgiving – it's so nice to witness things in action – unfortunately it doesn't happen enough!
Although it shouldn't take the Holiday Season to propel people to do these acts, usually the holiday season brings out a different side of people ~ they feel like sharing with others.
We're hoping to inspire YOU to do the same this year ~ if everyone took part in a small Random Act of Kindness daily, imagine the impact that could potentially have on a larger scale?
We created 31 Days of Random Acts of Kindness – to inspire you to do ONE thing each day to bless others ~
31 Days of Random Acts of Kindness
Day 1: Bring fresh baked cookies or a store bought treat to your school's office.
Day 2: Stop by and say thank you to the kids crossing guard even if your child doesn't walk. go the extra mile and bring him/her hot cocoa.
Day 3: Leave a thank you note for your postman, especially for their hard work for the upcoming busy season.
Day 4: Go to the police station and drop off a platter of cookies.
Day 5: Call a family member and thank them for their support during the year, even better send them a card or an email..Short on time? Then send them a message on Facebook but make sure its tangible
Day 6: Write cute cards for each of your kids and post them off at the Post Office. Include a homemade coupon in each for time with you.
Day 7: Stop by the fire department and bring this Braided Cinnamon Raisin Bread (it's SO easy!)
Day 8: Buy something for the person in line behind you. Somewhere. Whether it be at Fry's, Starbucks or wherever.
Day 9: Pack a box for Operation Gratitude to go to a Service Member. Include your children and ensure they write cards.
Day 10: If you call any place, whether its APS, SRP or ANY Customer Service (Water Company, Gas Company, Dentist.. etc.) make sure to leave positive feedback — a lot of times agents get recognition (Non-Monetary) — but still makes their day.
Day 11: Cook an extra portion of dinner and bring to a friend who would appreciate the meal.
Day 12: Stop on that corner where you see a homeless person and give them a homemade sandwich or a $1 burger, or a coffee…it's cold out there. Or make a blessing bag to pass along to them.
Day 13: Does your child have too many toys? Ask relatives to donate books or toys in their name to the local children's hospital in lieu of gifts.
Day 14: Grab a bouquet of flowers or a nice potted plant and take to the nurses station at the hospital – even the maternity ward.
Day 15: Write letters to the troops through Operation Gratitude. Sometimes that is the most meaningful mail they will receive.
Day 16: Do you and your friends knit? Donate scarves to a homeless shelter.
Day 17: Do something special for your spouse – whether it be a bouquet on the way home, making him or her pancakes for breakfast – or even showing up at lunch with a sandwich and a drink for them.
Day 18: If you print coupons to use at the grocery store, print a few extra – help another shopper or two get the same deal you are going for.
Day 19: Buy a Christmas Gift to donate to the Angel Tree this year – if you can afford to, pick up several – one from each child.
Day 20: Bake something and walk it over to your neighbors house – even if you haven't ever met.
Day 21: Buy several 3 pks of gloves at the 99 Only store and take to the homeless shelter.
Day 22: Buy a few inexpensive dog toys at the 99 Only store and give to people walking their dog — either at the local park, or on the street near your house.
Day 23: Drop off a few Kleenex Boxes, Rolls of Paper Towels or a few Reams of Paper with your child's teacher.
Day 24: Drop off old magazines to a retirement home or volunteer to read for them if needed.
Day 25: Stop by a convenience store and bring a plate of cookies for the cashier who is working — if this is the month of December, this will be a NICE show of holiday kindness.
Day 26: Put $1 – $2 in an envelope (with a window!) and write on the outside "Here's $2 – buy yourself a coffee – have a great day!" – – and put it under someone's windshield in the parking lot.
Day 27: Have to go back to work? If you have a vending machine at work, tape $1 in quarters in an envelope to the machine as a RAOK "Here's $1 for a snack – hope you have a wonderful day!".
Day 28: Pick up a few Large Hershey's Candy bars, and attach a note – leave for the UPS and FedEx Man when they drop off at your home.
Day 29: Drop off any extra toothbrushes, toothpaste, and personal care items to the Homeless Shelter OR, Women's Shelter.
Day 30: Buy a pack of Diapers and drop off at the hospital maternity ward for a new mom or dad.
Day 31: Grab a bag or two of pet treats or snag a pet deal & drop it off at an animal shelter.