These teenage mutant ninja turtle salt dough ornaments are super cute and fun for kids of all ages — as a craft or even a birthday activity!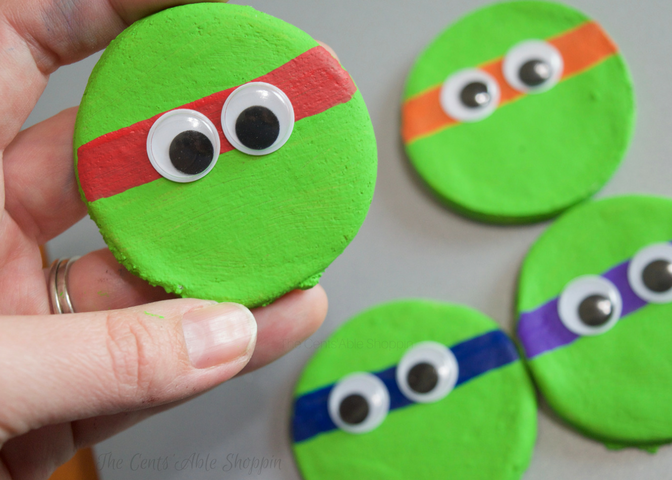 It has been thirty years since Teenage Mutant Ninja Turtles first made their debut — I remember, as a kid, my brothers both being glued to TMNT on television and it's funny to see my own kids get excited all these years later. I did happen to tell my boys that TMNT were around when we were kids and they had the audacity to say "Really? I didn't know they were that old!!"
Good heavens, do I really look like I'm 40? I certainly don't feel a day over 25!
In any case, this project is certainly a fun one for kids – no matter the age. Integrate this craft for a birthday party or an
activity
to keep the kids busy for an afternoon. It would even be perfect to give out as party favors – Cowabunga, dude!
Teenage Mutant Ninja Turtle Salt Dough Ornaments
This fun idea starts with a basic salt dough recipe. You can actually use this salt dough recipe as the base for any type of token craft; the key to making this one "TMNT" themed is the paint and design.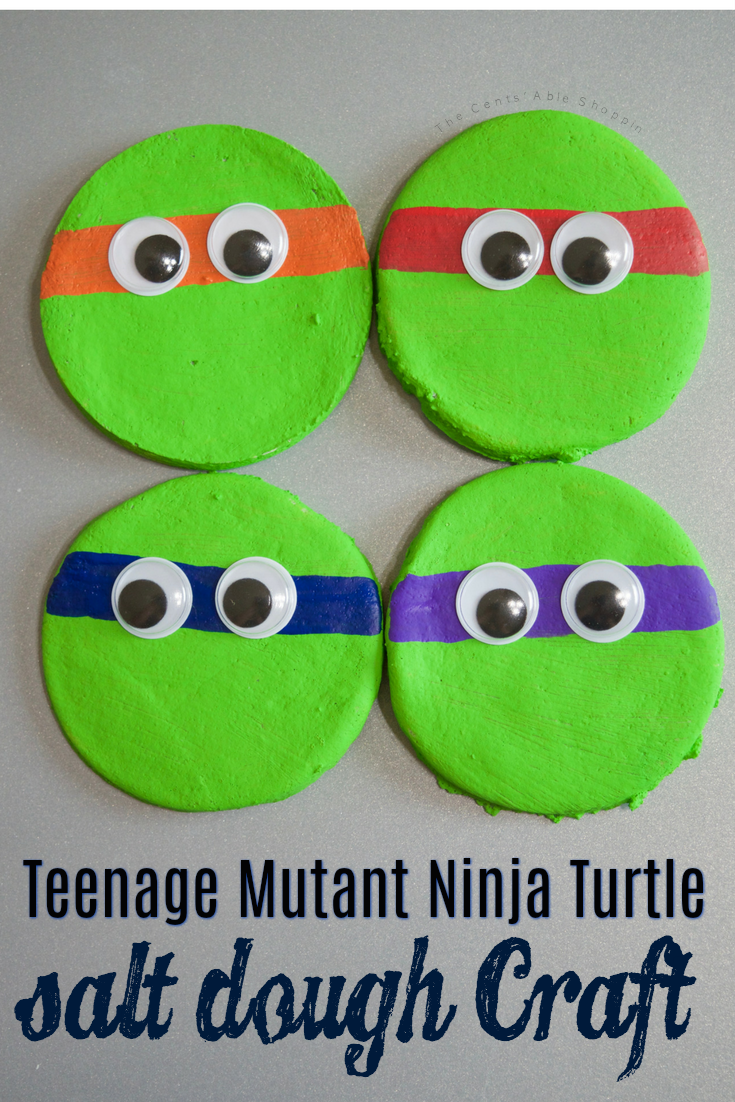 Below you'll find the simple salt dough recipe that we used along with a few tips to make your TMNT turtle tokens a big hit!
Salt Dough Recipe Ingredients:
1 cup table salt
2 cups all purpose flour
1 cup water
Salt Dough Directions:
1. Mix the salt and flour together well.
2. Add water to your dry mix and stir well with a fork.
3. Continue mixing, then kneading, until you achieve a consistent dough ball. Add flour as needed if the dough is too sticky.
4. Using a rolling pin (or the palm of your hands if you don't have a rolling pin) flatten out the dough. Using a circle cookie cutter (or mason jar lid) press circles into the dough. Remove excess dough and continue flattening and pressing out circles until dough is gone.
5. Bake your salt dough circles in the oven at 200*F for two hours. Don't forget to use a toothpick and create a small hole at the top if you are creating an ornament or want to thread string through it.
Craft Materials Needed:
paint
paintbrush
googly eyes
glue
Once the salt dough circles have baked and cooled you're ready to paint! I recommend using acrylic paint for the best color but if you are working with smaller children you may want markers or washable paint.
Making your ornaments
However you choose, begin by painting the circle "token" all green. Once dried you can paint a colored strip on for the turtle's mask. (You could also glue on strip of felt if desired.)
Finally, glue on a pair of googly eyes! You're done!
If you are making these at a birthday party, tuck them into some miniature plastic bags with a twist tie so that the kids can take them home to show their parents.