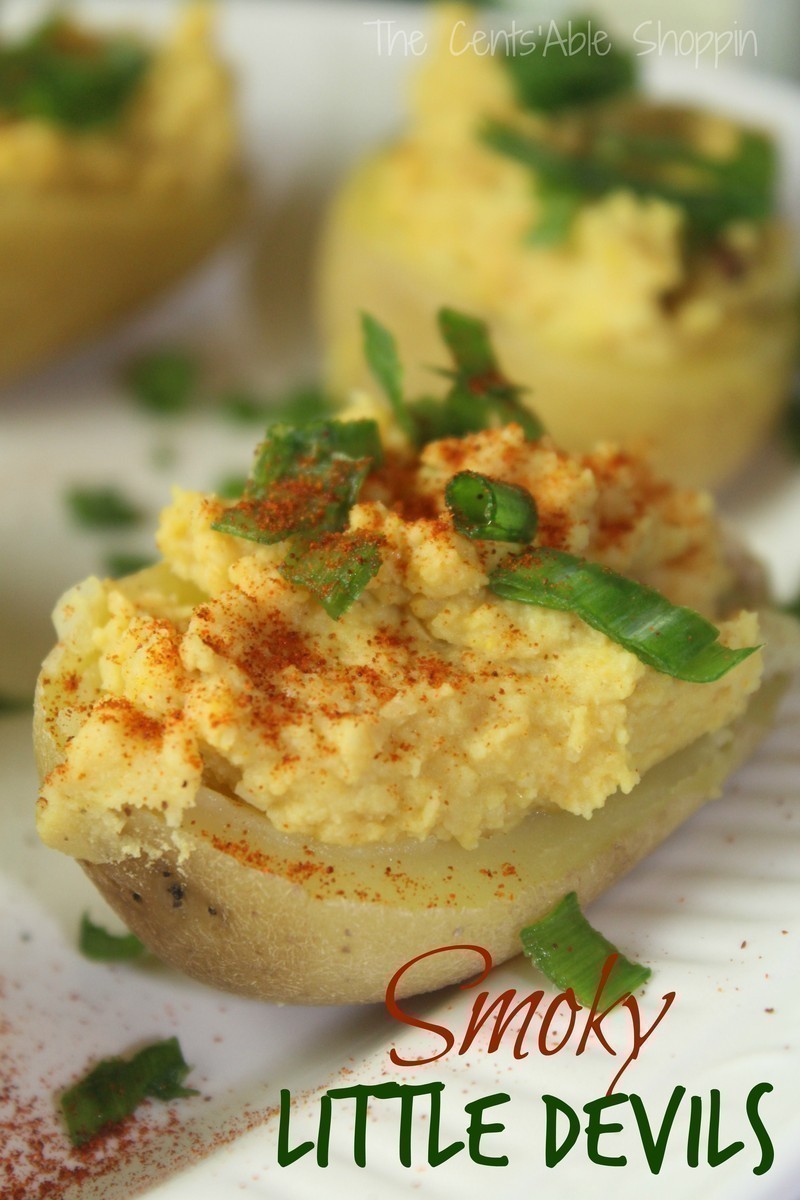 We had a ton of tiny little potatoes in our CSA bag this past week ~ and with Resurrection Sunday, we were looking for a way to use them, and make something fabulous for everyone in the family… and these Smoky Little Devils were PERFECT for that.
These were a HIT :)

The best part about them is that they are relatively inexpensive to make and very filling ~ they travel well and with the Instant Pot they are a breeze to make! Potatoes only take minutes in the Instant Pot, giving you enough time to whip together the hummus as they cook.
You can use Red Potatoes too – the smaller the better! Our potatoes were SMALL and so they were perfect to put this together.
Smoky Little Devils
2016-03-28 02:18:41
Hummus
1 can of 15 oz No Salt Chickpeas (Drained & Rinsed)
2 large Cloves Garlic
2 Tbsp fresh Lemon Juice
1 1/2 Tbsp Spicy Brown Mustard
Ground Pepper, Salt (to taste)
5 Green Onions
Additional 1 1/2 - 2 Tbsp Lemon Juice (to taste)
Ground Turmeric
For the Devils
8 small, Potatoes
Smoked Paprika (for garnish)
Hummus
Instructions
In the Instant Pot, place the trivet with 1 c. water.
Place the potatoes on the trivet and push manual for 8 minutes.
While they are cooking, in the blender, add the Chickpeas, Garlic, & Lemon Juice.
Add black pepper, additional Lemon Juice, and Turmeric to taste - set aside.
Remove the potatoes from the Instant Pot after releasing the steam.
Cut the potatoes into halves, and use a melon baller to scoop out a hole in the center.
Fill that hole with the Hummus, and garnish with Smoked Paprika and Green Onions.
Adapted from Forks Over Knives
The CentsAble Shoppin https://www.thecentsableshoppin.com/
Checkout more recent Instant Pot Recipes… see 10 Reasons why we invested in an Instant Pot, and find the BEST Instant Pot Accessories to have for Instant Pot Owners!