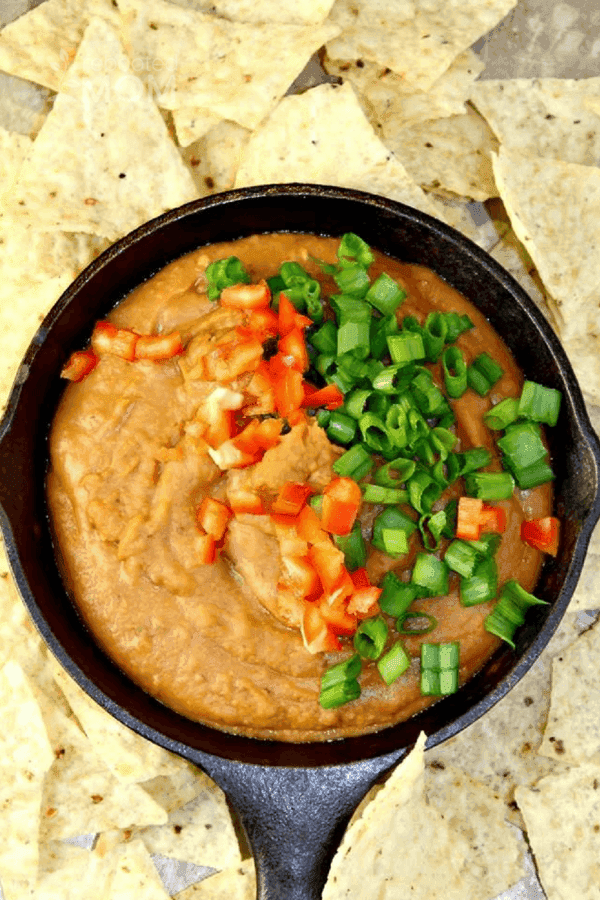 I'll tell you a secret – I cave for some really GOOD bean dip. I love the stuff. If you are in Arizona, you have probably heard of Serrano's Mexican Restaurant – it's been years since we have been there… but I think I might like their bean dip more than anything else on the menu.
Just give me a plate of chips with some bean dip and I'll be sure not to leave. Ever.
For a long time, I was making bean dip in my crock pot – but for the last year I have had an Instant Pot and let me tell you something: GAME CHANGER.
If you have been on the fence, DO IT. You will thank yourself later. This thing is amazing – it does it all .. and more. Making beans in this Instant Pot is a breeze.
You can use Pinto beans to make this dip but we prefer Peruano beans. Peruano beans (also known as Peruvian, Mexican Yellow Beans or Canary Beans) are lighter in color and come out with a smoother, creamier taste.
While you can get dry pinto beans at almost any grocery store, you might want to check your local latin market for peruano beans.
Smoky Chipotle Bean Dip
2017-01-07 07:51:56
This Smoky Chipotle Bean Dip combines peruano beans with liquid smoke, chipotle peppers and seasonings that's great served alongside tortilla chips.
Ingredients
1 C. dry pinto or peruano beans, available at your local latin food store
5 C. water
2 chipotle peppers in adobo sauce + 2 Tbsp sauce
3 cloves garlic, peeled
1/2 C. medium salsa
1 tsp liquid smoke
1/2 tsp cumin
1 tsp salt + more to taste
1/4 tsp black pepper
Optional: diced red pepper and/or green onion
Instructions
Sort and rinse your beans, then pour them into the Instant Pot.
Add 5 C. water + your chipotle peppers & sauce, as well as the garlic.
Place the lid on the Instant Pot, close the valve and set the timer for 43 minutes on manual (high) pressure.
Once the pot is done and it beeps, allow the pressure to release naturally for 10 minutes, then do a quick release.
You should have only a little water left in the pot that wasn't soaked up from the beans - pour the beans and all but 1/2 C. of the water in the blender. Blend well, adding the reserved 1/2 C. water little by little as needed. You don't want them too thick, but you won't want them to be runny either.
Add the salsa, liquid smoke, cumin, salt and pepper and continue to blend until mixed.
Pour into a serving bowl and serve alongside pita chips or regular chips.
Garnish with green onion and diced red pepper if desired.
Notes
Refrigerate leftovers for up to 72 hours.
The CentsAble Shoppin https://www.thecentsableshoppin.com/