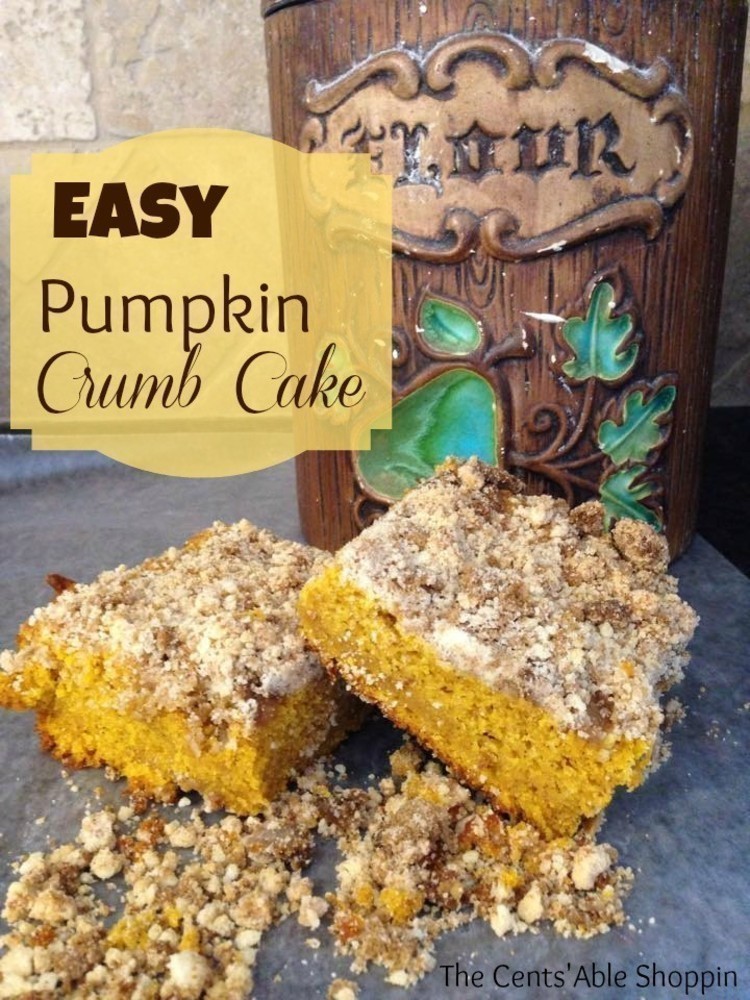 Last week I let you know that Kroger canned Pumpkin is just $1 at Fry's – I actually picked up ten cans, and am gearing up to use every single one in the next 2 weeks.
We love Pumpkin…… we made this one last night and it was nothing short of amazing. The cake is really dense, so make sure you give it ample time to cook.
Instead of doing a large baking dish, I used a smaller dish and then poured the rest of the batter into a loaf pan – which sliced up super.
Pumpkin Crumb Cake
2014-10-06 20:48:07
A moist and delicious cake that is perfect with Whip Creme even just on it's own.
Ingredients
2 C. Flour
2 1/2 tsp Baking Powder
1 1/2 tsp Cinnamon
1/2 C. Butter (Room temp)
2 C. Sugar
2 Eggs
1 Tbsp Vanilla
1 Can of Pumpkin (NOT Pumpkin Pie Mix!)
1 C. Milk - Preferably Whole
1/2 C. Cold Butter (For Topping)
1 C. Brown Sugar (For Topping)
1 1/2 C. Flour (For Topping)
Instructions
Spray your Baking Dish - I used an 8x8, and then opted to pour the rest in a greased glass loaf pan. If you prefer to use one large baking dish you can do that too.
Stir dry ingredients (Flour, Cinnamon & Baking Powder).
Mix Sugar, Butter, Eggs, Vanilla, Pumpkin & Milk.
Pour in the dry ingredients and stir until combined.
Pour into Baking Dish.
Make the topping ingredients by cutting in Butter, Sugar & Flour - and sprinkle on the top.
Put in the oven on 350 - if you are using a large baking dish it will bake 45-50 minutes ( or until a knife inserted in the center comes out clean).
Notes
IF you are using a glass loaf baking dish it'll bake for slightly longer - make sure you check with a knife (inserted - comes out clean if done) - it is a dense cake so it does take quite a while to bake through.
Adapted from Cookies & Cups
The CentsAble Shoppin https://www.thecentsableshoppin.com/