This perler bead LEGO head is a fun and adorable project that will help kids develop fine motor skills, patience and artistic design!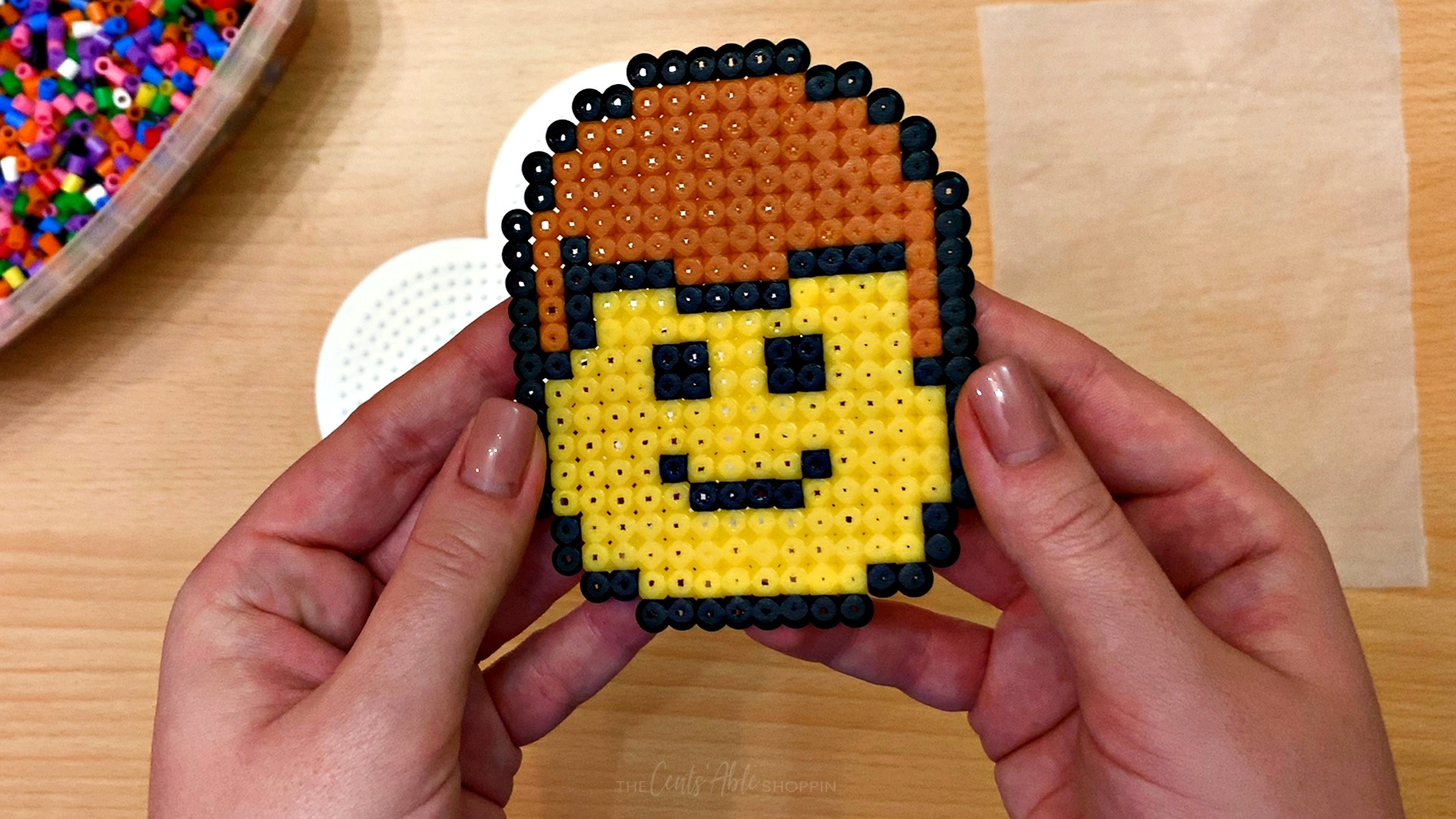 LEGOs are the hot item in our house and seem to get even more popular as time goes on. Every fall we take a trip out to
LEGOLAND
in California.
Who doesn't love LEGOs?
It's a wonderful place to go if you have kids ages 12-13'ish and younger. The rides are definitely appropriate for those ages and the crowds are much smaller than Disney. If you haven't had a chance to stay in the
LEGOLAND hotel,
it's well worth every penny, too!
Combine LEGOs with our favorite perler beads and you have a double dose of everything "awesome". Not only can kids get creative in art and design, they can boost their fine motor skills and engineering skills to make a perler bead LEGO head.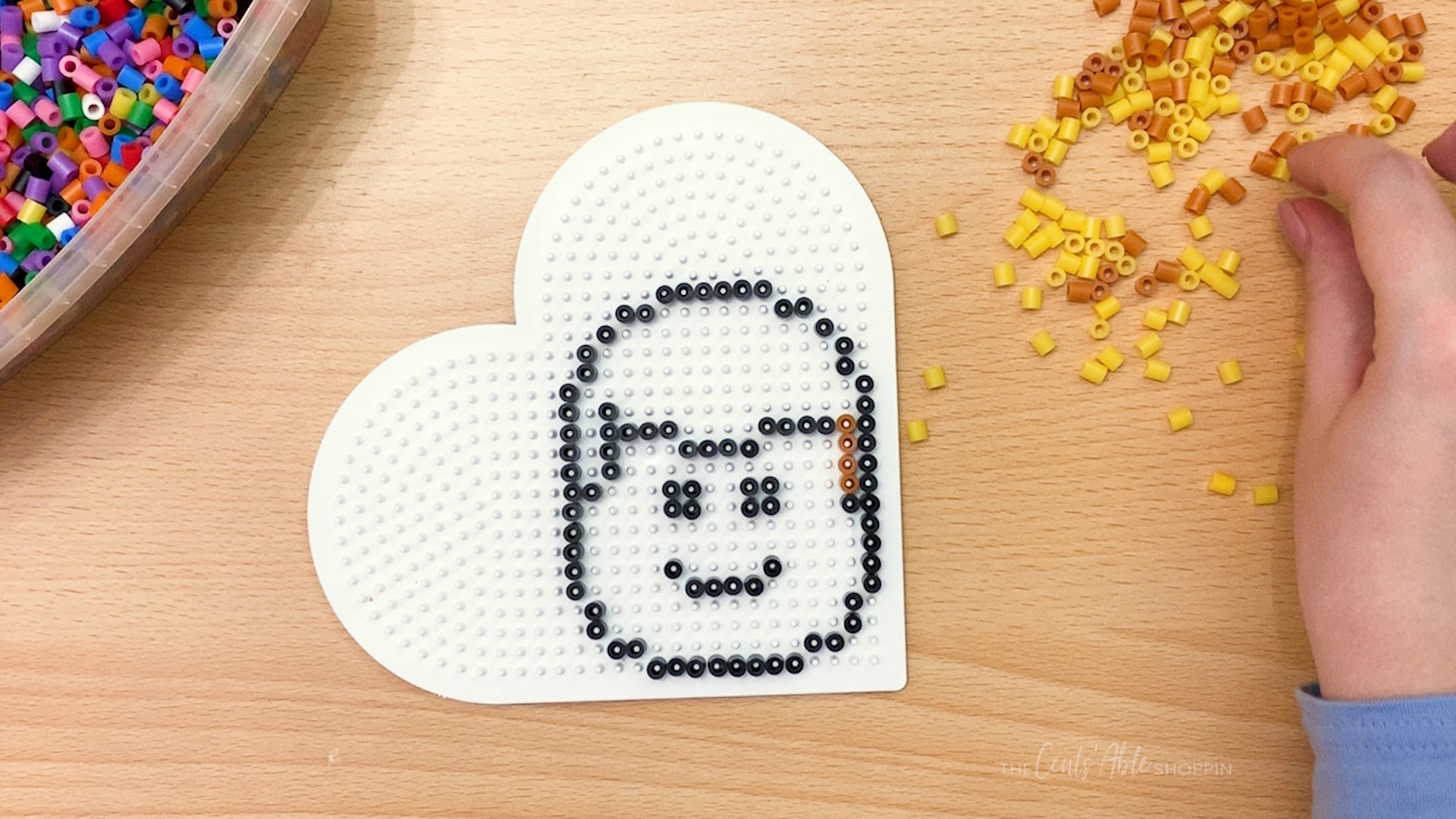 Kids will love making this perler bead LEGO head and it gives you a great opportunity to teach color theory, spectrum and visible light at the same time. It is indeed a valuable learning opportunity for kids of all ages!
Plus… it's so much fun!
What are STEM activities?
A STEM activity is an activity for kids that includes the areas of science, technology, engineering and math (STEM). STEM activities help children learn and build on a foundation that encourages creative and critical thinking skills.
When used at younger ages, STEM activities can include things that focus on design patterns, counting, sorting and problem solving. This perler bead LEGO head craft covers several topics:
Creative design process
Following a pattern
Mathematics – counting to achieve the final pattern
Using the right items for the design
How to organize effectively
STEM activities like this LEGO head are so fun for kids of all ages — especially kids that love doing things with their hands. Our kids are infatuated with perler beads..combined with LEGO minifigures it's a win win!
This LEGO bead activity provides us the opportunity to add an educational element to our lessons. STEM activities like this can definitely be a fun and challenging learning experience (even if it seems almost "too" fun!)
Who says learning has to be boring??!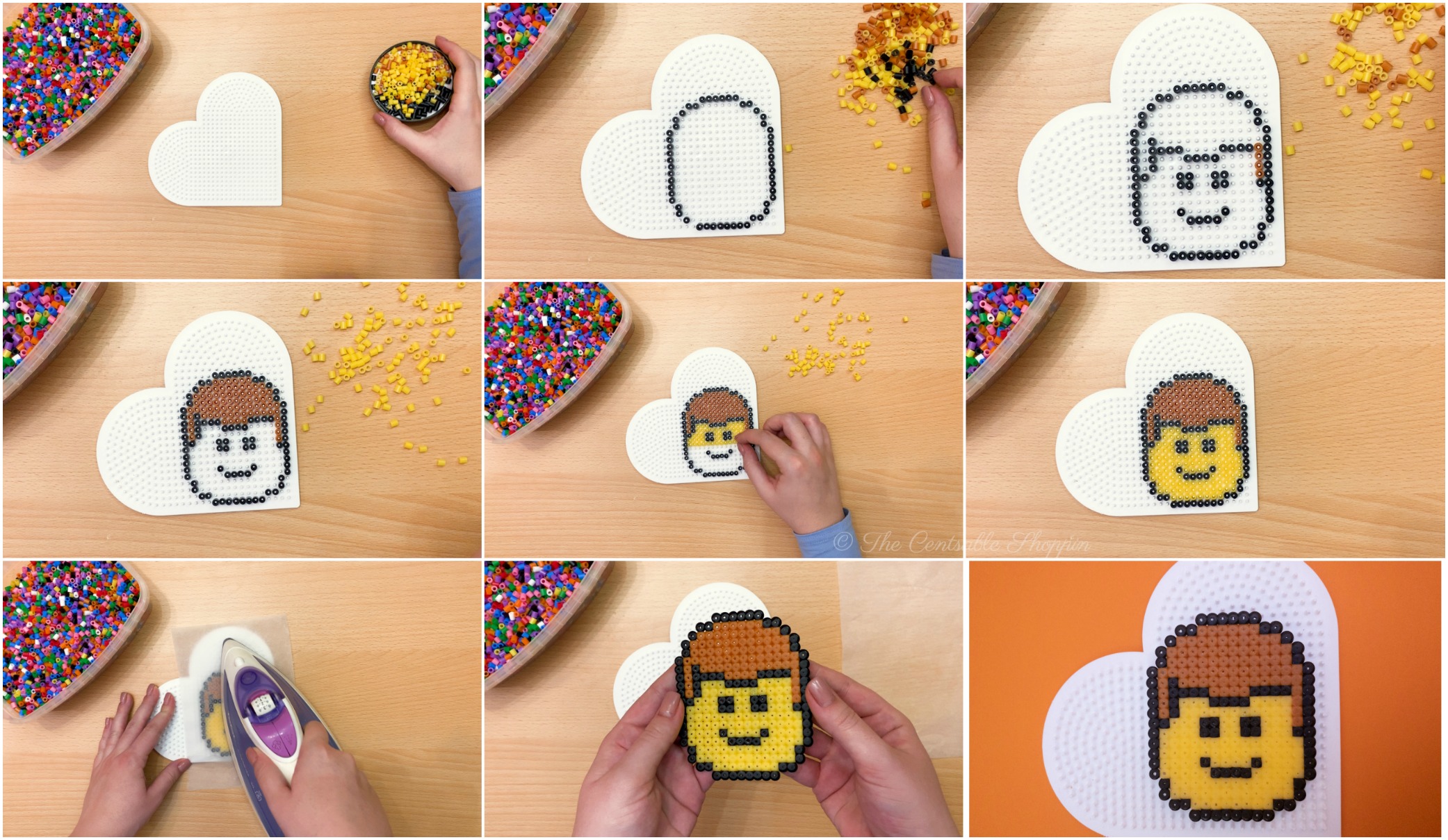 So how does STEM relate to LEGO minifigures? Science, tech, engineering, art and math — all rolled into one activity.
Science: There are many things that LEGO blocks can teach you about structural engineering. Scale is everything, and physics and creativity factor in to building LEGO creations of any magnitude.
Tech: Perler beads are a great avenue to create pixel art… they are a way for students to create a project about something they love – whether LEGOs, aa video game, cartoon or favorite sport.
Engineering: Before they get started, kids will need to look and study the design, making plans before the execute the design with the first bead color. Reading diagrams and following directions is essential!
Art: Create your own LEGO head using perler beads… a form of artistic expression that's relatable to kids of any age.
Math: Count the beads as you are designing your LEGO head. Record the number of beads you used for each color. Graph the outcome (extra) — great for kids who are in 1st grade – 3rd grade.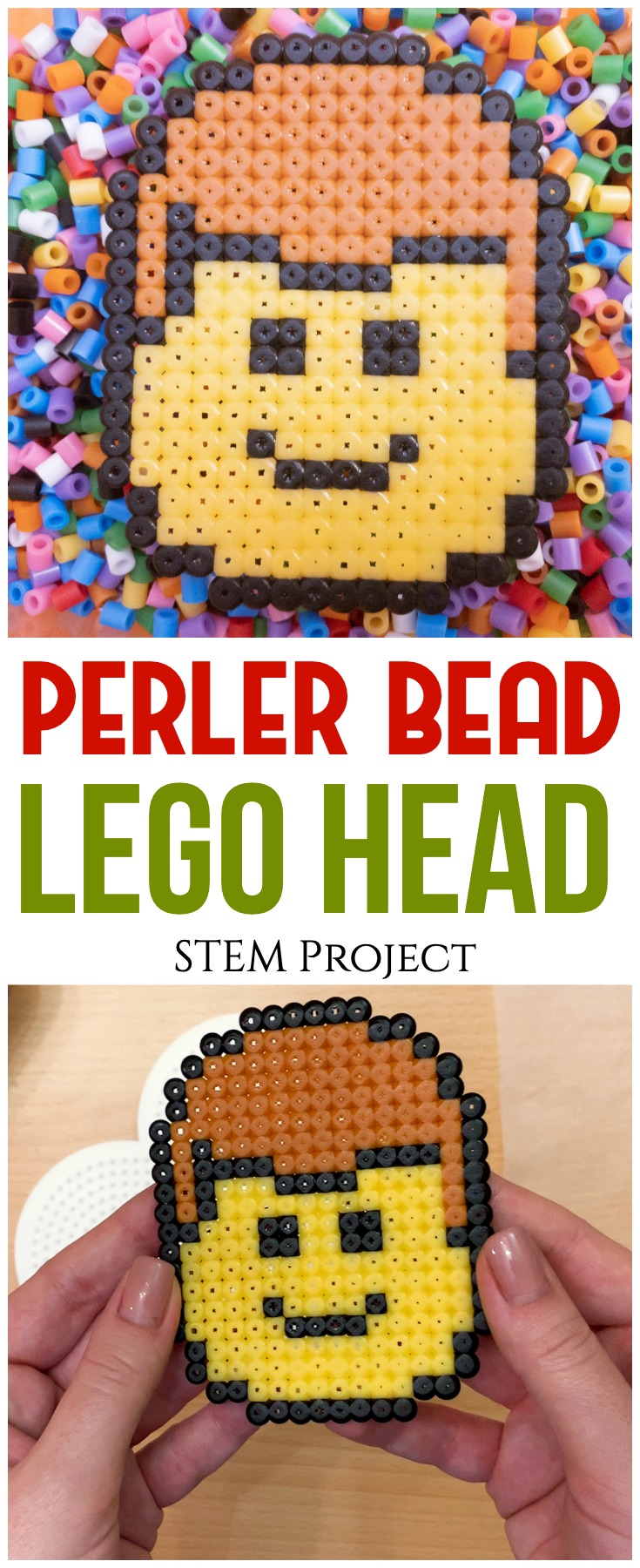 Design and Create your Own Perler Bead LEGO Head
(Disclaimer: This post includes affiliate links for items at no additional charge to you.)
Materials needed & instructions:
First, gather your beads and count out each color required:
84 black
78 brown
117 yellow
After the colors have been counted, your kids will need to determine the placement for the beads on the circle bead tray. Your little ones might take a bit longer to achieve this than the older kids. (The video below will help!)
Once you are done, lay your wax paper atop your LEGO head and gently press with a warm iron for 30-35 seconds. Avoid over-pressing because the beads will indeed melt (we found this out the hard way!)Allow the wax paper to cool.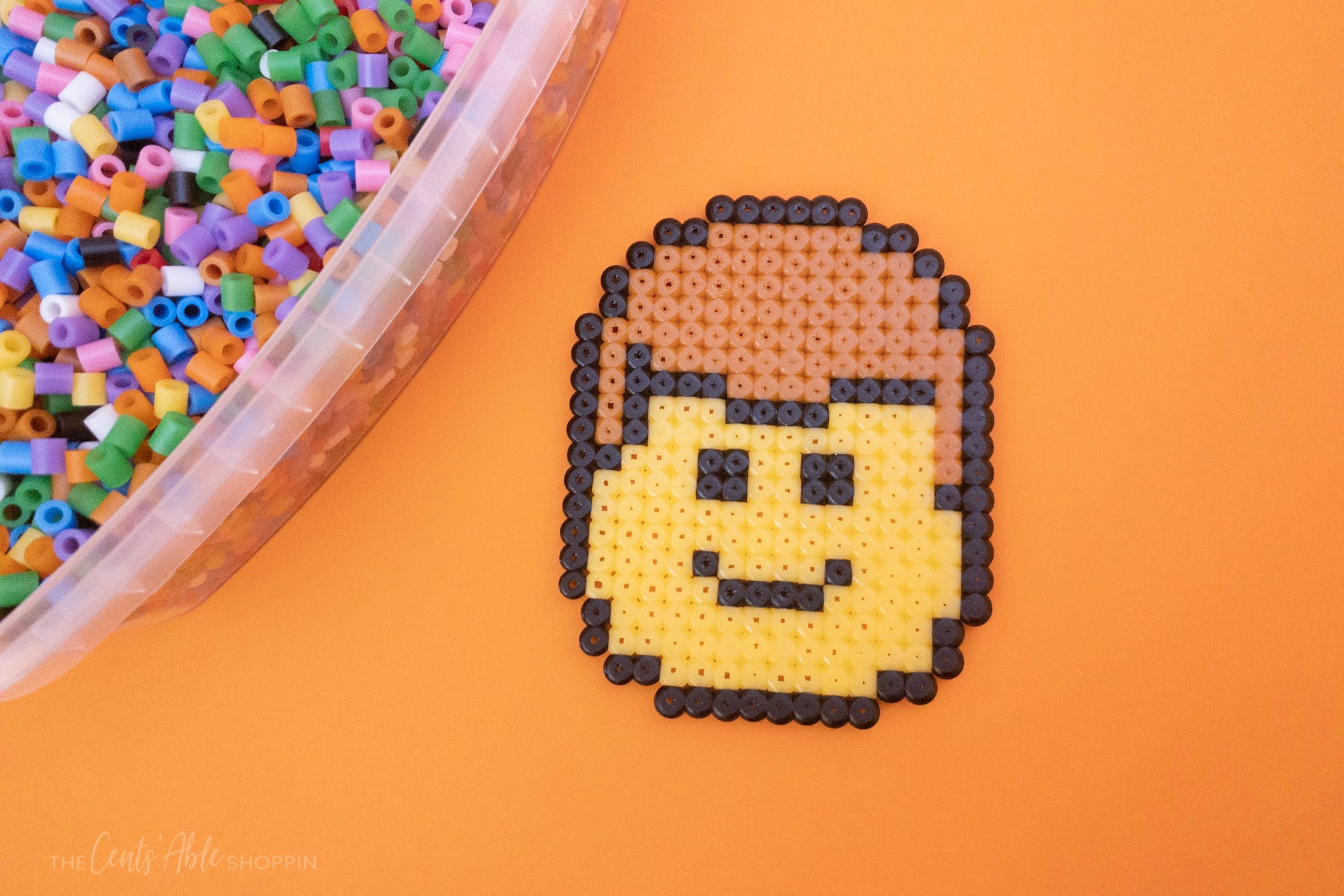 Then flip the beads and gently iron the other side (20-30 seconds). Feel free to use a hook to hang the LEGO head on a window or even add a keychain.
Headed out to LEGOLAND soon? If you are, don't miss your chance to create a DIY LEGO Lanyard for your visit!