Start a new tradition – encourage your kids to fill out this New Year's Eve survey – reflect on the year prior and look forward to starting new!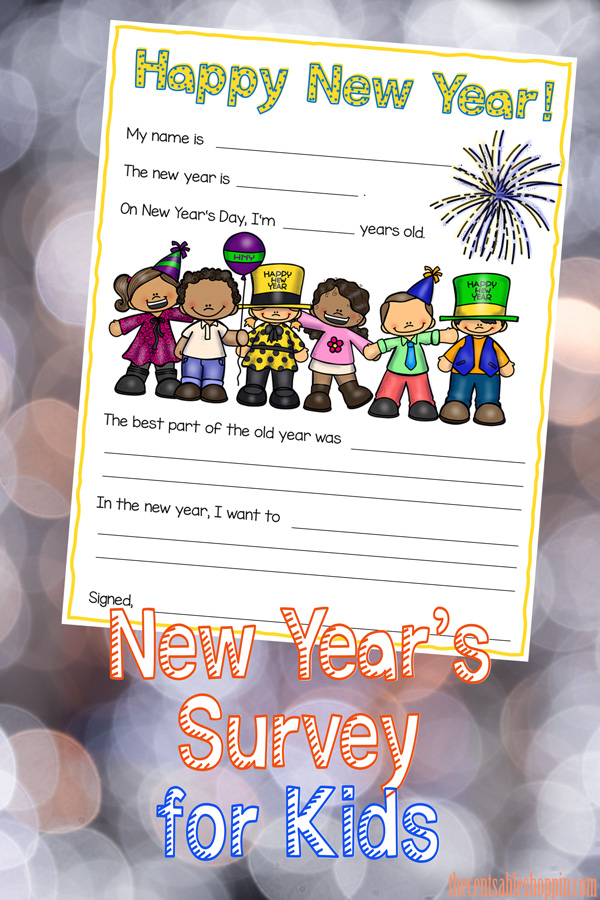 New Year's Eve is always a fun time for kids — looking forward to the next chapter in our lives and reflecting back on the previous. It's a night to stay up and wait for the clock to turn.
To blow party horns and wear silly hats.
Maybe even throw confetti .. if you doin't mind cleaning it up. Ha!
If you are my kids, New Year's Eve involves lots of movies – any movie from the Home Alone series or Daddy's Home seem to be the thrillers in our house. Stuffing our face with popcorn and cuddling on the sofa under warm blankets as the night goes on.
New Year's Eve Survey for Kids
This year we're taking a new approach to New Year's with this fun New Year's Survey for kids. Print the survey here and have your kids fill these out on the eve of New Year's.
Not only will it help them reflect back on the previous year, it will give you a keepsake for their box of momentos. Pull it out 10-15 years down the road and you can reflect back on their surveys to bring back memories!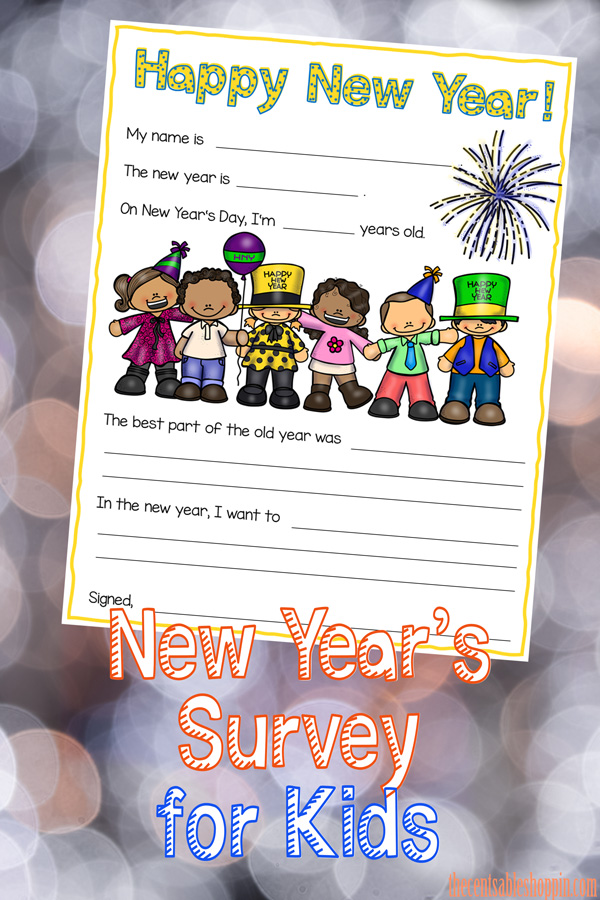 Print the New Year's Eve Survey for Kids here
Do you have any special tradition that you like to do with your kids on New Year's Eve? If not, then adopt a new tradition this year. Print these surveys for your kids..
Whip up a batch or two of chocolate chip cookies, then sit down with your cuddle blankets and throw on a great movie. Spend some time together reflecting on the past year and what is around the corner to come.
Terms of Use: This printable file is made for personal and classroom use.
No portion of this publication maybe reproduced, stored in a retrieved system or transmitted in any form or by any means – electronic, photocopy, mechanical, recording or any other. Except by express permission of the publisher and as provided by international copyright law.
Please share this file by linking to the post you found it on.
You MAY:
Use the file for personal and classroom use only.
Download the file to your computer.
Print as many copies as you would like.
You may not:
Edit the PDF file
Share the file with others
Store it on any website, forum or anywhere else online.
Claim it as your own.
Print and sell/distribute the contents to others.
Copyright: 2019 – thecentsableshoppin.com \\ All Rights Reserved