Homemade blankets make the best gifts! Learn how to sew an oversized cuddle throw and gift for family and friends this holiday season!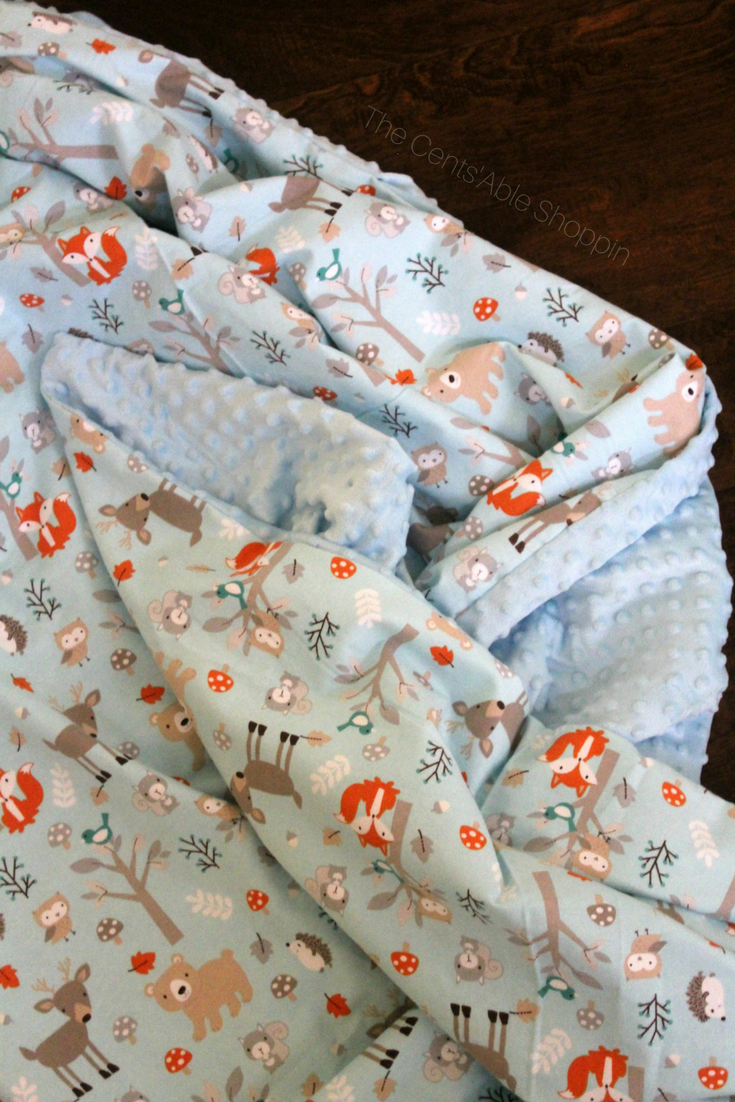 As a child, I have lots of great memories of my mom sewing everything – from blankets to clothes for all of us kids, to burp cloths and so much more.
Though she never took the time to show us kids how to sew, over the years, I have picked up several sewing machines and helped my oldest kids learn.
Being able to make handmade gifts for family and friends is a wonderful thing. One of my favorite things to make are these soft minky blankets for newborns.
But who says that these soft cuddly throws and blankets should only be for babies? Last week, my kids and I actually hunkered down and made two of these cuddle blankets for a family we adopted from Homefront Hugs. A wife and her two small children, who are thousands of miles away from their husband/dad who is serving in the Air Force on deployment.
No matter where you live, everyone loves a really nice cuddle blanket that they can use when they cuddle up on the sofa and watch movies or television. This oversized cuddle blanket is a cinch to make and something your family or friends can keep forever!
How to Sew an Oversized Cuddle Throw
Making an oversized cuddle throw is rather easy to make – your recipient will think you spent yours on it, while you can turn one out in an hour or even less. Once you make one you will want to make many – it's so fun to pick out the perfect coordinating fabric for your recipient.
Materials:
An oversized throw for an adult or an older child is typically 59 inches wide by 71 inches long. You will want to pick up 2 yards each of 2 coordinating fabrics.
There are 36 inches in the length of a yard of fabric; however, the width varies from fabric to fabric. I find that most snuggle flannel fabrics are 42″ wide – so I usually pick up 2 yards of snuggle flannel and 2 yards of minky dot.
There is usually a little left – keep it, because it works well for handmade fabric blocks for a new baby.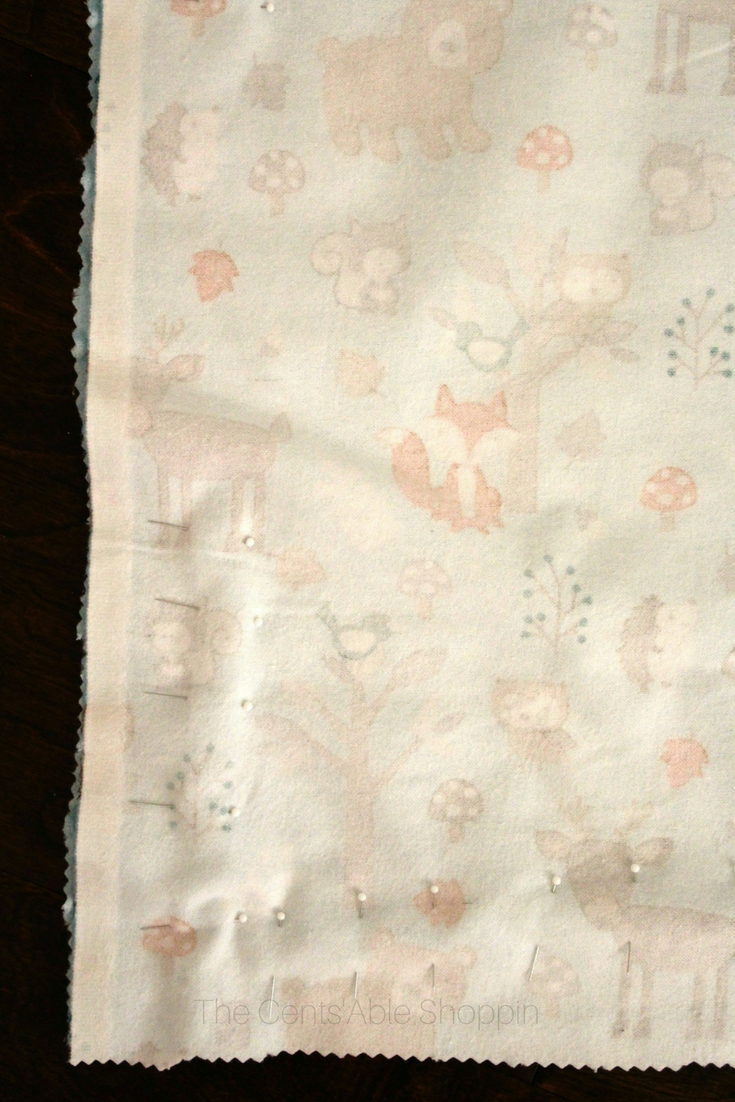 Square up your fabric to make sure that the corners are perfectly square. You will need to snip the fabric with your scissors and tear the fabric on each side.
Lay the minky or cuddle fabric on the floor (or your craft table), right side up. Then place the cotton snuggle fabric on top, right side down to line up the edges. Trim the fabric as needed to make a perfect seam.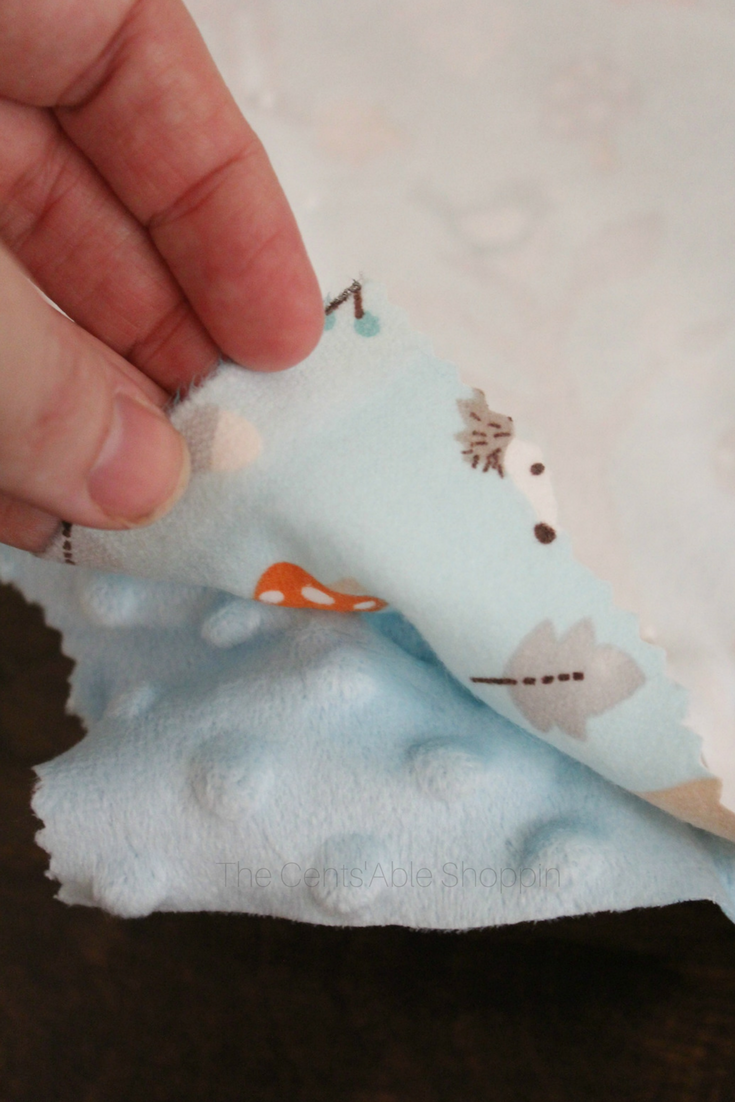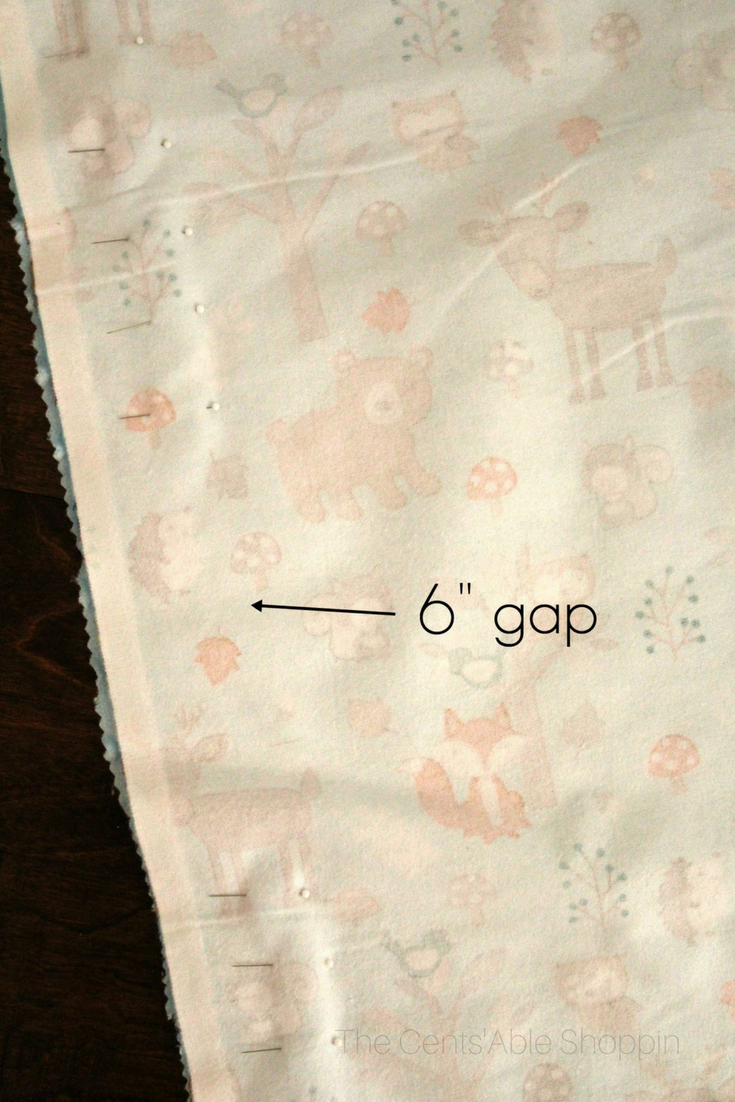 Minky fabric is very slippery, so pin frequently around the border of the blanket, every 1 1/2 – 2 inches. You want to leave at least 1/2 inch on the edge for the seam. Pin the entire blanket with the exception of a 6″ gap on one side. I usually do this 6″ gap in the middle of one of the short sides.
With a straight stitch, sewaround the blanket, removing the pins as you go. Do not sew the 6″ gap, I would recommend doing a backstitch on both sides of that gap to reinforce.
You will be pulling the fabric through that hole and the backstitch will ensure that the seam doesn't rip.
Once you sew around the entire blanket, ensure the pins have been removed, and then sew a second time around the blanket as a reinforcement. Go right over the top of the first stitch. *Make sure you skip the 6″ gap.*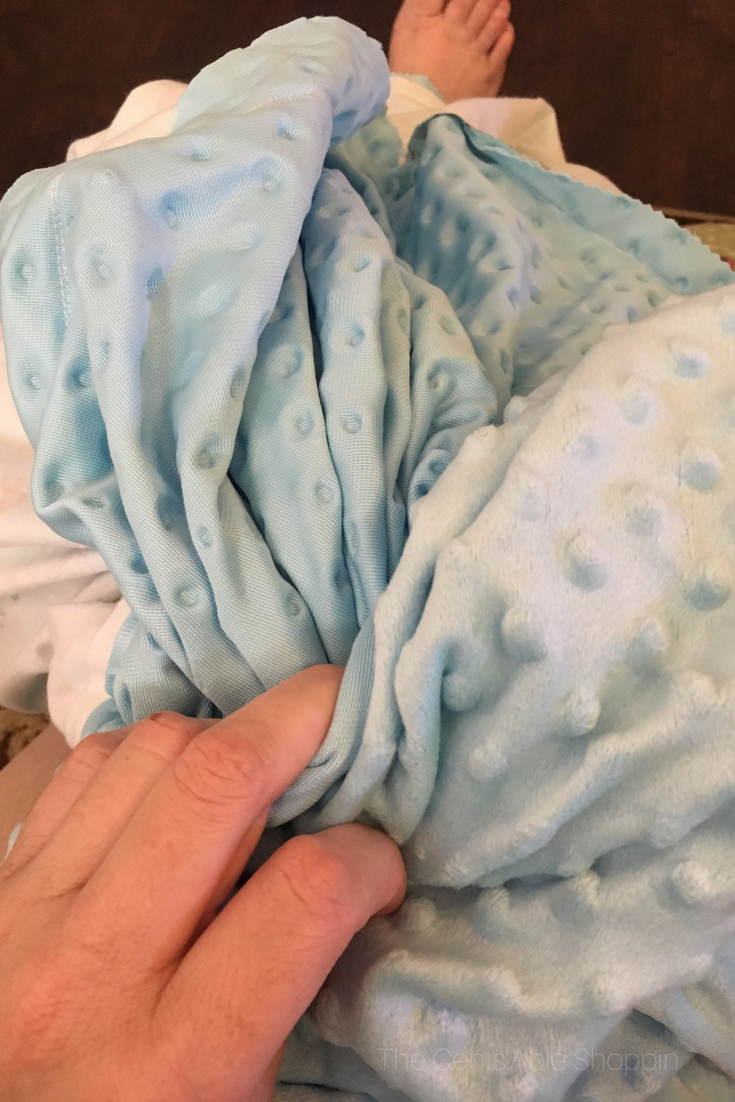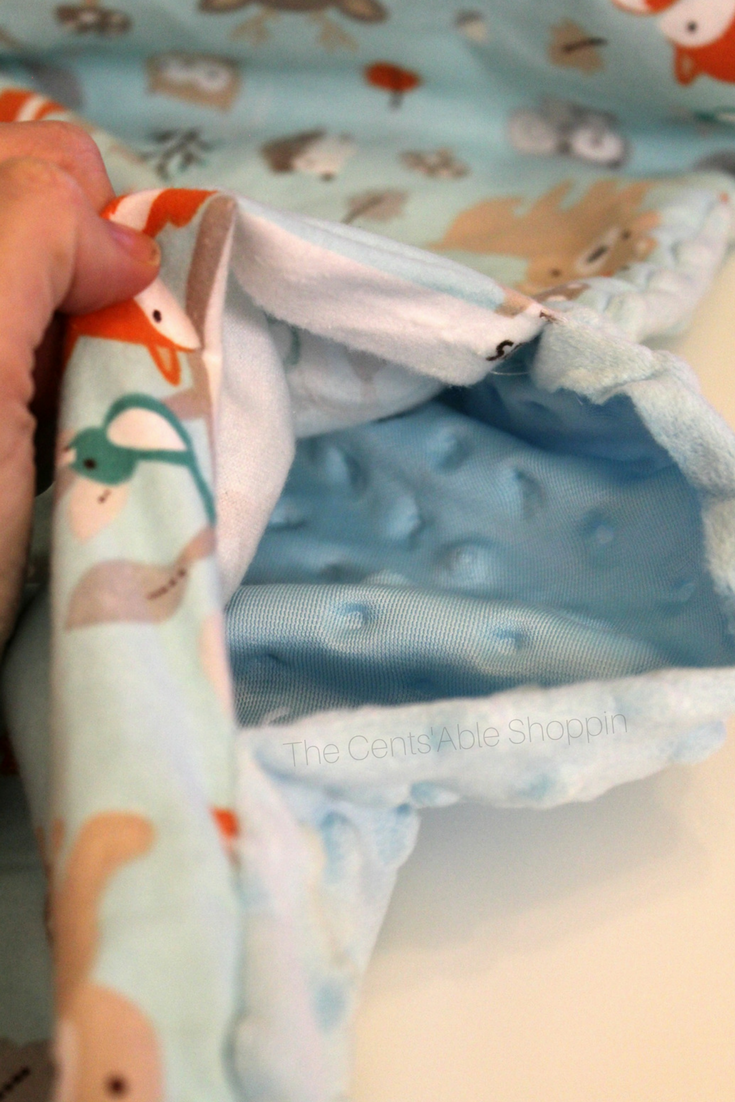 Pull your hand into the 6″ gap, and gently pull out the blanket, making sure to push out the corners with your finger. Now, the blanket should be right side out, with a 6″ gap on one side.
Trim any little bits of string, and make sure all pins are removed. Once you sew that gap shut you won't be able to get them out.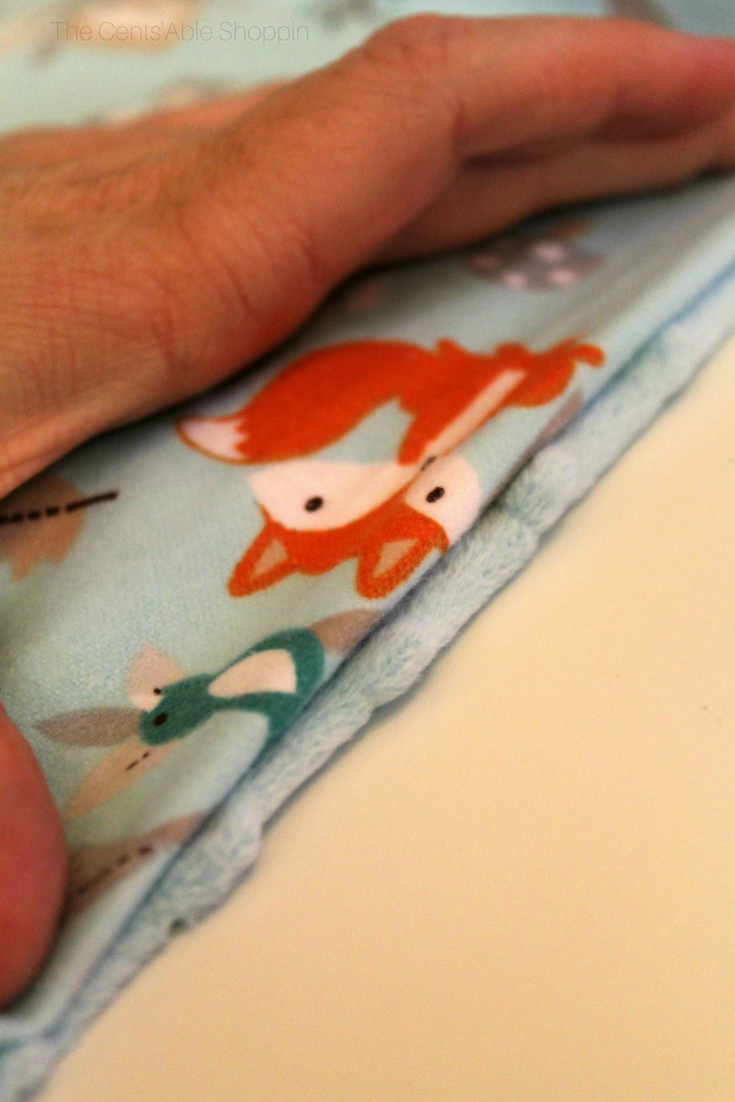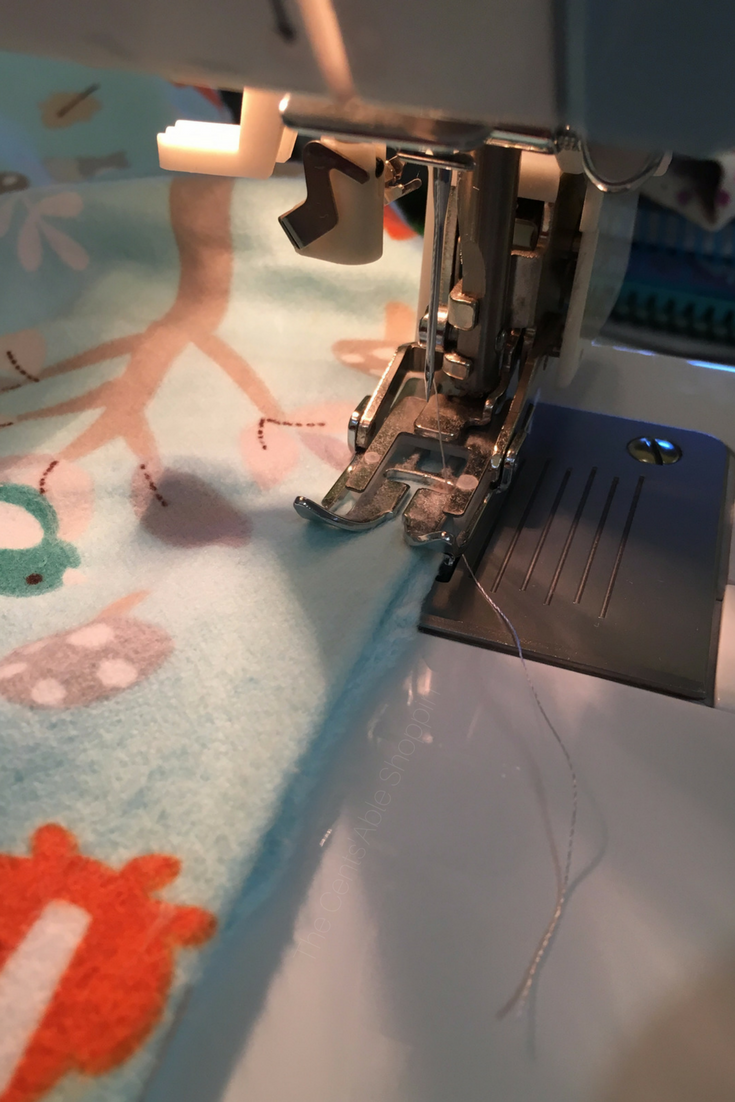 Finish by sewing the gap shut – using a 1/4 – 1/2″ seam allowance and a straight stitch.
You may want to sew the gap a second time as reinforcement, using the first straight stitch as a guide.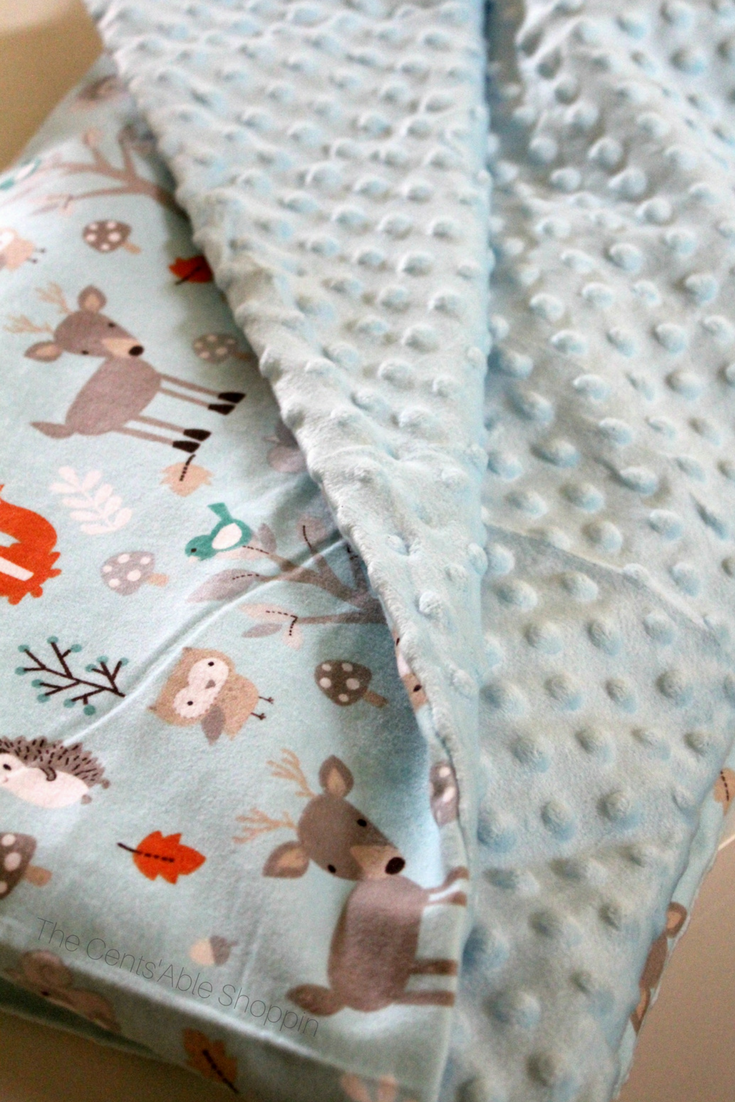 That's it! Check the blanket to ensure that all the loose strings are trimmed and celebrate your first cuddle throw blanket!
Your first may take a little over an hour, but after you get the hang of it you will be cranking out blanket after blanket.

I think the pinning takes longer than the actual sewing. However, that is a great opportunity to ask your kids to help. Especially your older children – and it might open up the door for them to learn how to sew.