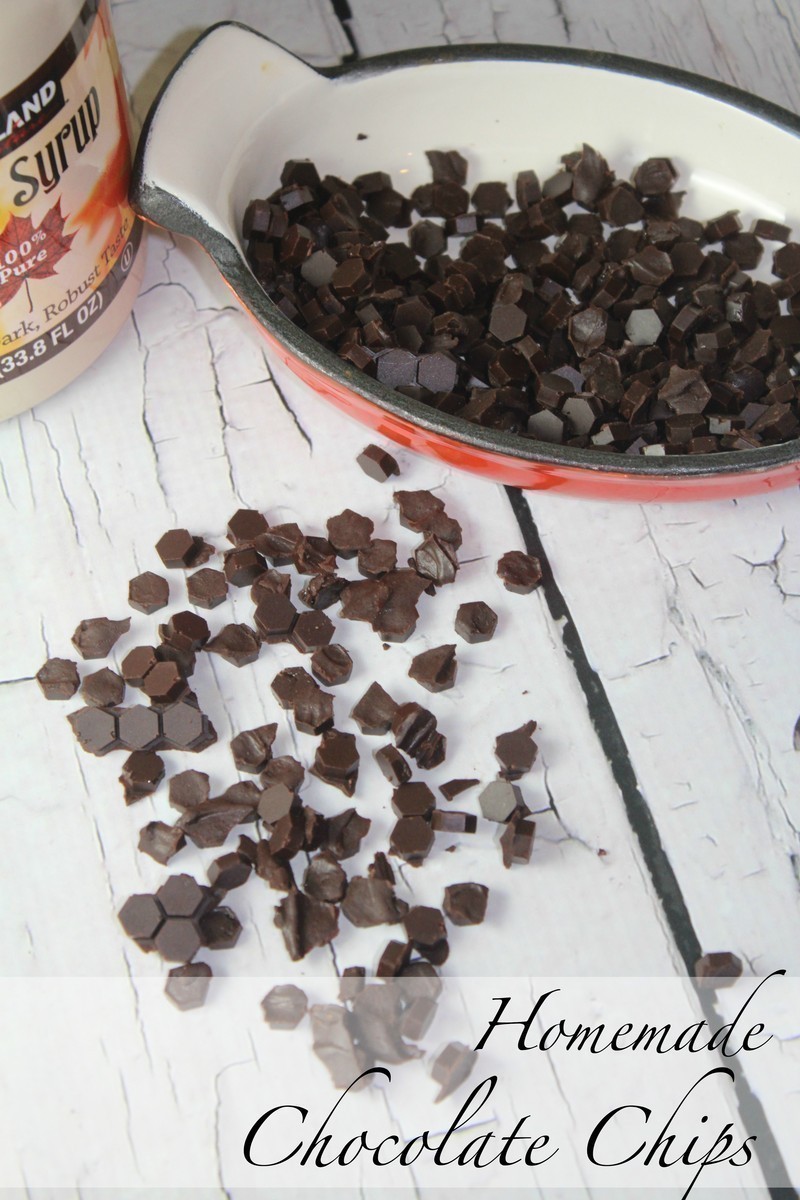 Have you ever considered making your OWN chocolate chips?
I'm not sure about you but I cannot justify the price of chocolate chips in store – Costco is usually always a better deal than clipping. You can pick up the 72 oz Bag for just $9.99 which makes them $.16 per oz.
But… making your own? Priceless.
I have a HUGE bag of Organic Cacao Powder in the pantry, Maple Syrup, and Coconut Oil – and those 3 items together will do the job. Homemade chocolate chips taste so much better than any of the chips in the store.
Not to mention when you make them yourself, you don't get all that extra stuff added in .. they are soy lecithin free, AND gluten free – not to mention really really easy.
About Soy Lecithin:
To make soy lecithin, soybean oil is extracted from the raw soybeans using a chemical solvent (usually hexane). (4) Then, the crude soy oil goes through a 'degumming' process, wherein water is mixed thoroughly with the soy oil until the lecithin becomes hydrated and separates from the oil. Then, the lecithin is dried and occasionally bleached using hydrogen peroxide.
Before the 'degumming' step where lecithin is removed, the crude oil undergoes a multi-step process to remove the hexane. (5) However, it appears that the FDA doesn't regulate the amount of hexane residue in food products……. (and you can read more HERE).
Obviously we are exposed to so many toxins each day in our food, environment, beauty products and even prescriptions (if you take them) – we can't be perfect.. but if given the opportunity TO learn how to self sustain by way of making your own, then why not?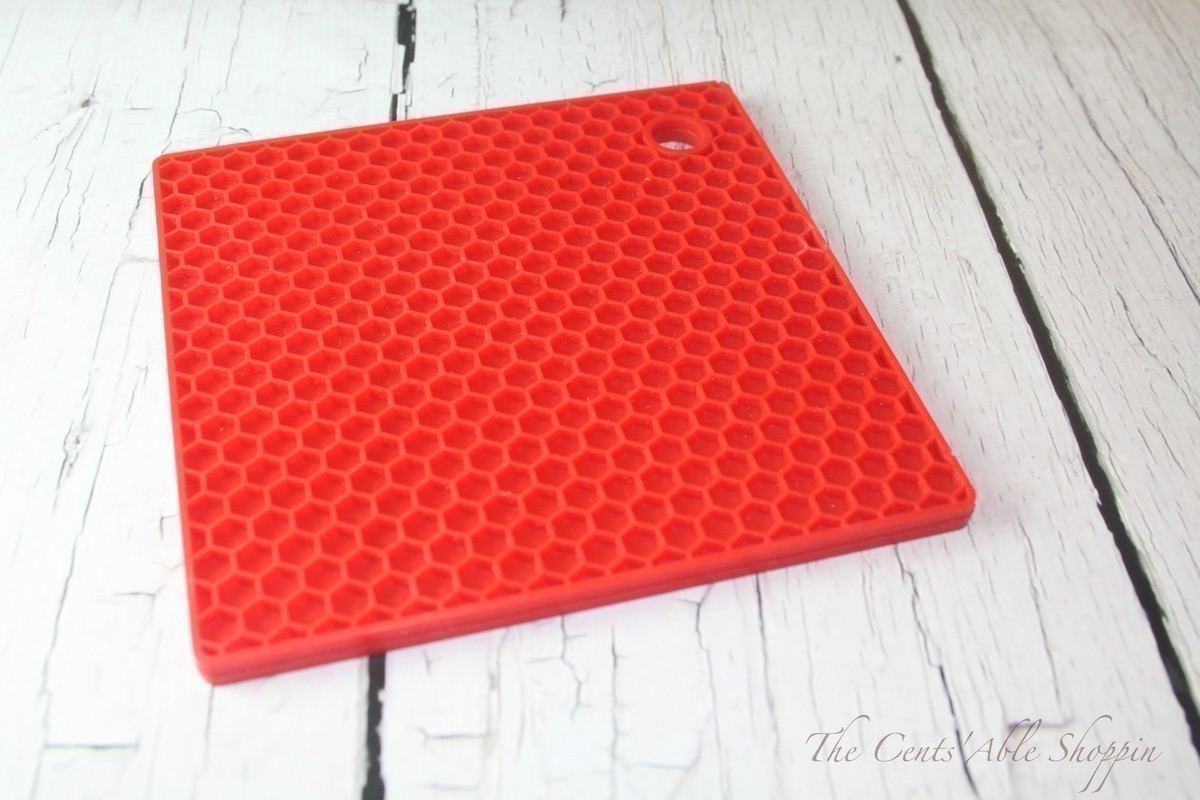 What's even better, is that the mold also doubles as a potholder – a very useful gadget for anyone to have. I ordered mine on Amazon for just $7 – which saved me a trip to the store – that in itself is priceless!
If you don't have Maple Sugar Crystals you can use Maple Syrup. Those of you using Maple Sugar Crystals can grind the sugar in the coffee grinder for 10-15 seconds for a finer chocolate chip, but that's definitely not required. The Sugar Crystals will make the chocolate chips a little firmer (especially at room temp).
Homemade Chocolate Chips
You can make these chocolate chips with Cacao Butter, Cacao Powder and Maple Crystals (or, Syrup), but if you are without Cacao Butter, then sub Coconut Oil. It turns out just as terrific.
Optional: Adding a little Arrowroot Starch (1-2 Tbsp) for a little firmer chocolate. I have made two batches of these chips – both with coconut oil and I used Arrowroot Starch for one and went without it on the second batch. If you are using Coconut Oil, you probably don't want to let them sit out on the counter too long as room temperature will soften them up – but using Cacao will make for firmer chocolate.
We used ours in Buttermilk Chocolate Chip Muffins (using leftover Whey from our Yogurt HERE) and they were amazing!
What you Need:
Step by Step:
Heat up your small saucepan on the stove, and fill with 1-2 inches of water on medium heat.
Put your Cacao Butter or Coconut Oil into a mason jar and gently set it inside the saucepan – do not get any water in the jar! This mason jar will act like a cheaper version of a double broiler.
Once the Cacao Butter or Coconut Oil is melted, then take it off the heat. Stir in the Cacao Powder and Maple Sugar/Syrup and stir well.
Optional: for a firmer chocolate, stir in 2 Tbsp Arrowroot Starch (if you are using Coconut Oil you might want to do this so the chips are a little firmer – though it is not required).
Stir until the sauce is smooth – then lay the Silicone Trivet on top of a baking mat or cookie sheet and spoo the melted chocolate over the trivet until all the holes are full.
Transfer that trivet to the freezer (on the cookie sheet!) to chill for at least 1 hour.
Once the chocolate is firm/frozen, then pull out the trivet with the base (cookie sheet) and push the chocolate chips out. Pull or stretch the trvet to loosen up the chips – work quickly, and don't leave them sit out too long (especially in Arizona)
Put the chocolate chips in the freezer to store – especially if you use coconut oil as they will get very soft if you leave them at room temp!
Keep the chocolate chips stored in the fridge or freezer and pull out when needed.
They are great on fresh strawberries, even better in chocolate chip cookies, or just for snacking – the recipe makes 1/2 Cup of chocolate chips (or more less).
Thanks, Forest and Fauna!