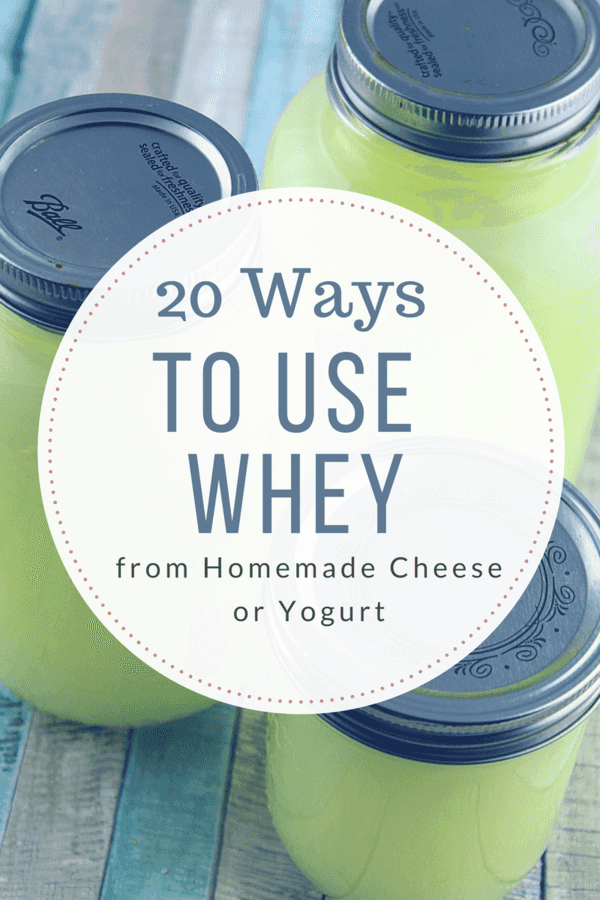 Anyone who makes cheese or yogurt knows that they are left with a quart or more of whey.
Whey from making homemade yogurt, and whey from making fresh cheese. And while it might seem like a nuisance to have so many jars hanging around, it really is a blessing because we can use it for so many things.
Whey can be acidic or sweet, and while most people would just pour it down the drain or get rid of it, it's actually full of uses.
Years ago I would have poured off that liquid on the yogurt or cheese and said "ewww". However… things change over time. Whey lasts about 2 weeks in the fridge. The best part about having these jars of whey is that you can use for a lot of things – from marinade to skin care, soaking beans or soaking grains.
Every time you are using whey, you aren't using something else. And that something else could have cost you money. All the more reason to use it up. It's full of vitamins and minerals and is actually great for you.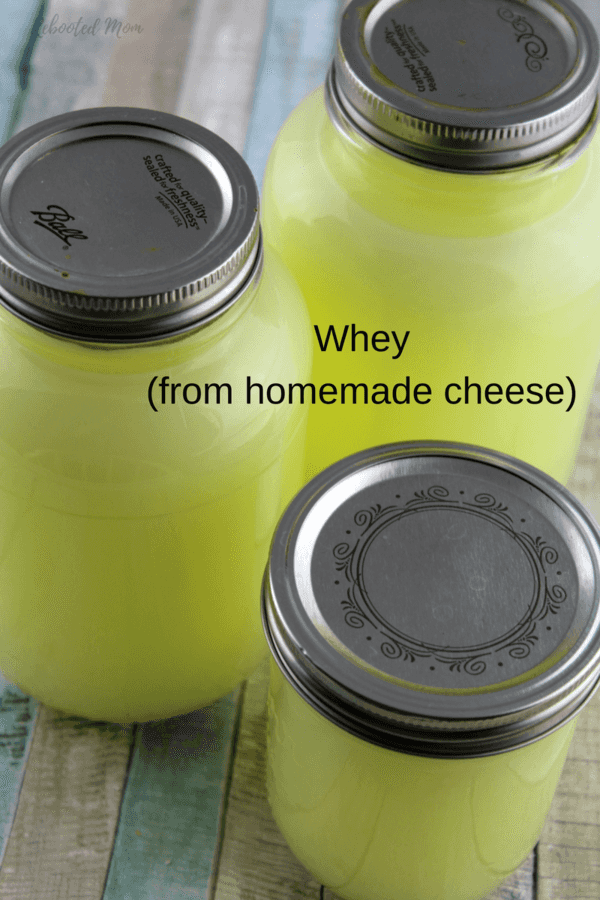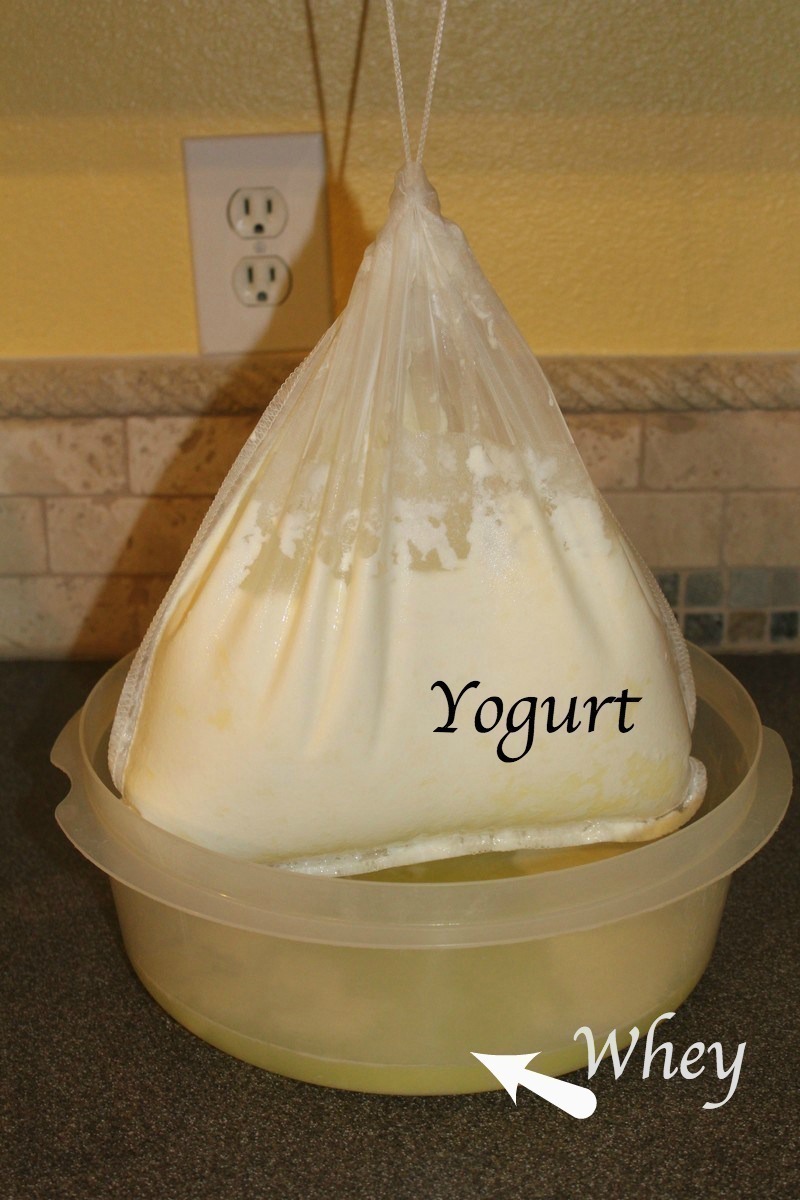 What is Whey?
Whey is the by product when you strain your homemade yogurt or cheese. It can be sweet or acidic – whey from making yogurt is sweet whey, while whey from making fresh soft cheese is acidic.
It contains milk sugar, some minerals, and a little protein – when compared to orange juice, whey has the same acidic value.
When we make yogurt, we usually have 3 jars of whey leftover.
When we make fresh cheese we have quite a bit more.
While many people associate all dairy as being "the same", it's actually not – pasteurized dairy is hard to digest and often times leads to intolerance and dairy allergies because it has been altered from it's original state – the enzymes that allow you to digest are no longer there, and thus your body has problems trying to digest.
Raw milk is not pasteurized – and has all of the vitamins, minerals and enzymes available that allow your body to digest. It's wonderful, especially if you have been lactose intolerant.
20 Ways to Use Whey
Substitute in your baking – ie. Pancakes, Breads, etc. Use in place of the liquid for a fluffy and sourdough taste. See this recipe for Kefir Pancakes... and substitute whey in lieu of the kefir.
In Cooking: Use Whey to boil noodles or, cook rice.
Make Lemonade: that's the truth. See the recipe here.
In place of water: For Steel Cut Oats, or use it to boil your oatmeal in.
In place of Broth: If you are out of chicken broth, use it in it's place – though it will vary on recipe. I'd be careful on this one because it doesn't taste great with every recipe.. so experiment first… or go half and half.
Beverages: Add Whey to your protein shakes or smoothies.
Yogurt drinks: Use at the ratio of 1:1, then add stevia or honey for sweetener.
Carbonated Water & Whey make a great beverage that will help suppress your appetite.
Marinate your meat in Whey – the lactic acid in the whey will loosen those muscle fibers that help keep it soft & tender.
Facial Cleanser & Bath: No kidding – it's great for your skin. Grab a cotton ball and use it as an astringent… or use 1/2 – 1 C. next time you run a bath.
Conditioner : After shampooing, use whey in your hair for conditioner, let it sit 8-10 minutes and then rise out.
In Place of Buttermilk: If you bake like we do .. use it for your buttermilk recipes (ie. Pancakes, Banana Bread.) It makes for fluffy batter.
As a thickener: If you are making gravy, it works well to thicken.
Salad Dressings: Combine with lemon and perhaps some Lemon Vitality Essential Oil and make your own.
Iced Tea: Use it to make your own Iced Tea with some lemon – see the recipe.
Make your Own Caramel: Simple whey transformers into the most delicious, gooey caramel that you can put on your ice cream or drizzle on desserts.
Pizza Dough is pretty great with whey – see the recipe.
Hummus: I don't know about your kids but my oldest two love Hummus on their sandwiches instead of mayo. If your hummus is asking for lime or lemon juice, substitute for whey.
Chicken Breasts soaked in whey and then cooked are much more tender – usually for fried chicken you soak 24 hours, so instead of using buttermilk just use whey along with your spices.
Soaking Beans: Soak in whey instead of water – the acid breaks down the phytates in those beans and may potentially ease digestion for some (not all!)
If you haven't had the opportunity to use whey, the easiest way to go about giving it a try is by making homemade yogurt. If you missed our last post on using your Instant Pot to make your own homemade yogurt, catch that here.
Or, learn the craft of making your own cheese by starting with this incredibly simple queso fresco.