Beautiful Lavender Bath Bombs that with simple ingredients that come together easily and make a great gift for mom, teachers, friends, and even family!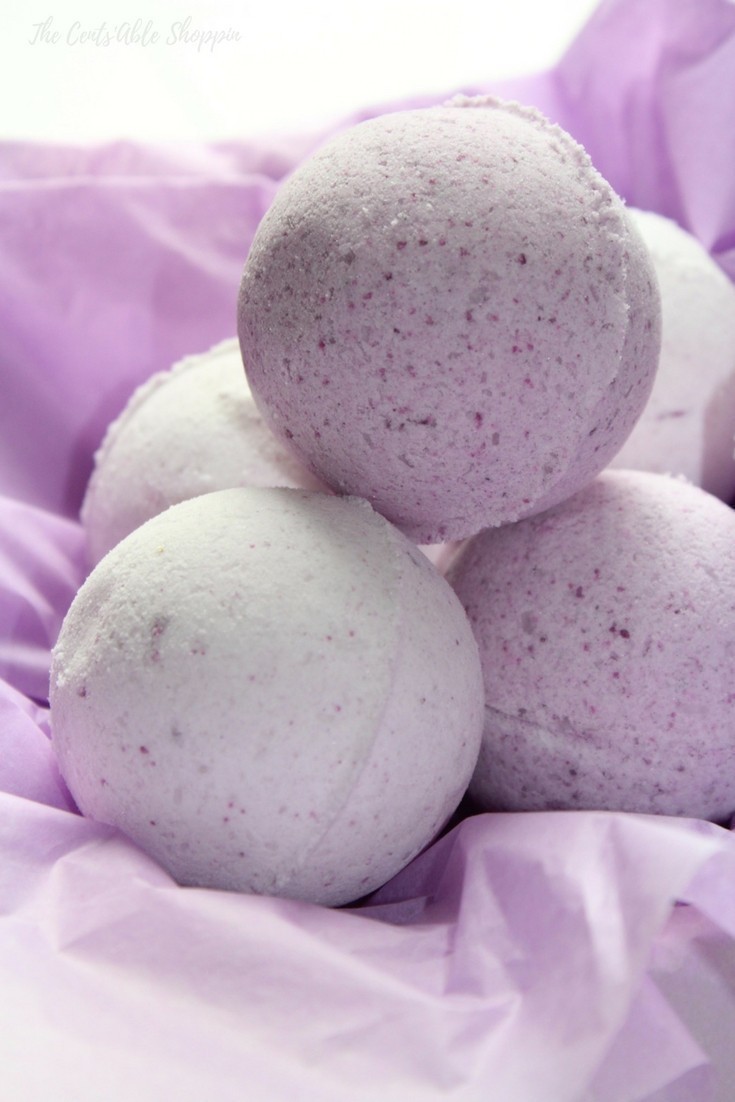 Most mammas love to enjoy a nice relaxing bath. Any opportunity to shut the bathroom door and get away for a while in a relaxing bath for 20-30 minutes is bliss for most. Until little hands start poking out from under the door.
Wait – is that just my kids that do that?! ;)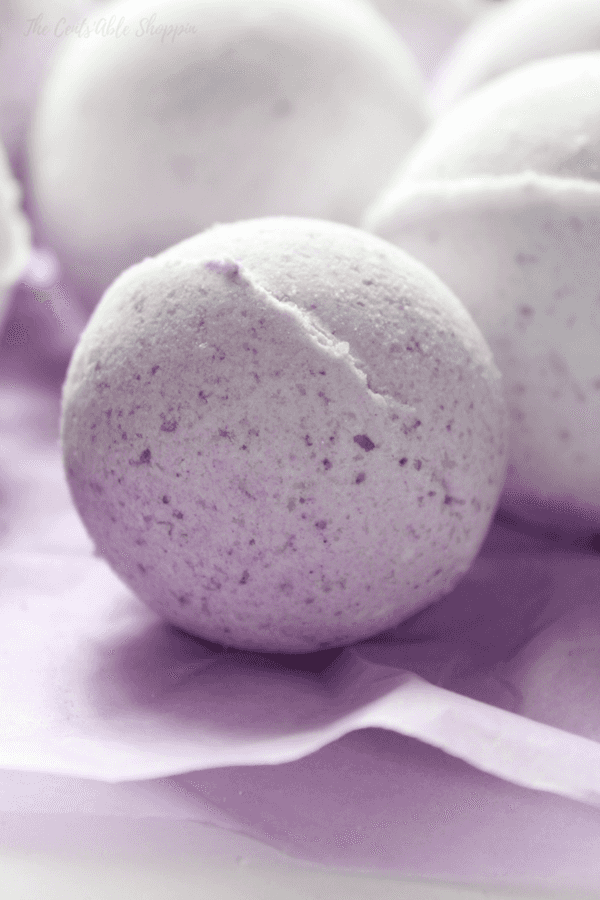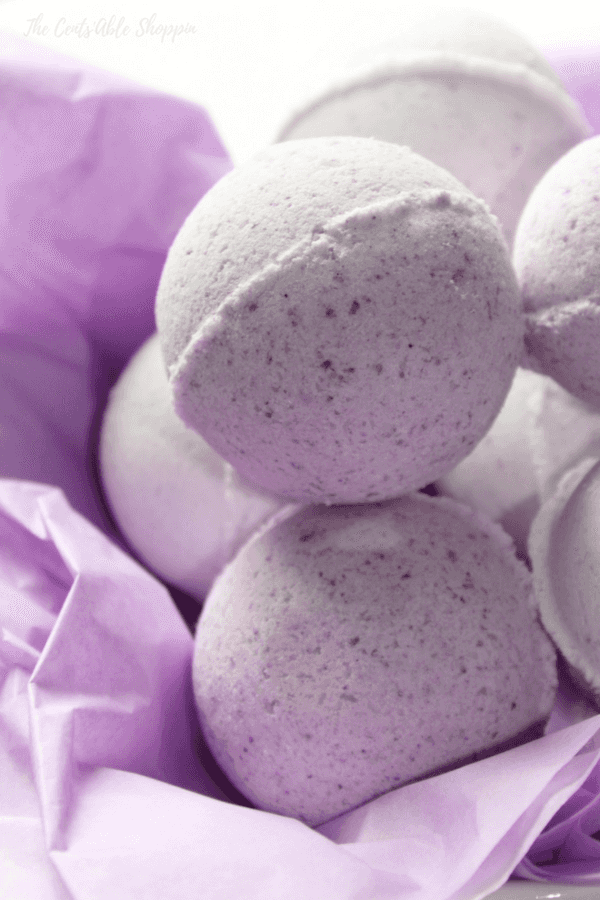 Bath Bombs are always super popular to give and receive. Although I admit.. I'd rather be on the receiving end ;) Thankfully they are incredibly cheap to make yourself – a little tricky I'll admit, but inexpensive nonetheless.
They combine epsom salt with cornstarch (or, arrowroot/tapioca flour), citric acid, and baking soda. Add a few drops of essential oil and sweet almond or coconut oil and you have what serves as the base for some of the most amazing and beautiful bath bombs ever.
Aren't they gorgeous?!
We have tapioca flour here for gluten-free baking so that was our first choice. If you opt to use cornstarch, make sure you are using organic cornstarch (since corn is one of the most heavily sprayed pesticide crops in the United States).
Pesticides in your bath? Ew yuck – I'll pass!
With just the right bath bomb molds, you can make smaller spheres, medium spheres or large bath bombs. Hobby Lobby is a great place to get molds if you are in a pinch. Otherwise, order on Amazon. Once done, tie them up in individual cellophane bags and gift to teachers or to mom.
Or, give as gifts for birthdays for family members or girlfriends.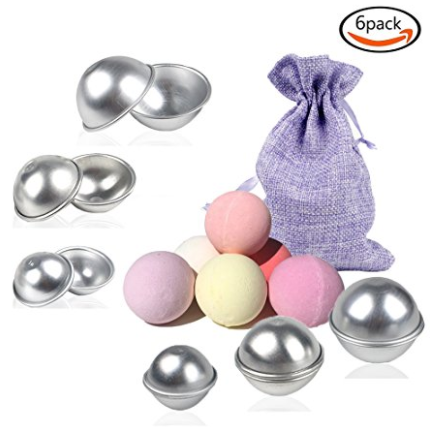 Lavender Bath Bombs
These beautiful lavender bath bombs smell amazing and are made with simple ingredients that come together easily. They make a great gift for mom, teachers, friends, and even family!
Ingredients
Instructions
Begin by measuring out the ingredients and whisking the dry ingredients together into a large bowl. If you are using colors, do it at this time. Carefully add the oil and water – adding too quickly can cause the mixture to bubble up and react, so pour slowly.
I repeat, pour slowly.
Use your hands to carefully mix the ingredients together. The bath bomb mixture should be slightly damp, and if you squeeze it in your hands it should stick together. Try not to add too much water as the bath bombs will crumble and won't mold up very well.
It's better to have too little water than too much.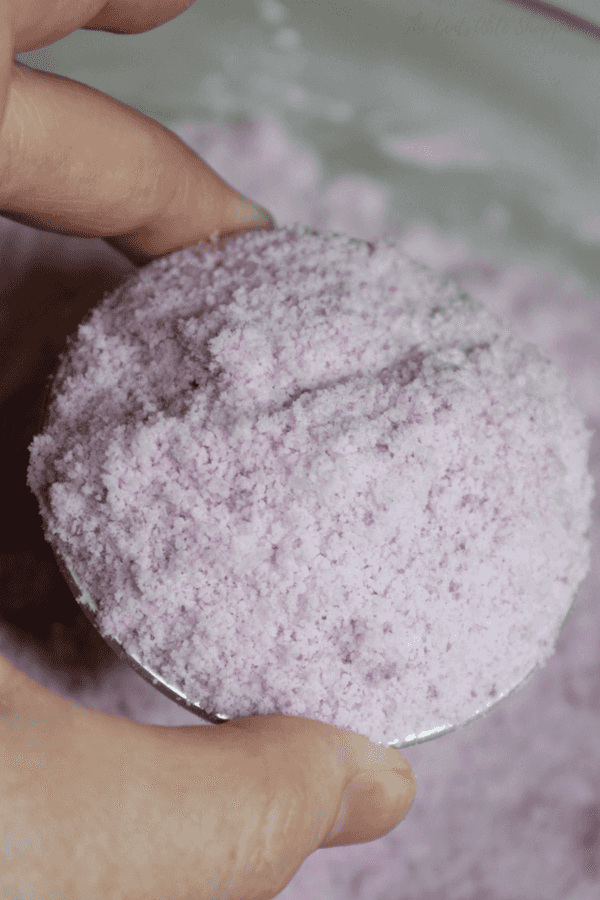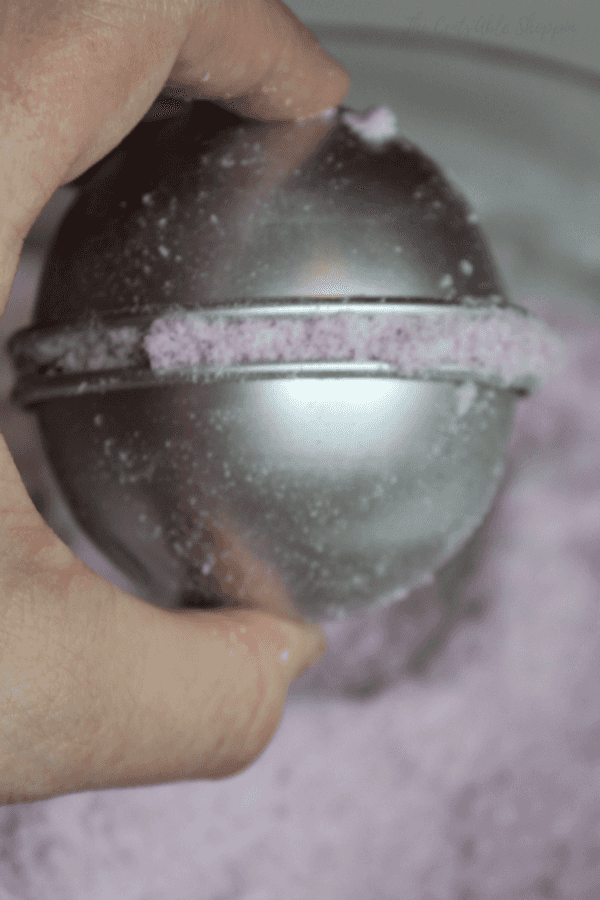 Stuff into the Mold
Once you feel that the mixture is ready to mold, grab your spherical halves. Pack down the mixture into one of the halves. Then add more to the half so it's overfull – set it down in the bowl and repeat with the second half.
After filling the second half, push the halves together. The excess you have overfilled with will mush together and squeeze out the sides.
Go around the outside of the mold seam and brush off the extra. Set the mold down and work on the others. After you are done filling each mold, set them all on a plate and gently remove half the mold.
Make sure little hands don't get curious – so push them to the back of the counter top.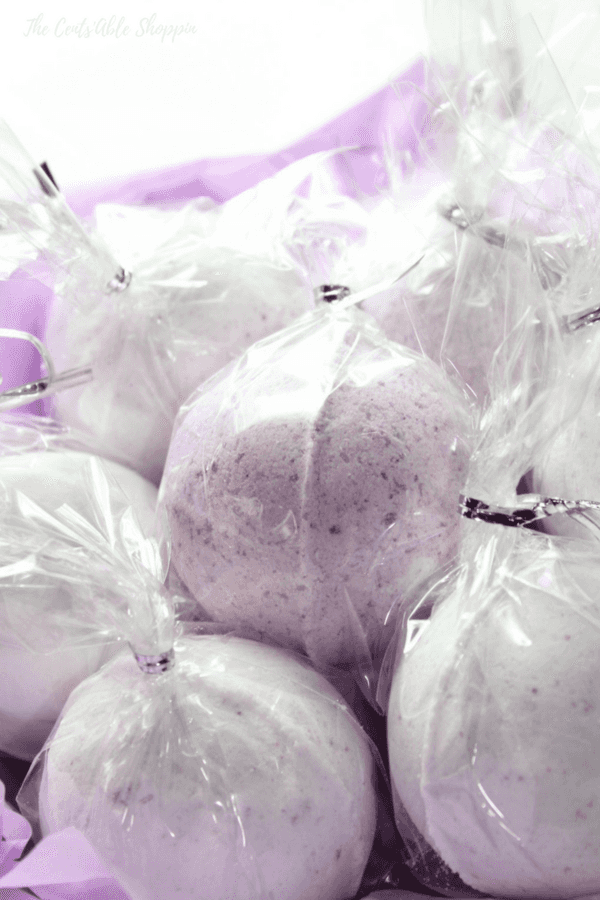 You should now have the bottom half of the mold on and allow them to dry that way for an hour. Then remove that half of the mold and allow to dry in an area that has no moisture (do not allow them to dry in the bathroom).
After 6-8 hours, check on your bath bombs – they should be dry.


Wrap & Gift
Immediately wrap and twist tie so as to prevent moisture from crumbling the finished bath bombs.
I use Cello Bags that are 4×6 in size that fit perfectly around the large bath bombs – you can find smaller bags that are 3×5 if you opt to use the smaller bath bomb molds.
If you love these lavender bath bombs, check out these Stress Away Bath Bombs or, 12 Homemade Gifts you can give with Essential Oils.