Looking to get out of town and enjoy some family time this Labor Day? Here are 5 last minute Labor Day getaways in Arizona.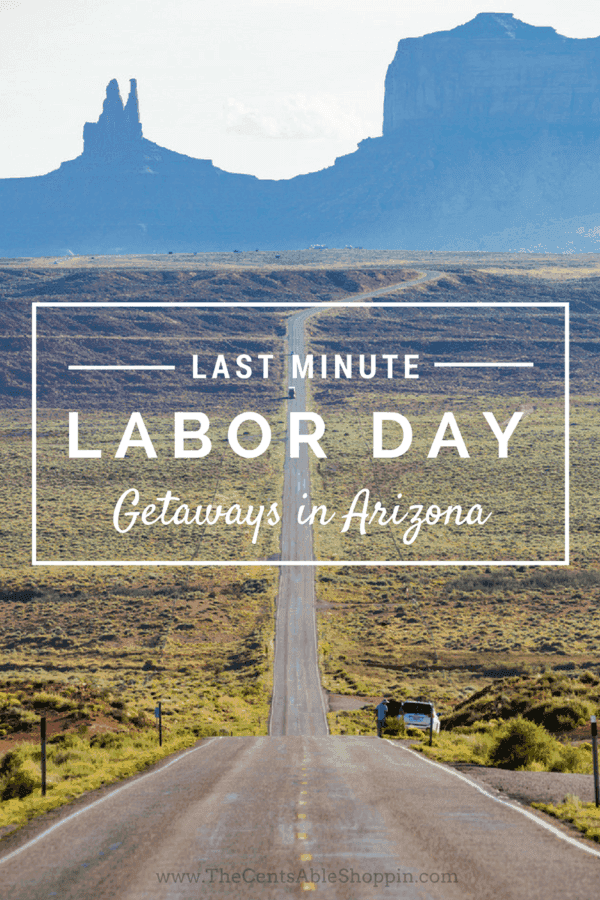 Labor Day is fast approaching – do you have plans? I've taken my kids all over the state — from Flagstaff to the Petrified Forest, Meteor Crater, as far south as Chiricahua National Monument and Sierra Vista, there's so much to do. I've also taken them to Hatch, New Mexico – not quite "Arizona" but I would definitely go to New Mexico at any available opportunity just because there's so much to offer there that knocks the socks off Arizona.
If you are off that weekend too and looking for a fun road trip to take with the family, and you aren't up for going "outside" of Arizona, I rounded up 5 of my favorite places to take my kids.
5 Labor Day Getaways in Arizona
These are all fabulous places for us locals in the Phoenix (possibly even Tucson) area – plan ahead though! If you are staying overnight, book a hotel early… scour Groupon for deals too!
Travel north on the 1-17 to exit 289 (90 minutes north of Phoenix) and exit there, to the right, then head 1/2 mile (past two traffic circles) and hang a left on Montezuma Castle Road. You'll drive down the hill to see the cliff dwellings & archaeological remains.
The well is just a few more miles north of Montezuma's Castle, off the 1-17 and exit 293.
The well and castle are open 364 days per year (closed on Christmas) from 8 – 5 p.m. Fees are $5 for ages 16 and above to see the castle. There is no fee to enter the well.
(If you take this road trip, you can actually make it a full day by stopping at the well & castle on the way to Flagstaff — I recommend visiting these both on the way UP the hill ~ 2 – 3 hours is more than enough time. Get a bite to eat at Johnny Rockets in the Casino right off the 1-40 in Camp Verde, and continue up the hill to Flagstaff. Stay the night ~ and visit the Lowell Observatory the next day)
Located in Southern Arizona, Bisbee is a city perched on the hillside of an old mining town. You can find gourmet restaurants, antique shops, book stores and restored neighborhoods of European and Victorian Style homes.
Take a Mining Tour in the Queen Mine, or an Old Bisbee Ghost Tour ~ visit the Brewing Company.
Bisbee neighbors to Tombstone, an Authentic Old Western Town that has museums, gunfights, underground mine tours, ghost hours & more. Both Bisbee & Tombstone are 3 hours Southeast of Phoenix.
If you need a bite to eat, Tombstone has plenty of great restaurants, many of which are child-friendly. Bisbee is a cute and quaint little town, it's very steep to push a stroller if you have a baby, so a baby carrier might be your best option. There are many little restaurants all over town that are cute. Some are more child friendly than others and some offer outdoor seating (which might be your best bet if you have lots of kids).
If you visit Bisbee or Tombstone, it's best to stay Sierra Vista. There is a Holiday Inn and Hampton that are near to the mall The Windemere Hotel has been recently remodeled if you are looking for additional places to stay. It's best to call ahead and see if they have rooms available.
A 100 Year old Mining Town, the city is full of antiques and old mining equipment, that is 5,000 feet above sea level in Yavapai County.
Jerome sits atop what (once) was the largest copper mine in Arizona. When the mine closed, the town became one of the largest ghost towns in America.
You can visit the Winery, eat at a Restaurant or shop for Antiques. Visit Prescott the same day to make it a fun day trip. While in Prescott you can walk down Whiskey Row.
(If you have smaller kids, make sure you visit the Heritage Zoo in Prescott — they are open 9 a.m. to 5 p.m. through the summer. It's an adorable place for the kids – mine LOVED it! )
Open 7 days a week from 9 a.m. to 5 p.m. The park has the largest Natural Travertine Bridge in the world – 183 feet high over a 400 foot long tunnel that is 150 feet at it's widest point. You can enjoy the bridge from up top or hike down.
The park is $5 for adults 14 years and more, $2 for ages 7 – 13, and kids under the age of 6 are FREE. Head up to Payson on 87 North – at the traffic circle take the 2nd exit, and stay on AZ 87 N for another 8.6 miles, then turn Left on NF 583. The park is on the left.
Perhaps this might even be a great weekend to camp – but be prepared & plan ahead, I'm sure you won't be the only family that visits! Check to see if you qualify for a FREE or discounted National Parks Pass so you can save a little money, too.
Enjoy one of the earliest agricultural developments in Arizona with a 43-acre historic apple farm in Oak Creek Canyon (Sedona)… right off Highway 89A. Those who visit can slide down a natural chute, or play in the creek.
There is an entrance fee (that may change with time). See more on their site for hours.
If you do take the opportunity to go up there, you might want to also stop at Cathedral Rock as well. It's best visited in the morning before it gets too hot.
(While you are there, head over & grab this Groupon & visit a Winery for LESS – a Wine Tasting for 4 + FREE Wine Glasses).

Have you taken any of these trips? What do you usually do over Labor Day?
Check out these fun opportunities, too!