Freezing fresh asparagus is one of the best ways to store a bounty of it all year long. Find out how you can quickly and easily preserve fresh asparagus.
This week we have a great price on Asparagus- great time to stock up. The best time of the year (at least for us in Arizona) to get asparagus is February or March. October is also a great time, too! Take advantage of the low price, it's a great idea to freeze so you can save later.
Why Eat Asparagus?
There are so many reasons to eat asparagus — aside from the fact that it's delicious, of course! One of my favorite side dishes is Panko Roasted Asparagus – and it's so easy to make!
So why stock up on asparagus? And why go to the extent of preserving it if you have a bounty of it? Preserved asparagus will last for up to 12 months, when properly prepared. It's perfect as a side dish or in soups, or even as the star of your meal.
1. IT'S LOADED WITH NUTRIENTS
From Fiber to Vitamin K, C, A and E, it has all the nutrients you need to allow insulin to transport that glucose in your body from the bloodstream to the cells.
2. HIGH IN ANTIOXIDANTS
Much like Pineapple, Asparagus has the ability to neutralize cell damaging free radicals – those same free radicals that, when NOT controlled, can contribute to a weakening of the immune system and to you getting sick.
3. IT'S HIGH IN FOLATE & VITAMIN B12
Vitamin B12 is found in fish, dairy, meat and Raw Dairy. It helps your brain stay mentally sharp by increasing your speed and mental flexibility and deterring impairment.
4. CONTAINS ASPARAGINE
This Amino Acid helps your body release excess fluid & salt, which in turn helps those with high blood pressure or heart disease. Eating asparagus also leads to a strong urinary smell – which is completely normal. The vegetable contains a compound that gives off a smell when it is metabolized.
4. HIGH IN GLUTATHIONE
This compound breaks down the free radicals in your body – which can be beneficial to help your body fight different types of cancers.
The best way to freeze asparagus
Have you ever frozen asparagus? If not, it's a super easy process. If it weren't for the boiling water it would take less than 5 minutes.
Step 1: Start a pot of water to boil and a large bowl of ice water.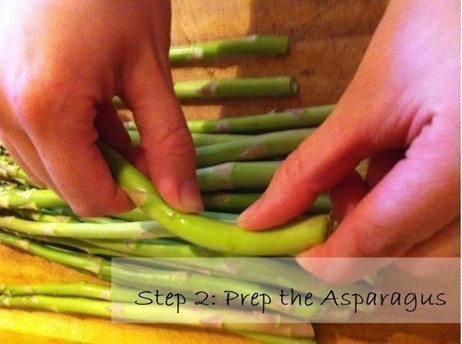 Step 2: Wash and prep the asparagus. If you hold it near the middle with one hand and the bottom with the other and then bend a little it should naturally break at the woody end. You can cut it into 1 inch pieces or leave whole.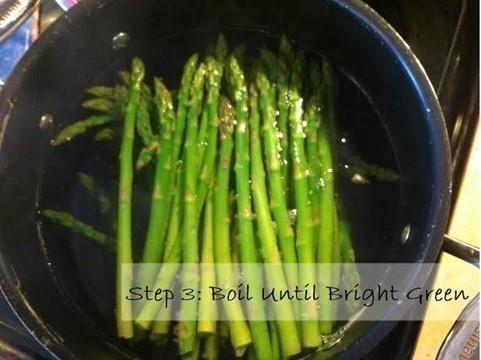 Step 3: Put the asparagus into the boiling water and let it boil until it has just turned a brighter green. This took exactly one minute for me but it may vary if your spears are thicker.
The only way to mess this up is to overcook it here and then it will be a bit mushier than you might like it. Did you overcook it? Don't panic — it's still freezable. If you did overcook it, it's best used for soup.
Step 4: After 60-90 seconds scoop it out and put it in the ice water to quickly stop the cooking.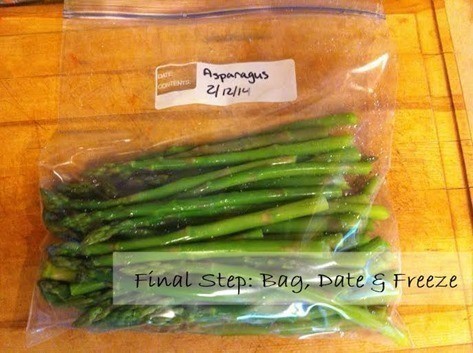 Step 5: After a couple minutes in the water to cool, bag it up in a freezer bag and it's ready to freeze.
Can you freeze asparagus without blanching?
Without blanching to stop the enzymes, the enzymes remain active and the texture, color and nutritional content of the asparagus will be compromised. When you properly blanch and package asparagus for freezing, it will retain its quality for up to 12 months.
Frozen asparagus works great in most recipes except for grilling and roasting. Our favorite is to add it as the last of the veggies in a stir fry. You want to cook it just long enough to heat it up.