Step by step directions to help you dehydrate cherry tomatoes – the result is a tasty, burst of flavor that can be used in salads, wraps, bread and more!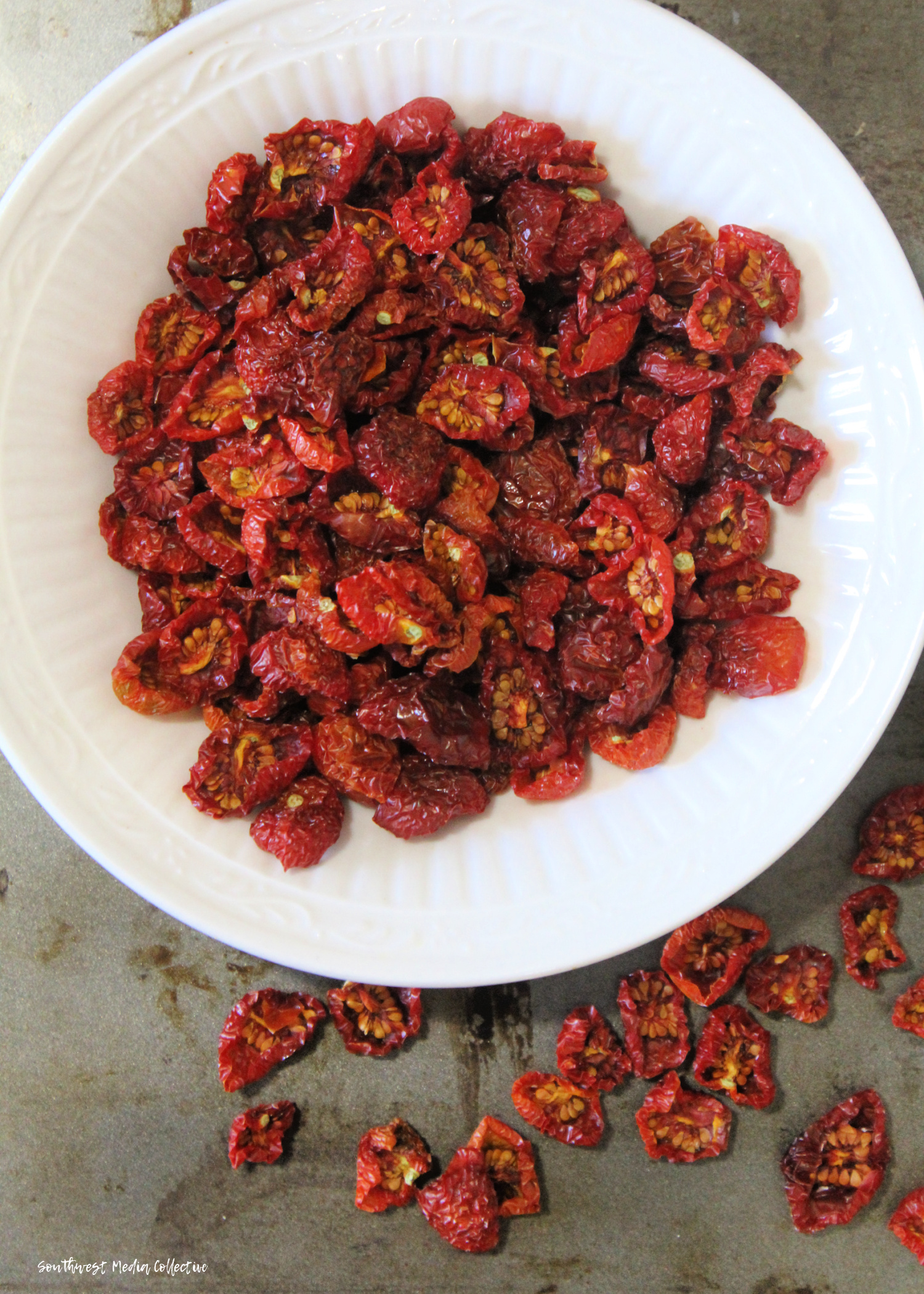 Chances are, if you have cherry tomato plants, you know how those plants operate. Here in Arizona, they will be dormant all summer long due to the high heat…
Then suddenly, without warning, they'll grow like crazy. So crazy, in fact, you'll have tons and tons and tons of cherry tomatoes. Up until that point, you'll find yourself wishing for fresh, cherry tomatoes for your salad, for homemade summer recipes – you'll sit there in earnest wondering when, oh when that plant is ever going to kick in.
But then [almost overnight it seems], the tomato God will hear your plea for tomatoes and bless you with 50,000 of those little buddies and you'll be searching Google for ways to use them all in a hurry.
Because face it – to allow them to go to waste is a travesty!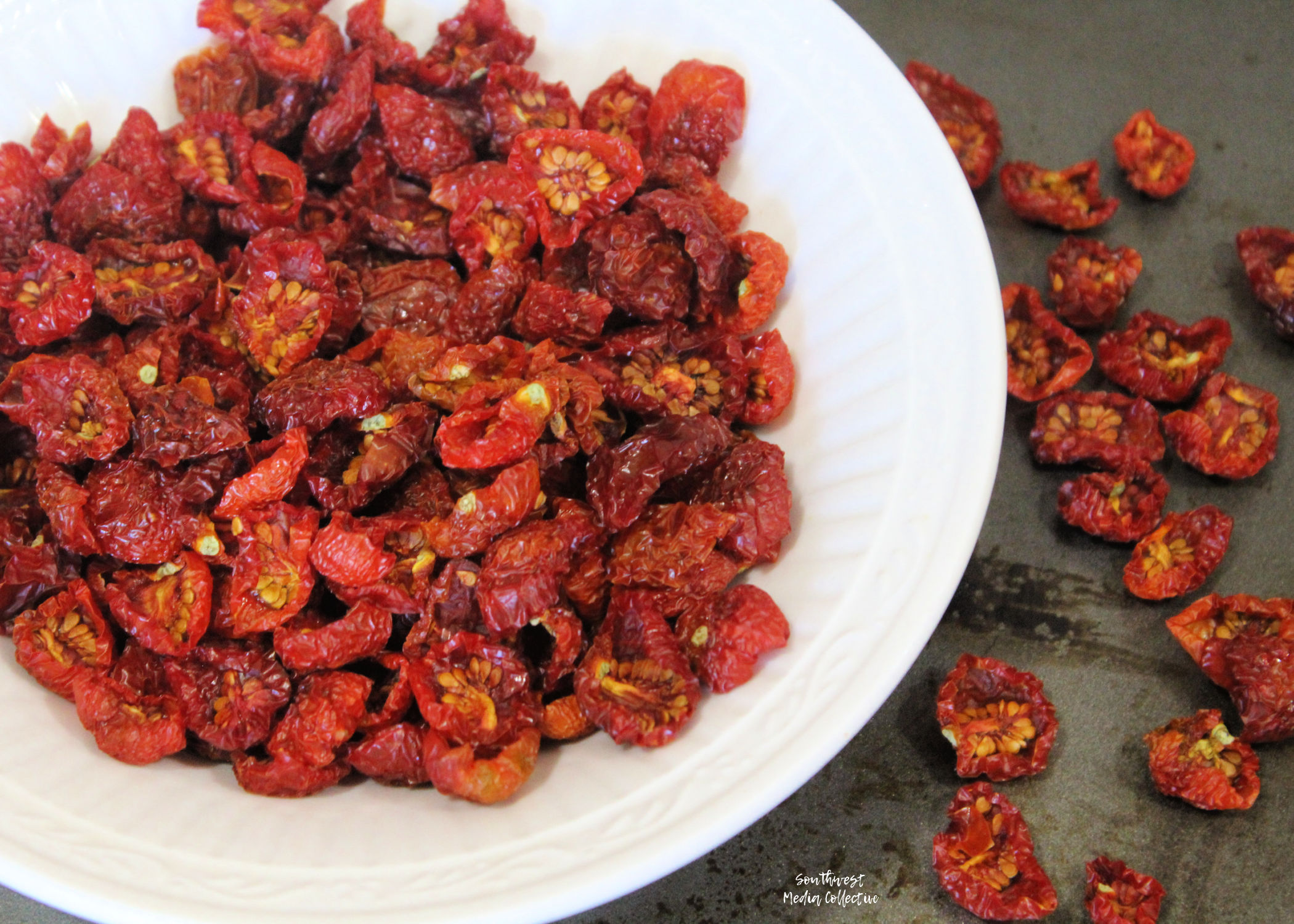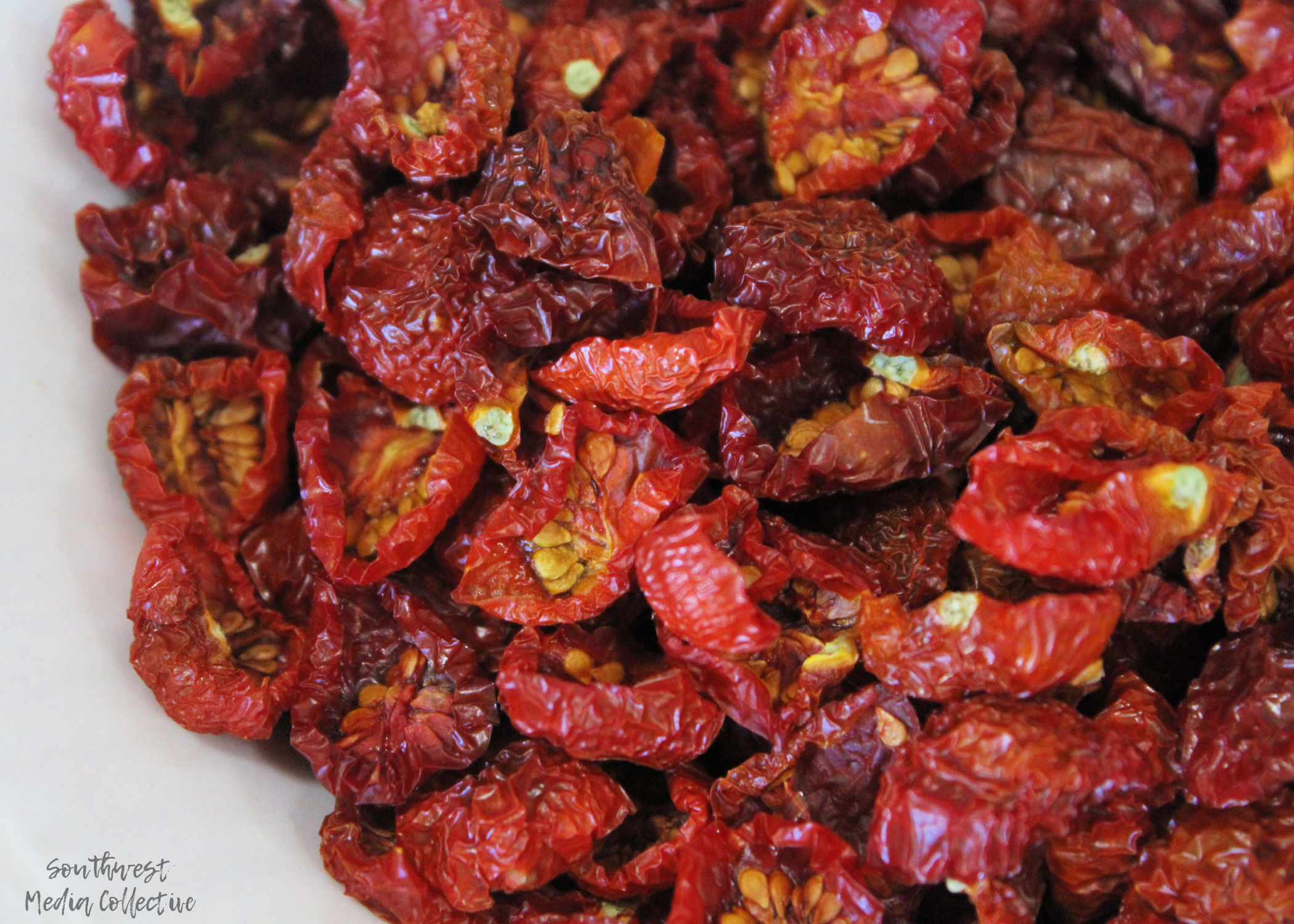 Cherry tomatoes are perhaps one of my favorite garden bounties to have an abundance of. I can find a million ways to use them up in a hurry, and entertaining my stomach at the same time:
Why dehydrate cherry tomatoes?
Dehydrating cherry tomatoes is a wonderful way to preserve the tomatoes, once ripened, and use them for snacks or for cooking at your own leisure later on.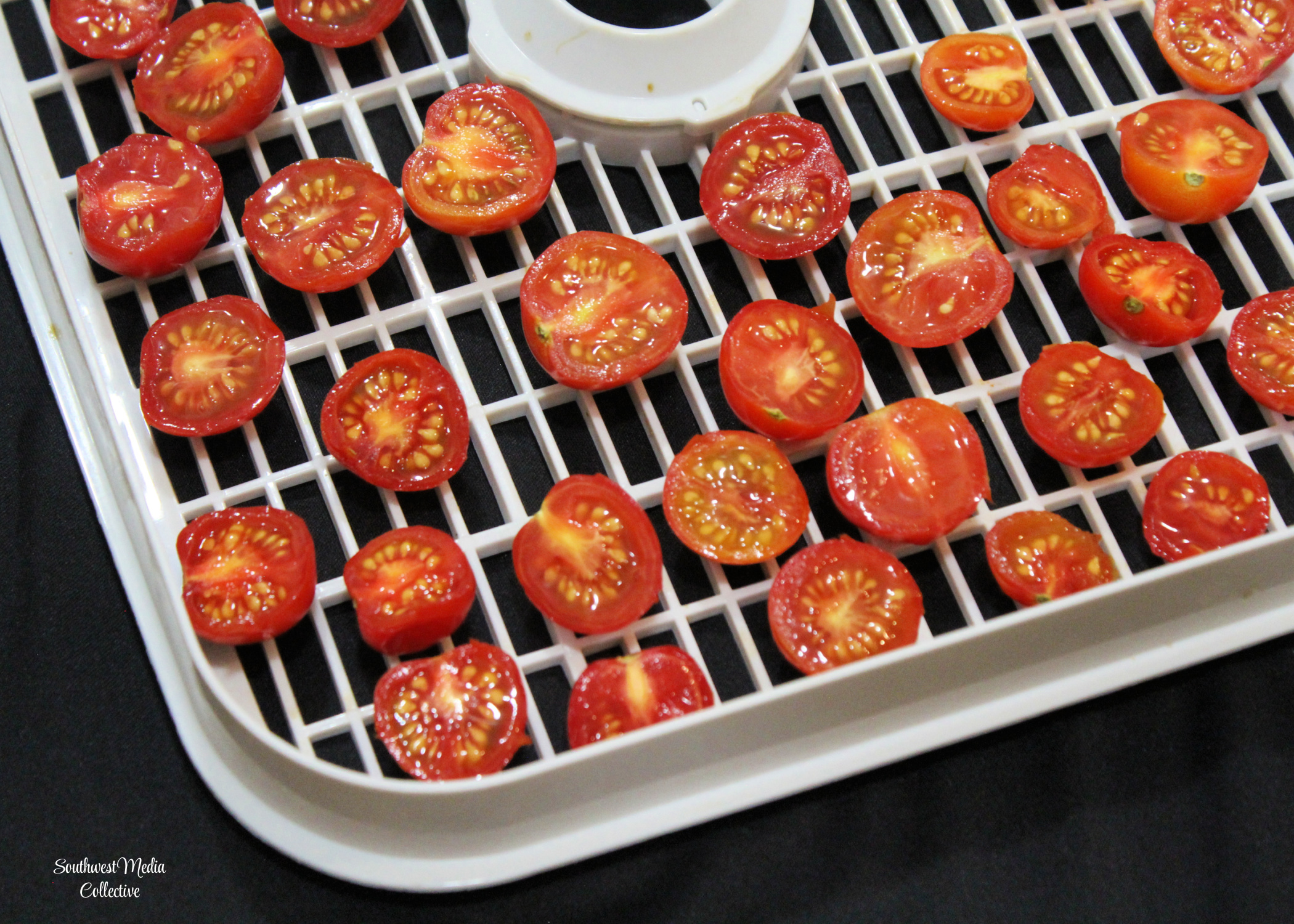 There are two ways to dehydrate grape or cherry tomatoes – you can throw them on your dehydrator until they are almost dry (which is what I call "moist dry"), or you can dry completely if you plan on storing them in your pantry (known as leathery dry).
If you plan on storing them in your pantry, you will want them to be leathery dry. If you dehydrate them until they are moist dry, you will need to store them in the freezer (as they will spoil or mold in your pantry due to the small amount of moisture you have within them).
How to Dehydrate Cherry Tomatoes
Dehydrating cherry tomatoes is a wonderful way to preserve your bumper crop, and very easy to do with minimal effort.
In simple form:
Wash your tomatoes
Cut them in half
Arrange them on trays
Dehydrate between 130 – 135 degrees F
Check your trays and rotate as needed
Tomatoes may take anywhere from 10-14 hours*
FAQs About Dehydrating
Typically speaking, it takes 10-14 hours for your cherry tomatoes to dehydrate. However, the actual time will depend on certain factors, such as:
your humidity levels in your home
whether you choose to fully dry (leathery dry) or moist dry
size of your tomatoes
your dehydrator specs – whether it has a circulating fan or fan that operates from the bottom and blows up
dehydrating temp
how many times you open and close the dehydrator lid
How to use dehydrated cherry tomatoes
There are many ways to use dehydrated tomatoes – to include:
eating them straight out of the jar, fully dehydrated
you can cut moist-dry cherry tomatoes and add them to salads, hot or cold dishes, sandwiches, and more
if your moist-dry tomatoes are still too dry, soak them in a bit of water until they soften up further. Consider keeping the tomato-soaked water to use in your recipes too (it makes wonderful liquid for rice)
add moist-dry tomatoes to your favorite sourdough bread recipe
use leathery tomatoes to make tomato powder – throw your leathery dry tomatoes in the food processor and blend until they are a fine powder. Add this powder to recipes, casseroles, soups, and more.
use your tomato powder to make tomato paste – simply mix 2 parts of tomato powder with 1 part water for an easy homemade tomato paste!
Dehydrated moist-dry tomatoes will last quite a while if you keep them in an airtight container in the fridge or freezer. Leathery dry grape tomatoes will store wonderful in a cool, dark pantry away from moisture. I would suggest using them within 9-12 months, however, for best results.
What dehydrator works best?
I've used several dehydrators and they all work relatively well. Use what you can afford at the time – lower cost dehydrators may require you to rotate the trays frequently.
Dehydrated Cherry Tomatoes
Step by step directions to help you dehydrate cherry tomatoes - the result is a tasty, burst of flavor that can be used in salads, wraps, bread and more!
Ingredients
1

lb

cherry tomatoes

or more, as you have on hand

2

Tbsp

vinegar

8

C

water
Instructions
To dehydrate cherry tomatoes, wash the tomatoes in a water bath with vinegar (2 Tbsp vinegar to 8 C. water) to remove dirt and debris. Next, slice each cherry tomato in half like the picture, above.

Place your cut tomatoes on the trays - cut side up.  Allow space surrounding each tomato.

Once the trays are filled, turn your dehydrator on to 130-135 degrees F. Be sure to rotate your trays for even drying (if needed). Tomatoes can take anywhere from 10-14 hours to dry.

Leathery dry tomatoes can be stored in a covered jar in a cool pantry. Moist-dry cherry tomatoes can be placed in a ziplock bag and stored in the freezer or fridge.
General guide
5 lbs of fresh tomatoes will dehydrate to around 2 C. of dried cherry tomatoes
10 lbs of fresh tomatoes will dehydrate to 1 quart of dried cherry tomatoes
Have you ever considered dehydrating cherry tomatoes?
If you followed this recipe, please take a second to rate it 5 stars and leave a comment to let me know how your tomatoes turned out and how you plan on using them!