This simple beach towel DIY takes just minutes and will prevent your towel from slipping off your chair when relaxing around the pool or beach this summer!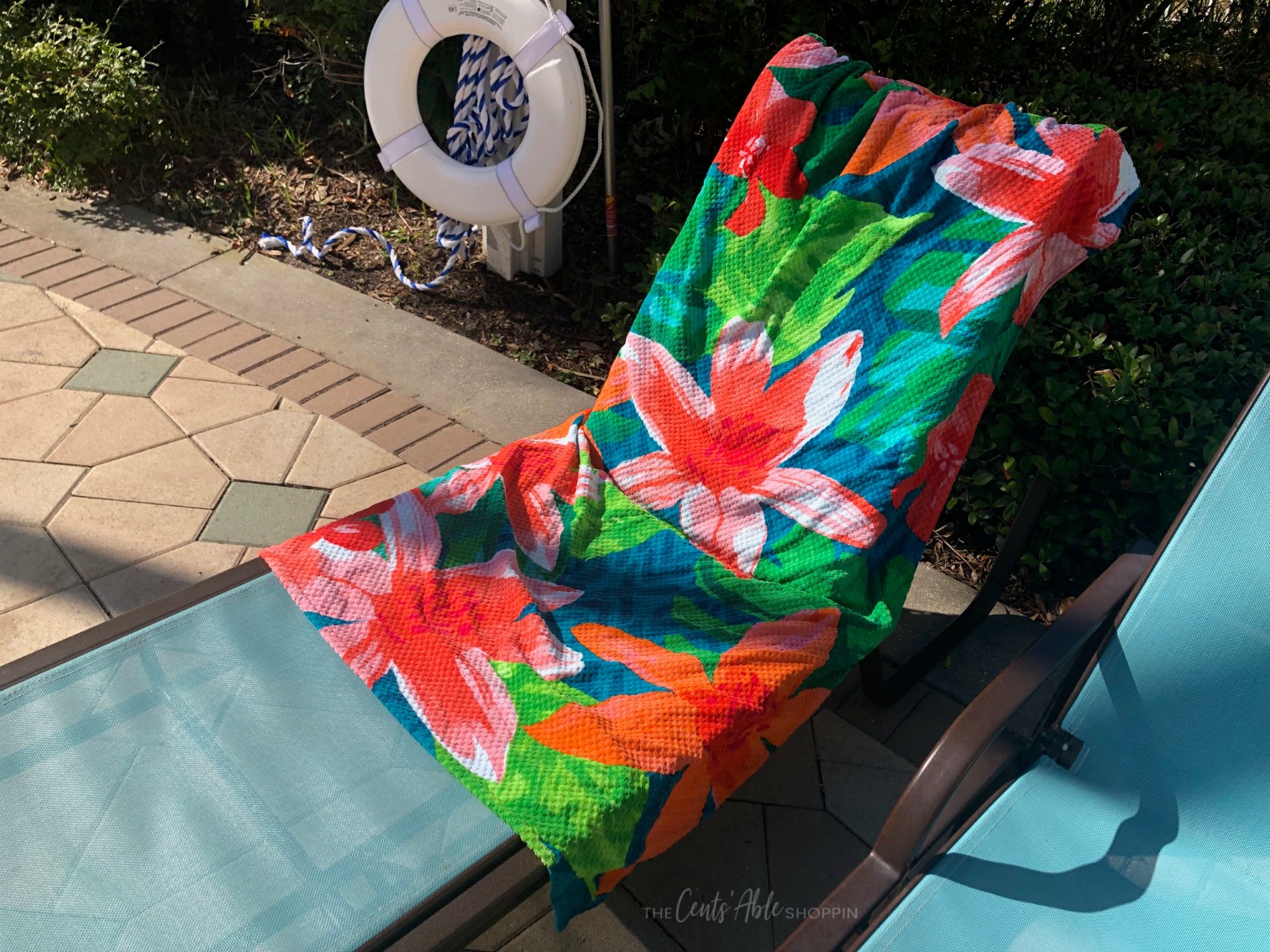 Summer is just a few weeks ahead of us – hard to believe, right? Some areas of the U.S. are still getting hammered with snow this late in the spring. Hard to believe, because here in Phoenix we're already rejoicing in the incredibly warm "pool weather".
Y'all, it doesn't get better than this! We've been pretty warm in Phoenix for the last few weeks. As we approach Memorial Day weekend and the long summer ahead, you better believe there will be plenty of swimming going on.
Swimming means flip flops, sunscreen and beach towels. Am I right? The more the merrier when it comes to beach towels. Nothing is better than jumping out of the pool and wrapping yourself up something that's warm and fluffy.
Where to Find Affordable Beach Towels
Walmart has some of the most affordable prices on beach towels at 2/$10. I've spotted them several times here the last few days. They're huge, soft, fluffy and have all of the bright colors that we like to see in a fun, summer item.
Plus – at 2/$10, you can't get much less! Agree? Buy 1 or buy 20, then tackle this easy Beach Towel DIY to keep that beach towel on the patio chair this summer.
DIY Beach
Towel

Hack

There's nothing worse than a beach towel that keeps slipping off of a beach chair. Especially when you're trying to relax.

With a bit of sewing velcro, you can create a beach towel that stays put so you can relax without having to constantly re-adjust!
What you'll need:
16" 1.5" sewing Velcro
Sewing machine
Matching thread to

towel

Pins
Directions: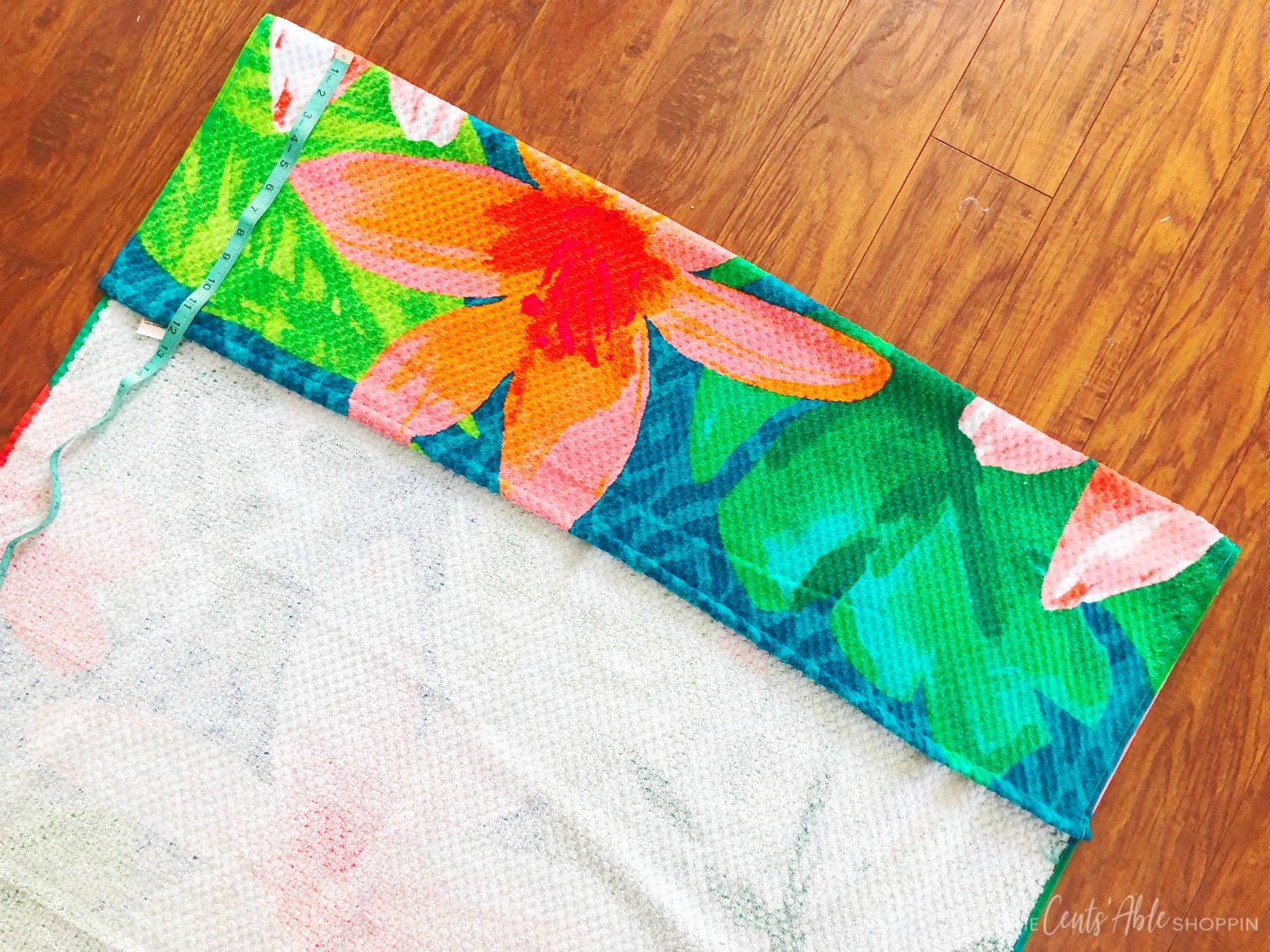 Lay out your towel in the floor, print side down. Fold the top of the towel over to the back about 12".
Both sides of towel: Pin the top of an 8" piece of Velcro to the backside of the folded over top edge of the towel vertically to the towel.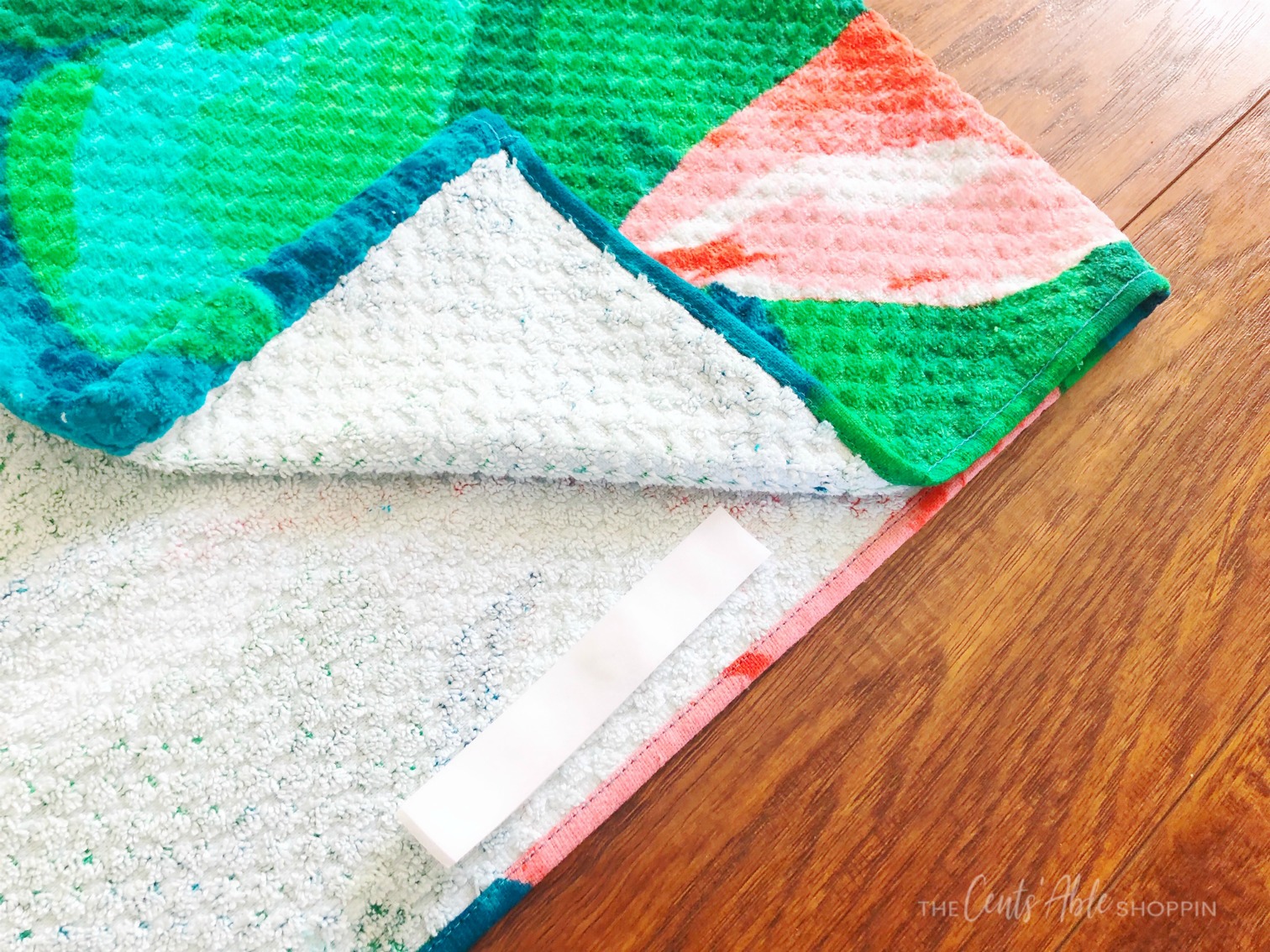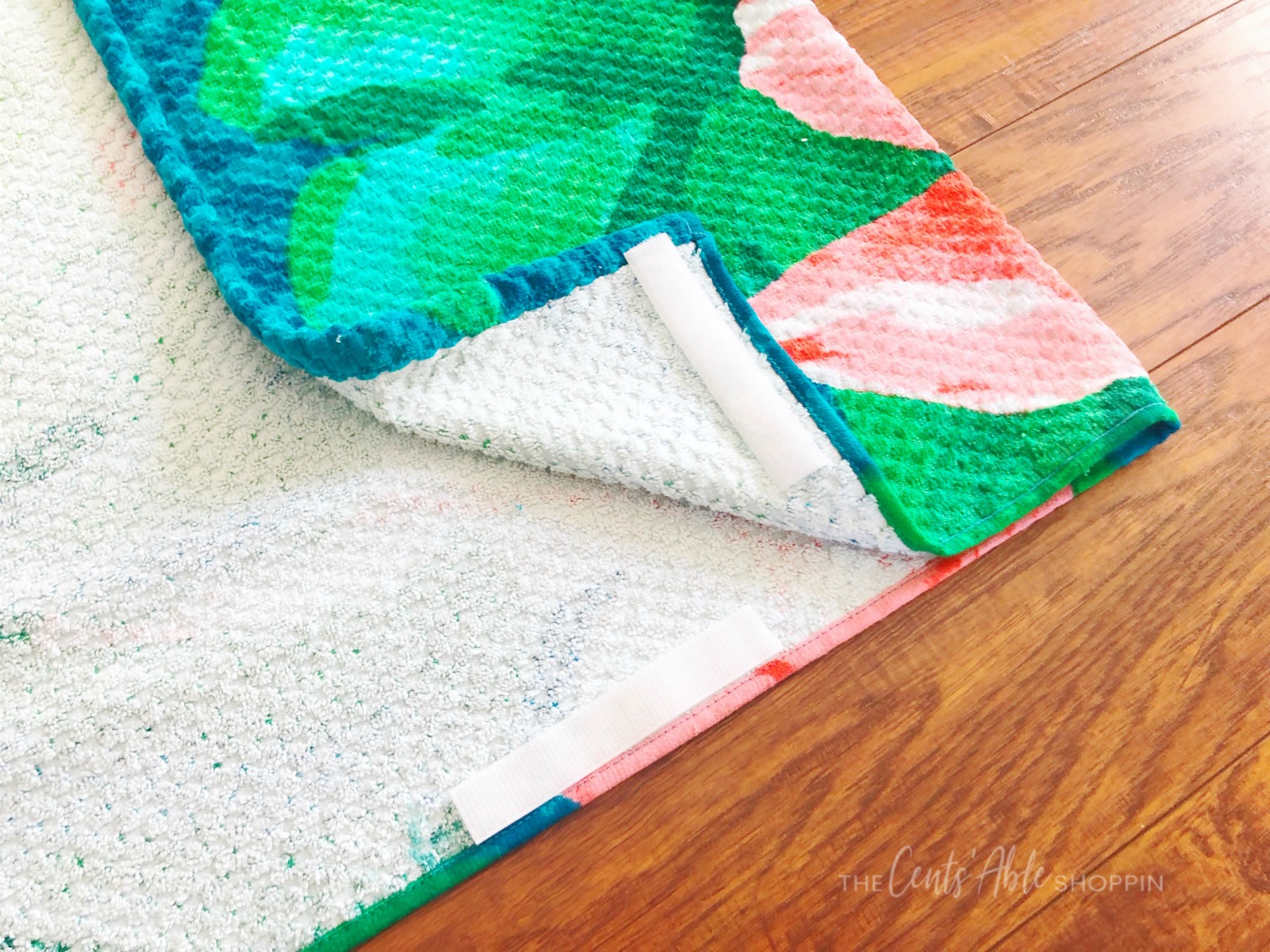 Both sides of the towel: Keep your towel folded over about 12" and pin the bottom of the 8" piece of Velcro where the Velcro matches up on the backside of the towel.
When you fold the front side of the towel over 12" to the back, the Velcro should match up to stick the side edges together.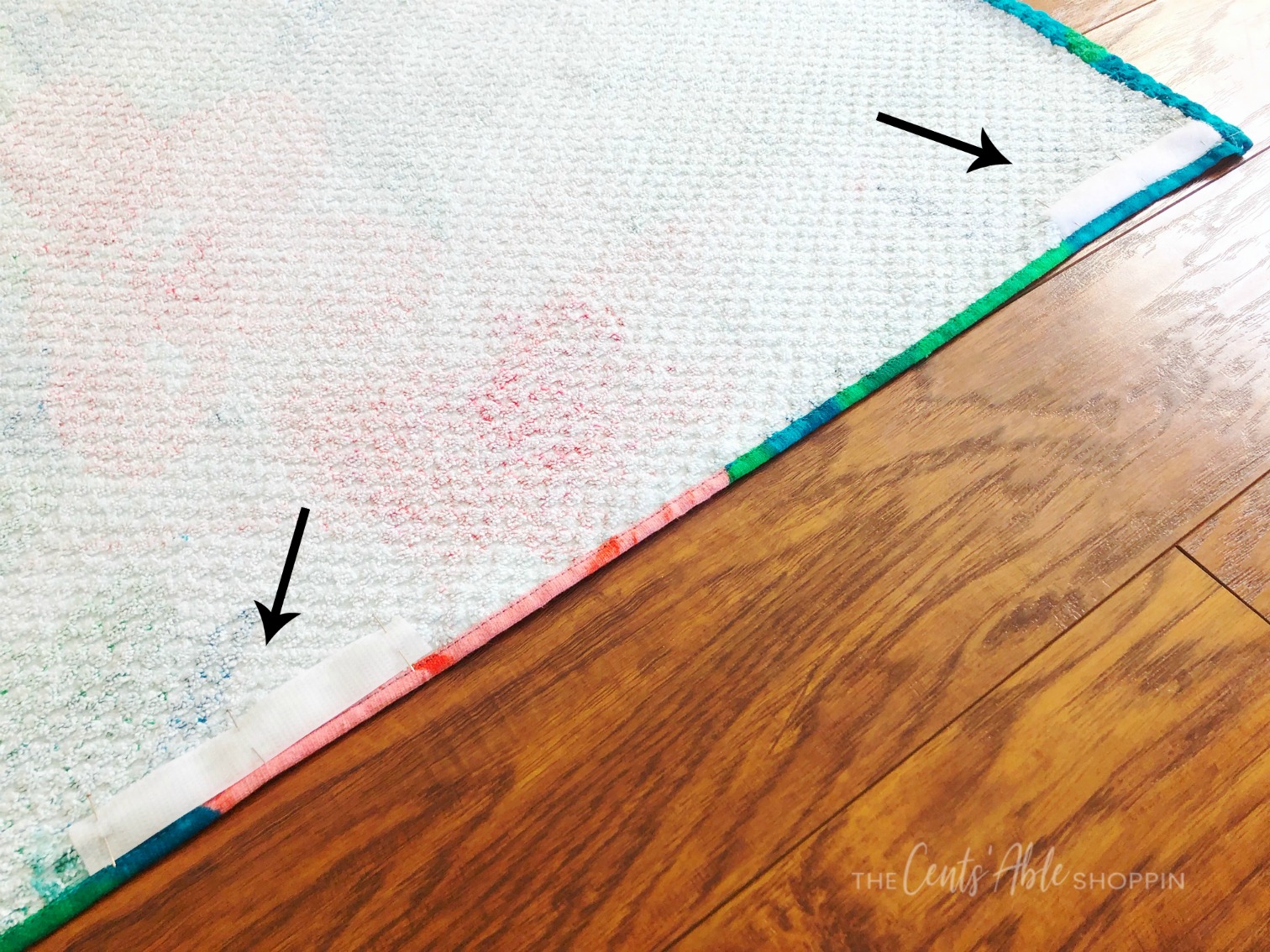 Carefully sew each piece of Velcro on where pinned. Once sewn, carefully remove your pins.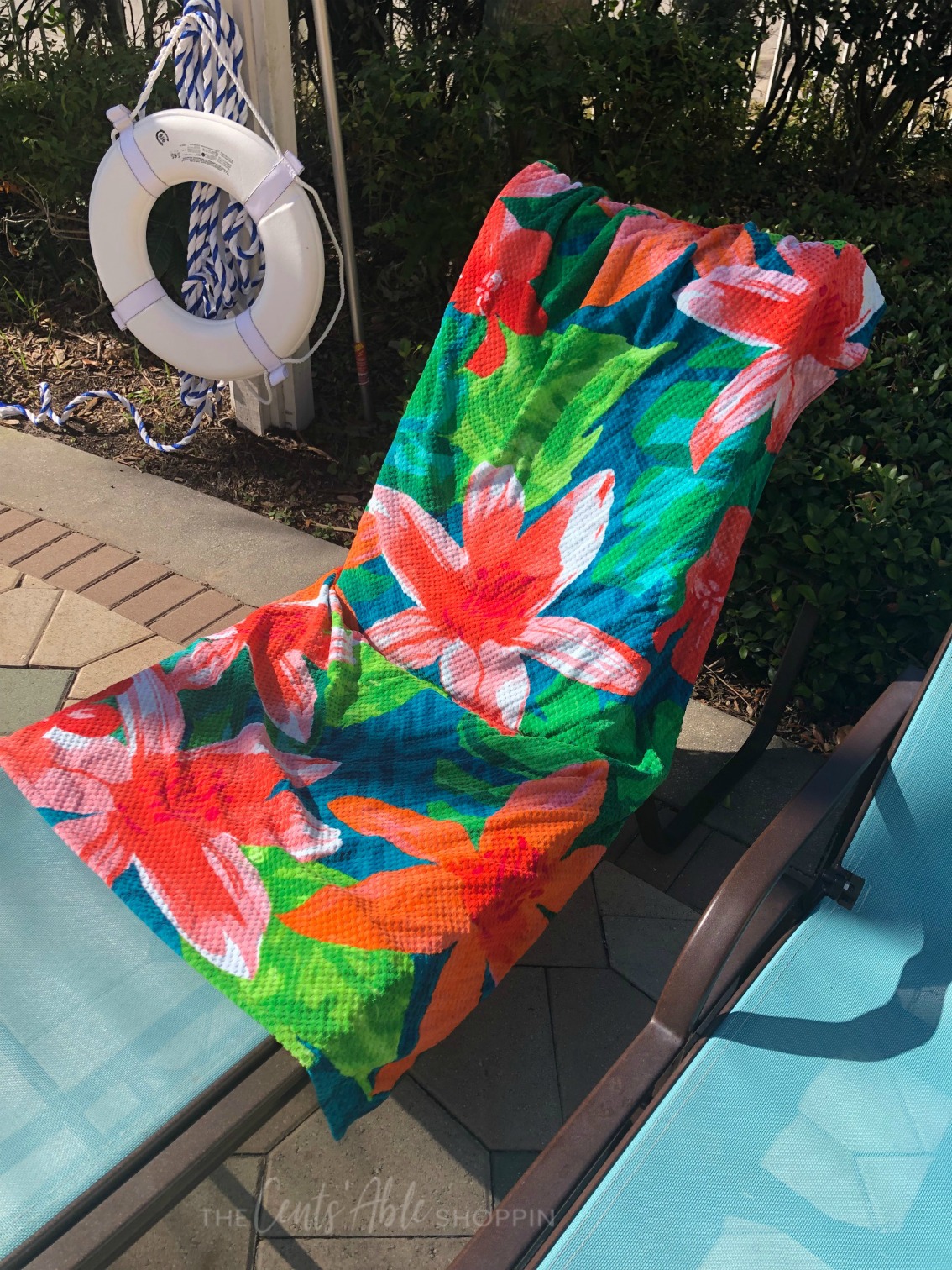 To use: place the towel onto a chair and fold the top over to the back and secure the sides of the towel to avoid your towel slipping down or blowing off.
Don't have a sewing machine?
You can find velcro at your local fabric store that irons on with heat from a regular iron. It runs a little more in price but works well if you are without a sewing machine!