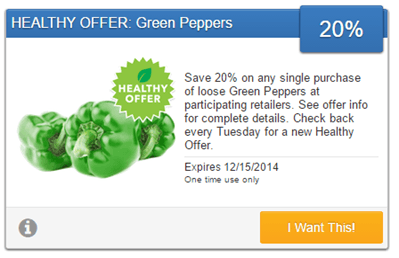 Jump on SavingStar today and grab this offer to load to your shoppers card.
SavingStar released a coupon for 20% off your purchase of loose Peppers at participating stores……..it is valid through 12/15. The offer is valid for purchases of up to $10 (Max $2 Savings). Through today, Green Bell Peppers are 3 for $.99 at Food City.
We also have a recipe for Crock Pot Peppers in the Weekly Meal Plan list.
Unfortunately, this offer cannot be used when you weigh and tag the produce yourself prior to checkout

Read more about using SavingStar on my last post… you no longer need a loyalty card to redeem.