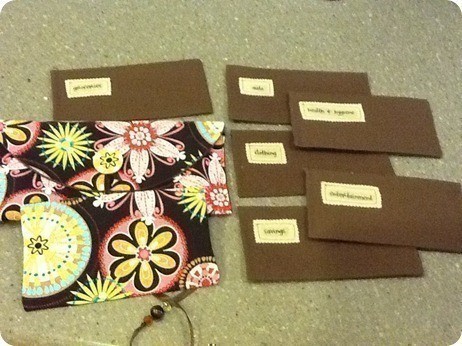 Over the last few months, I have had many folks ask me about budgeting out their money to help them find potential ways they can free up money for other areas of their finances.
The envelope system above is fairly new- a reader who is very talented sent it to me in lieu of the white envelopes I have been using.
I started using Dave Ramsey's envelope system in 2010 year when my husband was first gone to Georgia & Alabama for Army training; and continued through 2011 when he was deployed to Iraq; at the time, it was fairly easy because he wasn't here to spend money…and he had limited access to money. He came back late last year and we had managed to sock away the equivalent of 6 months of his paycheck, just from streamlining his pay, and that money is now our Emergency Fund (along with the money we had in there to start with).
(One thing to mention is that may seem like a lot to put away, but remember.. he wasn't here, and I lived a very boring 9 months with the kids.. we did not spent money on anything; before that, Dave was eating Jack in the Box, Taco Bell, renting movies ==> It adds up FAST)
Before the envelope system, I could never have fathomed being able to put away that amount….but we did, and I was proud that we did so.
"A budget is telling your money where to go instead of wondering where it went."
–Dave Ramsey
Now that he is back, it's a bit more of a challenge, but each day when I see deals that come around, I propose the question "Need, or Want?"  I try to stick with things that I need, and that helps immensely… Most of the items others buy I stay away from.
This is how we started out –
::: We gathered Dave's paychecks and determined how much (after tax) was coming in to our household – everything goes on paper.
::: We wrote down all of our expenses – Electric, Rent, Car Insurance, Life Insurance – everything that was pay on a regular monthly basis – even daycare (for Wendy)
::: The number that was left, we divided into categories:  Entertainment, Gas, Clothing, Grocery, etc. We have 6 categories that we divvy money into.
::: I allocated a certain amount per category – for example…… for our grocery budget we set aside $40/week. ($25 when he was gone)
::: (I hate saying this because it sounds restrictive) but Dave gets an envelope with an allotment of "just Dave" money – it's the only way I can prevent him from swiping that plastic debit card.
::: We spend that money until it's gone – at that time, if we run out, that's it – NO MORE SPENDING, and no trips to the ATM until the budget resets for the next month.
Any money leftover for us, goes into our kiddos college funds – 3 kids, 3 different 529 plans.
I would recommend checking out Dave Ramsey's site online – he offers an extensive amount of advice, motivation, etc for making the envelope system a reality.
And if you are looking for a way to budget aside from the Envelope System, you can also try Manila -  it is a free offer out there to help you manage your household accounts – including financial, utilities, subscriptions and travel rewards programs, in one secure place online.
I'm eager to hear your experiences with the Envelope System – do you have one?
How does it work? Or, what do you use to establish a household budget?