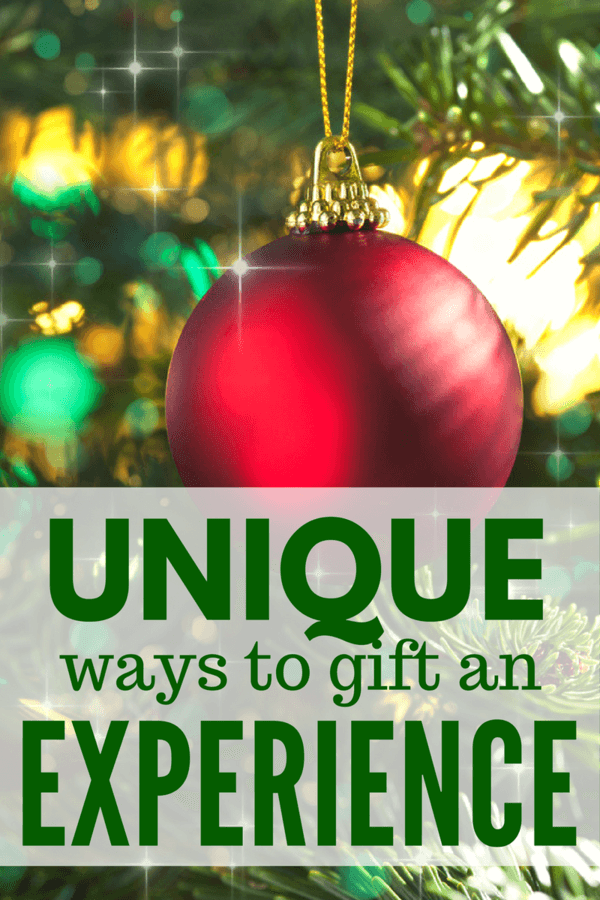 Several years ago, we skipped the toys and material Christmas gifts in order to gift our kids an experience instead.
Believe it or not, no tears were shed, and several years later, the first thing that comes to mind at the holidays is "where are we going to go this year?"
Coming up with Christmas gifts each year can be incredibly difficult – what is supposed to be a joyful season actually turns into a chore to find the best and most requested items for the kid. In the process, both parent and child lose sight of the real meaning behind the holidays and at some point, it starts to feel like a chore to shop for anyone and everyone.
Think about it a little more, and if your kids are anything like mine, they want video games, and the last thing they need is more screen time.
The Cost of the Holidays
The average parent spends just under $300 per year on each child – with some spending considerably more. Does spending more make the holidays any more meaningful? Probably not.
Make a pledge to trade gifts for time – and not only will you improve your family's outlook on the holidays, you'll have a remarkably overwhelming effect on their well being.
Studies have shown time and time again that families who spend time together, have children who are happier, healthier, and who do better in school.
Not only is family time important in the development of your children's health, any activity that allows for real, mindful interactions between family members will work towards strengthening those bonds – and strong family bonds influence a child for life.
While gifts are every child's wish, why not make it a year of change and gift any of these non-traditional experiences – chances are, they will remember and talk about that trip for a LONG time.
The last few years, we have gifted POGO Passes to our kids (60% OFF with code CENTSABLE) and they have been an incredible experience… as they allowed us to visit a ton of venues over the course of the year (some multiple times) for free.
How do you Gift an Experience?
One of the greatest challenges to gifting an experience is presenting that to your kids – how do you "wrap" a trip? If you are in Arizona, and you are thinking of picking up the POGO Entertainment pass…. how do you "wrap" that POGO pass? It's hard, I agree…but you can get creative!
Gift an inexpensive digital camera or a throw-away camera and their very own photo album. They can take pictures of their time together over the course of the year and put the pictures in the album as a way to remember their experiences together.
Gift your kids a t-shirt they can personalize with iron-on transfers or handprints and wear when they use the POGO Pass. At least with us, having the same color shirts is a helpful way for us to headcount to make sure they all stay together (and stand out at the same time). Michael's oftentimes has sales on plain colored tees you can take advantage of.
Gift your kids a calendar they can hang up in their room, with stickers and markers that they can use to mark the day(s) that they are going to be using their pass or taking their trip(s).
Gift your kids a wallet or a purse they can use to carry their important items to take on their trip. For the boys, a velcro wallet with a few dollars – they can be "in charge" of their money. Gift your girls a small purse they can use to keep their chapstick, money, and snacks for the trip.
Gift your Kids each a DVD and travel pillow for a car trip. If you are taking a trip this holiday instead of picking up individual gifts, then gift them each a DVD and a travel pillow so they can relax and watch a movie on the way.
Gift your kids a cinch bag – personalize it with iron-on transfers, and they can wear this bag on their travels through the year. You can include a pair of inexpensive sunglasses in each one, some flip flops (great for the waterpark if you pick up the POGO Pass) and a disposable camera for pictures.
Take it a step farther, and make a scavenger hunt for them to allow them to keep busy on the experience – whether you get a POGO pass or you gift them a trip up to Bearizona, LEGOLAND, & more.
It's Definitely Worth a Try
A few years ago when we ditched the gifts, we had our doubts that our boys would not favor wrapped packages filled with video games and consoles, plastic toys with millions of pieces and LEGO dimensions kits with endless tiny little pieces.
Several years later, our kids are still talking about these trips we took ~ whether up to Bearizona, or to down to Tombstone. I hate to say it but they remember the most random details from these trips… things that would make you shake your head and go "hmmm… " ;)