Take care of your valuable leather sofas with this DIY Leather Cleaner and Conditioner – it's simple, effective and inexpensive!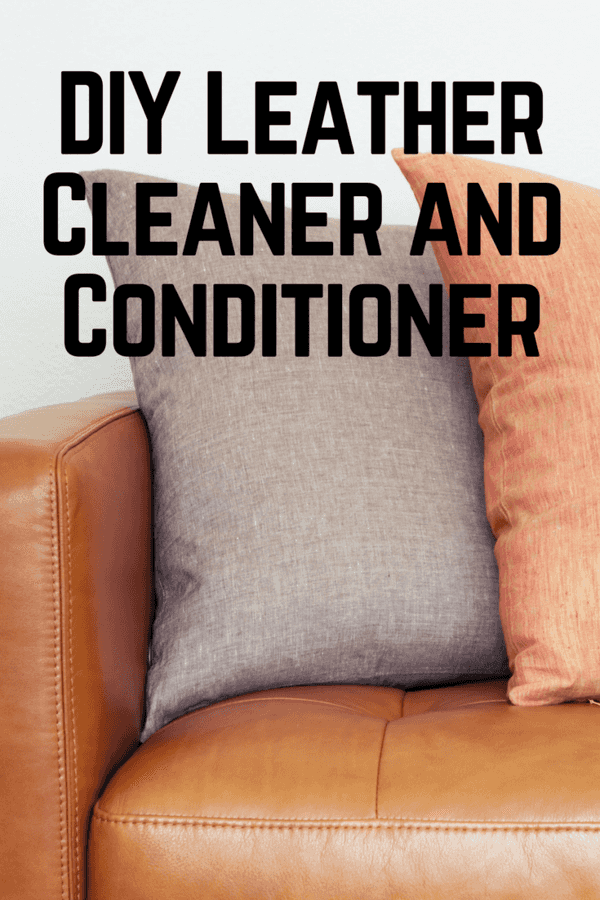 Chances are, you have leather sofas or some type of leather furniture in your home that you clean regularly. For me, it involves tipping the sofa forward every week and standing there in horror trying to figure out how all that stuff found its way under such a huge, heavy piece of furniture.
Seriously though. Is it just me??
How do you get a fork, spoon, straws, legos, beads, leaves, band-aids and a hair brush down there? And don't even get me started on the hair ties… I know now where all of our hair elastics go.
It's almost as if those hair ties are sofa food – and swallowed by every inch of the sofa. After I vacuum all those things up (or throw away), we start wiping down every inch of the sofa.
Though commercial leather cleaner is an option, it's not too inexpensive. If you are looking for cost effective ways to clean your leather sofa you can make your own leather cleaner at home with a few simple ingredients. While it might seem easier to grab the typical 409 or Pine Sol cleaners, try to avoid using those on leather as they can damage the fibers.
Thankfully you don't need to pick up super expensive cleaners to clean your sofa. You can make the most gentle (and effective) cleaner right at home with things you might just have in your pantry. Who doesn't have some vinegar on hand?
DIY Leather Cleaner
1/2 C. Vinegar
1/2 C. Water
4-5 drops Lemon Essential Oil
Before you get super adventurous with mixing a solution and getting a rag, you'll want to tidy up the area first to prepare the sofa to get cleaned:
Vacuum the sofa – use your sofa attachment, which should be a soft brush. Try to capture all the crevices as thoroughly as you can to get all the dust and grime.
Mix equal parts of water and vinegar in a large bowl or stainless steel pail with a clean rag. Wring out the tag and so it's damp (not completely wet), and wipe the entire sofa with the solution. It's best to start at the top and work down, taking one area at a time. Make sure you continue to rinse the cloth in the solution as you progress.
Dry the sofa with a clean towel.
Apply the essential oil and rub into the sofa to moisturize the leather focusing on the spots that need more attention.
Depending on how long you have had your sofa, or if you have little people who use your sofas at home, you may have more challenging issues getting your sofa clean.
What About the Really Bad Stains?
And there are times when stains are inevitable. As much as you may try to avoid them, you may encounter them on specific areas of the sofa, whether it be the seat area or the armrest.
Here are a few common ways to conquer those stains without having to invest in expensive reupholstery or commercial cleaner:
Permanent Marker Stains: Grab an aerosol hairspray or rubbing alcohol to try to rub the stain off. Start with something smaller like a q-tip and if that is not working well, then grab a cotton ball and do a little at a time.
Mold: Mix an equal part of water and rubbing alcohol and apply a small amount at a time.
Mildew: Similar to mold, mix an equal part of water and rubbing alcohol, work small sections at a time and avoid using a rag that is too damp.
Dark Stains: If you have wine or tomato/ketchup stains, mix an equal amount of lemon juice and cream of tartar and apply that paste to the stain for up to 15 minutes. Then wipe clean and re-apply as needed to treat the stain.
One thing to note: When using any leather cleaner, even commercial, different leather types may respond in different ways. Commercial leather cleaner can sometimes be a bad option for some leather sofas. It's always best to do a spot test on a hidden area before you use on the entire sofa just to ensure that your leather will be okay with the cleaner.
Lemon works well to prevent cracks and promote longevity of the leather… not to mention it makes the vinegar-y smell non-existent. Why not Olive Oil? In most cases we have seen it noted that it can be drying over time.
Looking for more DIYs for the home?