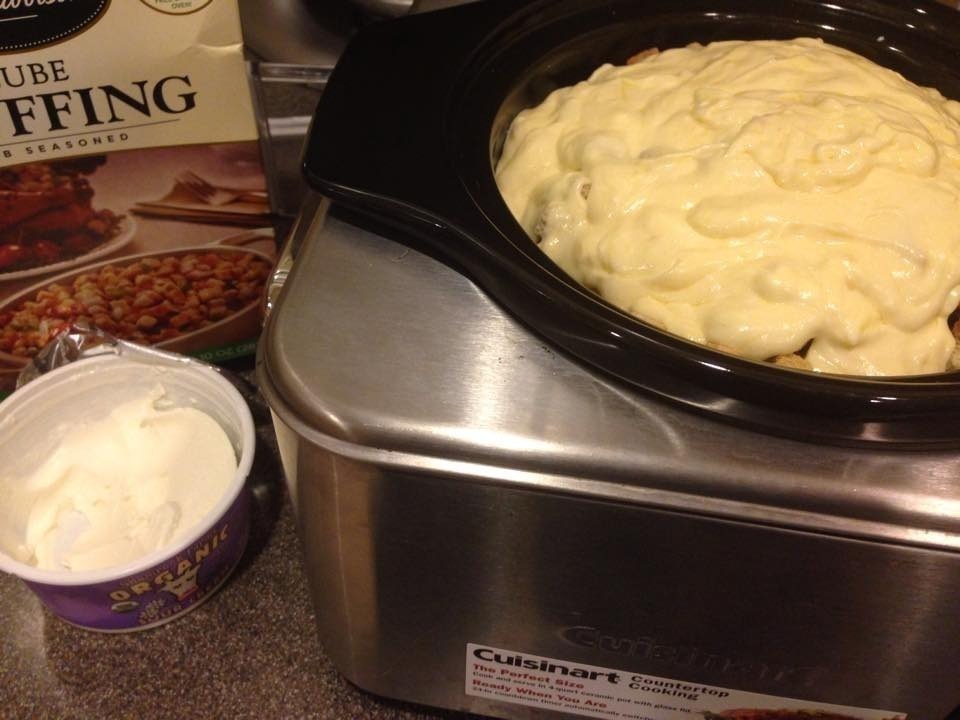 Looking for a super easy dinner recipe with little effort? I made this last night ~ it's one we make often in our house, not only is it just really EASY it requires so few ingredients .. most of which we usually have.
It was just past 11:30 last night when Dave mentioned he wanted me to make him something "GOOD" for work lunch tomorrow. In a panic, I went into preparation mode, trying to think of what I could make overnight with what we had. This was it…. he is happy, I'm happy. That's all that maters..
Crock Pot Chicken & Stuffing
2015-06-15 16:14:24
Serves 4
Ingredients
4-5 chicken breasts
Swiss Cheese (optional)
1 Can Cream of Chicken Soup
1/4 C. Milk
1 Package of Stuffing Mix
1/4 C. Butter melted
1/2 C. Sour Cream
Instructions
Spray the slow cooker with cooking spray.
Place the chicken on the bottom of the slow cooker – season them as needed.
Cover with Swiss Cheese (if you opt to use it, if not, then leave out).
Cover with dry stuffing mix (do not cook this, use it dry).
Mix the cream of chicken, butter, milk and sour cream until well blended and pour over the top.
Cook on low 4 hours.
Notes
I actually set mine to turn to warm after 4 hours and we came home to a really nice meal that was little effort.
The CentsAble Shoppin https://www.thecentsableshoppin.com/