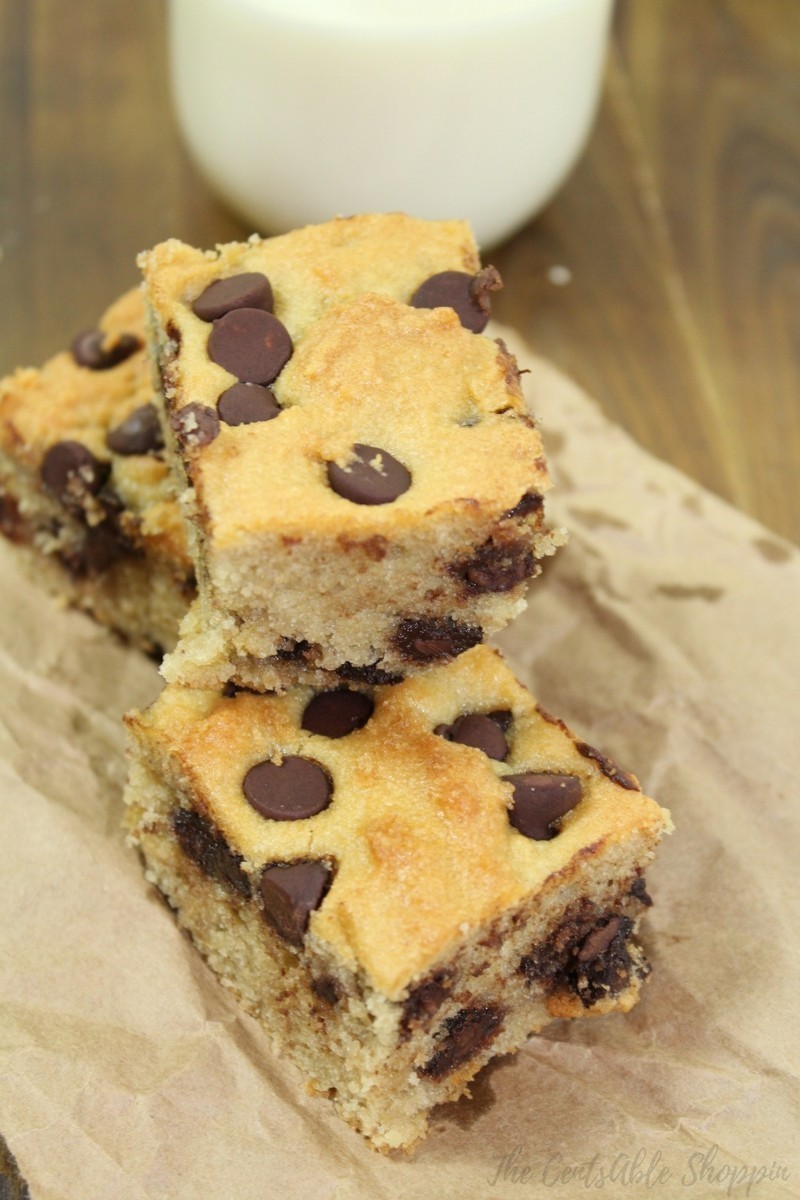 When a craving for something sweet hits, it can be a challenge if you are trying to eat something that is grain free, somewhat healthier, and super delicious ~ especially considering everything that is yummy is often times full of refined sugar, flour and fat.
If you struggle to find snacks that hit a sweet craving, you won't need to look any farther than these chocolate chip blondies – they are incredibly easy to mix up, they bake beautifully, and they taste absolutely incredible.
You can make a single recipe (below) for a thinner blondie ~ or, opt to double the recipe for a more cake-like blondie that bakes in 30 minutes or less. The are an easier, gluten-free recipe you can rely on for your family, to take to potlucks, to the office, or family gatherings.
Ingredients in these blondies are minimal ~ simple almond flour, eggs, coconut oil, and maple syrup are the main hitters. Maple syrup will give them a deeper and richer flavor – but if you prefer, you can substitute honey instead for a lighter result.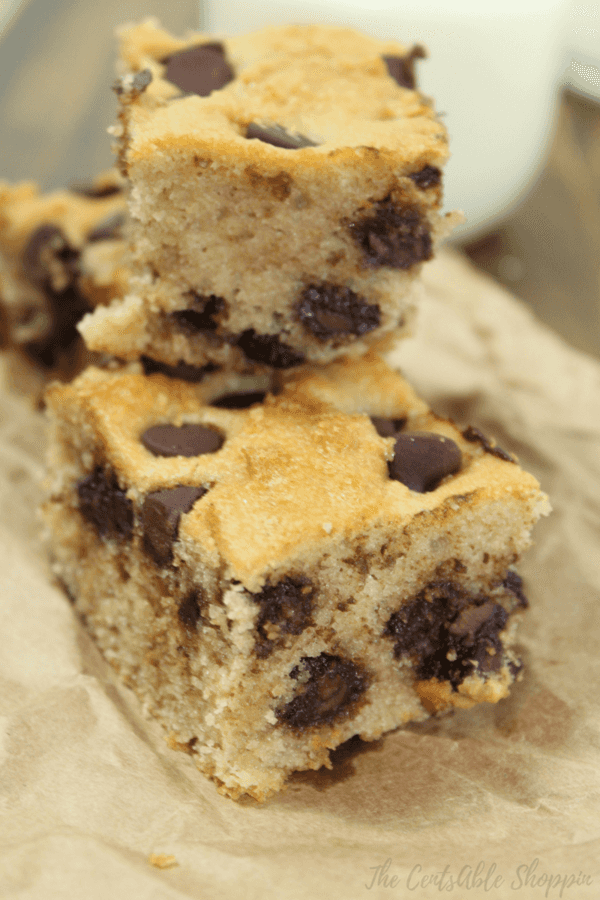 Add in a handful or two of chocolate chips, chunks, or even mini chips and a splash of vanilla extract and they bake up beautifully.
Cake-like
Rich
Just sweet enough…
Chocolately
Filling
Best of all? You don't have to feel guilty about enjoying one or two… ;)
You can even cut them up and wrap them for a lunchbox addition for the kids, too. Keep them in the fridge for up to a week and eat chilled… or warm them up slightly in the microwave and enjoy with a nice, tall glass of milk.
The best part about these blondies is that they don't require 1,001 ingredients – just a few common pantry staples, and a few minutes of your time with a spoon to mix them up and pour into the bowl.
Chocolate Chip Blondies [grain free, no refined sugar]
KitchenAid is not required. Feel free to use honey in place of maple syrup - final flavor will not be quite as rich.
Ingredients
1 1/2 C. organic almond flour
2 pastured eggs
1/4 C. organic maple syrup
1/4 C. coconut oil, melted
1 tsp vanilla extract
1/2 C. chocolate chips
1/4 tsp baking soda
Instructions
Preheat your oven to 350 degrees F.
In the bowl of your KitchenAid, mix the eggs with the maple syrup, coconut oil, and vanilla extract.
Stir in the almond flour, and baking soda just until blended.
Fold in the chocolate chips.
Spread in a generously greased 9x9 baking dish.
Place in your preheated oven and bake for 15-17 minutes or until golden brown on top.
Remove from oven and allow to cool before cutting into slices.
https://www.thecentsableshoppin.com/chocolate-chip-blondies-grain-free-gluten-free-no-refined-sugar/
Recipe adapted from Fountain Avenue Kitchen