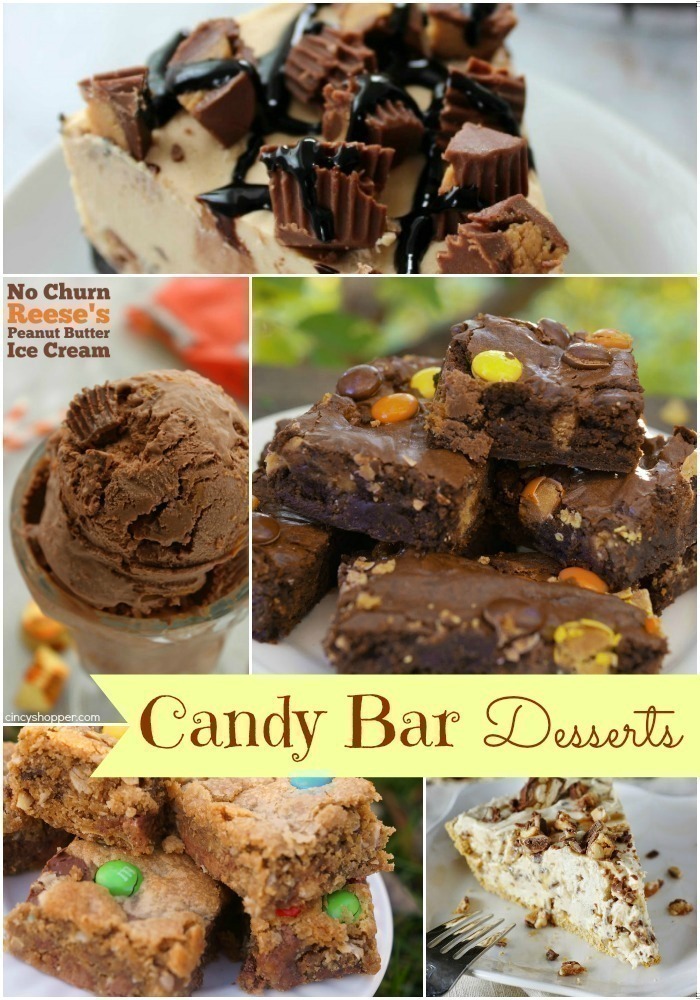 Sometimes it's hard to resist taking those candy bars when you are standing in line at the grocery store waiting to pay.
Grocery stores love to trap you into picking up one or two (or more).. by putting them RIGHT there in front of you so you throw them on your purchase. Who wouldn't?
My kids have no issues with it… and in most cases, I'm oblivious to the fact that they have added it on my order until I'm well out the door and putting bags in the truck.
If you are tempted to pick up candy, forego eating it – try to keep it for any of these great recipes below. You might need to bring a dish to pass at a pot luck – in which case you might just be the hit of the party.
We rounded up over ten recipes for you to use all that leftover candy – whether it's intentional or unintentional, they all boil down to some GREAT tasting desserts.
Peanut Butter Candy Bar Brownies ~ In the Kitchen with Jenny
Loaded Monster Cookie Bars ~ In the Kitchen with Jenny
No Bake Chocolate Hershey Bar Pie ~ The Kitchen is My Playground
No Bake Snicker Bar Pie ~ The Kitchen is My Playground
Reeses Peanut Butter Cup Cookies ~ DrugStore Divas
Simply Caramel Candy Bar Cupcakes ~ Canadian Free Stuff
Football Snickers Brownies ~ Thrifty Jinxy
Rolo Caramel Apple Dip ~ Thrifty Jinxy
Spring Bumble Bees ~ Nibbles by Nic
No Churn Reeses Peanut Butter Ice Cream ~ Cincy Shopper
No Bake Reeses Peanut Butter Cheesecake ~ Cincy Shopper