Do you have a Lemon Tree in your yard? We do…. and so do my in laws – check out what they picked yesterday. How crazy is that?
She has 2 trees – even more.. this is the 3rd bucket she has picked since Sunday. I think that's incredible.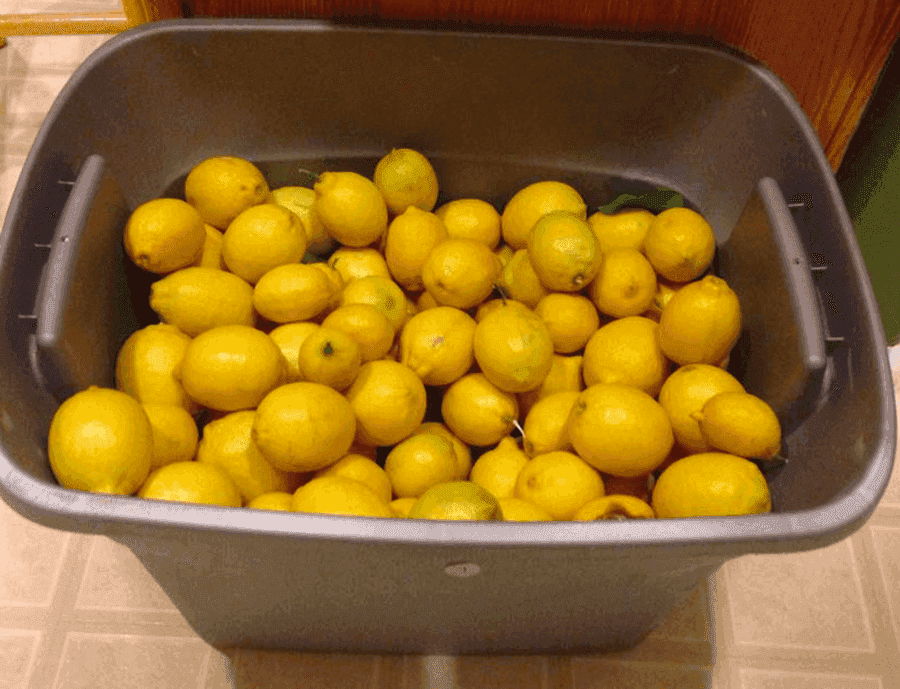 We don't have quite as many lemons, but… my mother in law knows I love them so she kept the entire tub for me. My boys just think it's funny to throw them around the house like baseballs….. until of course it's time to pick them up, then everyone disappears.
I NEED have lemons in the house – at all times. Not only are they great for cleaning the sink, and freshening the garbage disposal.. I use them to make banana bread.
More specifically: I can't justify spending $2 – $3 on Buttermilk at the grocery store so Lemons are my "fix" – you see… anyone who makes banana bread knows that it needs Buttermilk. If you have lemons, you can make your own without having to spend $3 on the carton at the store.
If you don't have Buttermilk & prefer to keep your money for other things, here's an easy way to make your own that works just as well. As long as you have a Lemon.
How to Make Buttermilk with Milk and a Lemon
Combine 1 C. of Milk with 1 Tbsp of Lemon Juice
Let it sit, 5 – 10 minutes
When it's ready the milk will be slightly thicker than before, and look a tad bit curdled
Use it in your recipe
The lemon reacts with the milk (with a little acidity) to do just as good of a job as the more costly carton in the dairy case at the store.
So next time you have lemons on your tree… always try to keep a few back – just in case you have the urge to make banana bread.