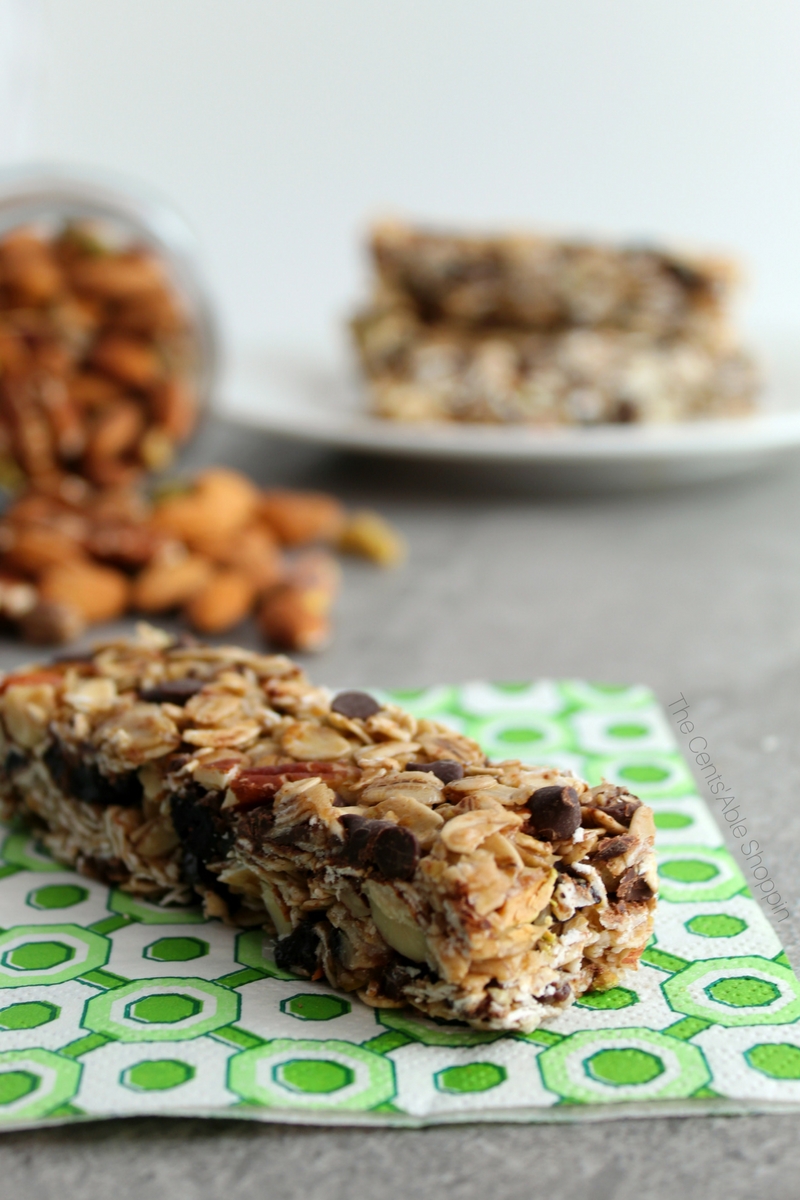 Who doesn't love granola bars? I remember eating them as a kid, more in the summer than any other time of the year – but perhaps that's because we were home all day long, exahusting ourselves from running in and out and playing in the hot summer sun.
My kids love them too – if allowed, they would eat tray, after tray, after tray… and then complain that their belly hurts from eating too much. These homemade granola bars are super simple to make, soft, chewy, and totally adaptable with your favorite mix-ins. They are also much better than store varieties – not only because you can customize to your liking, but for the sheer reason that they don't have any crazy ingredients.
I love using coconut sugar in mine, but you can definitely use brown sugar too – whatever works best for your family.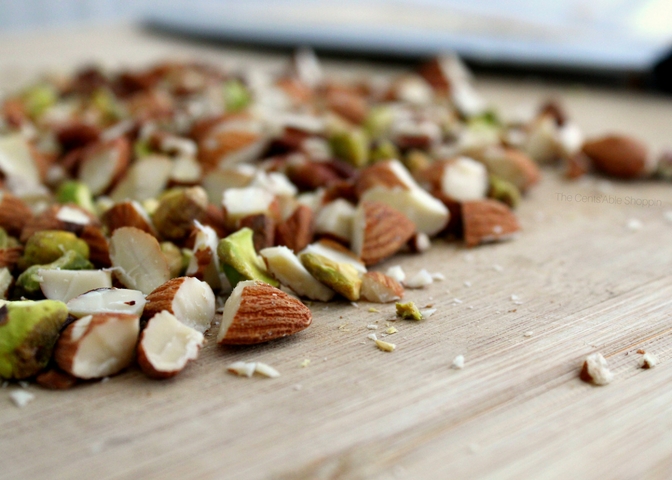 Get started by preheating your oven to 350 degrees F. Line your square pan with parchment, and lightly grease with butter or a quick zap of cooking spray.
Chop your mixed nuts and spread them out on a baking sheet along with your rolled oats; bake for 7-10 minutes, then set aside. While the granola mixture is toasting, add the butter, honey, sugar, extract and salt in a small saucepan and cook until the sugar is dissolved and the mixture is smooth.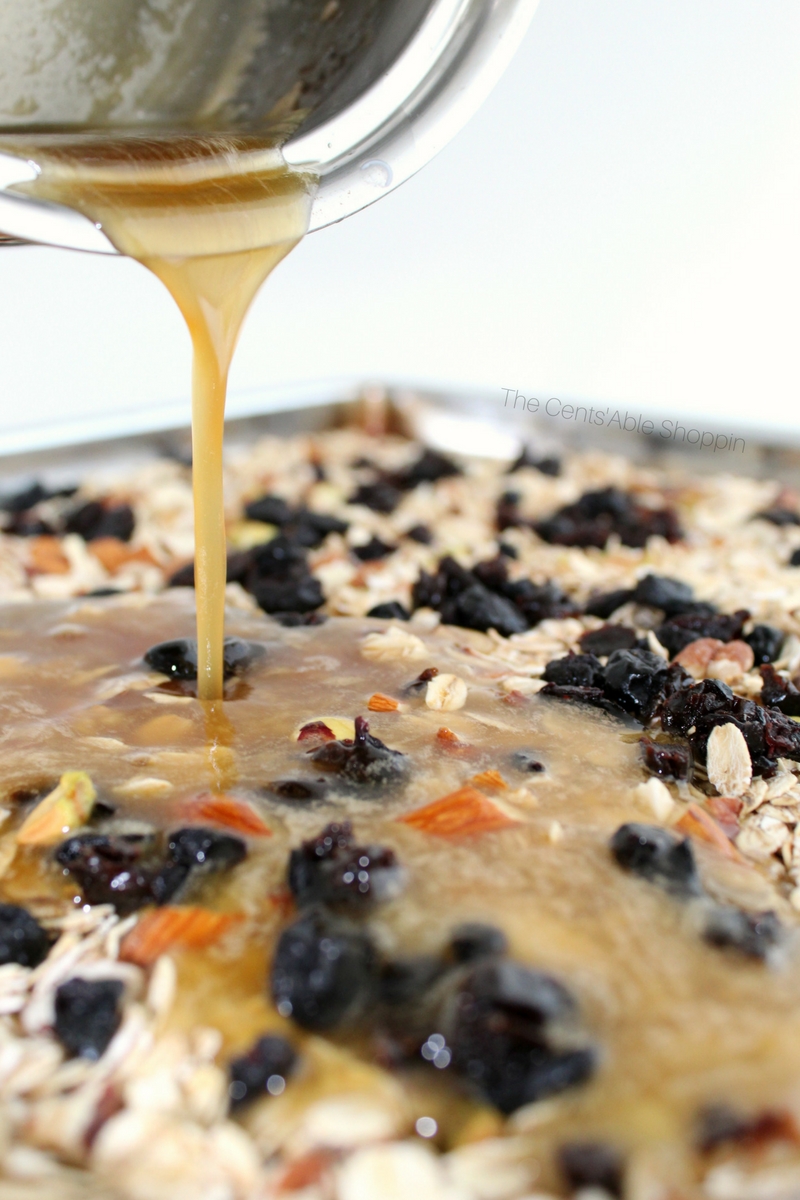 Chop your dried cranberries and blueberries, sprinkle on your toasted oat mixture, and then pour on your butter/honey mixture. Mix well, and allow to cool before sprinkling on your mini chocolate chips. Toss to combine, then spoon the mixture into your prepared pan, and press firmly with a rubber spatula; your goal is to make an even layer with a liberal amount of pressure.
Refrigerate for two hours, and then lift the parchment from the pan and cut into bars.
We like to wrap ours individually in parchment and store in the refrigerator; they certainly don't last long!
These homemade granola bars are delicious and healthier than any store bought variety. They are soft, chewy and unbelievably adaptable using your favorite mix-ins!
Ingredients
2 1/2 cups old fashioned rolled oats
1/2 C mixed nuts (almonds, pecans, pistachios – or your favorite variety)
1/3 C raw honey
1/4 C unsalted butter
1/4 C brown sugar (or coconut palm sugar)
1 tsp vanilla extract
1/4 tsp salt
1/4 C dried cranberries
1/4 C dried blueberries
1/4 C mini chocolate chips
Instructions
Preheat the oven to 350 degrees F. Line a 9" square pan with parchment paper. Sprayed the paper with cooking spray and set aside.
Roughly chop the mixed nuts and spread them out on a small baking sheet. Add the rolled oats and lightly toss to combine with the nuts. Bake in preheated oven for 7-10 minutes.
While oat mixture is toasting, add butter, honey, brown sugar, vanilla extract and salt in a small saucepan on medium heat. Continue cooking (while stirring) until sugar dissolves and mixture is smooth and blended. Turn off heat.
Roughly chop dried cranberries and blueberries.
Once oat mixture has finished toasting, sprinkle dried berries on top. Next, pour on the butter honey mixture. Mix well with clean hands.
Allow granola to cool for 10-15 minutes before sprinkling on mini chocolate chips. Lightly toss to combine.
Carefully pour (or spoon in) the granola into the prepared square pan. Feel free to sprinkle on a couple of extra tablespoons of chocolate chips on top at this point. Use a rubber spatula to firmly press the granola into an even layer. Be sure to use a good amount of pressure to flatten the granola – this will help keep the bars stuck together and avoid crumbling.
Place pan in the refrigerator for a minimum of 2 hours.
Carefully lift the granola out of the pan, using the parchment paper as handles. Cut into bars and serve.
Notes
Always try to use organic ingredients whenever possible. Brown sugar can be substitue with coconut palm sugar.
https://www.thecentsableshoppin.com/homemade-granola-bars/