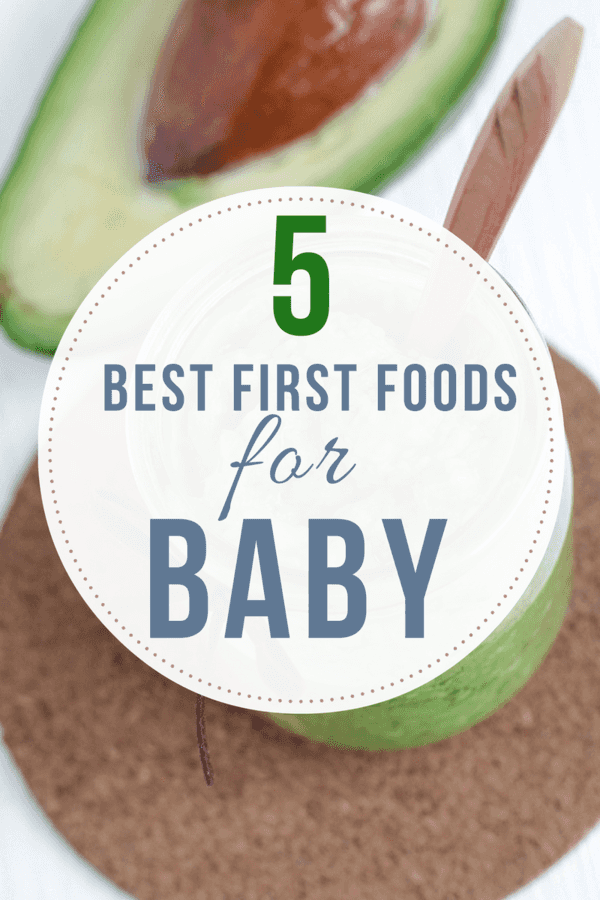 Most babies start solid foods between 4 and 6 months – although the standard is about 6 months many kids can start enjoying solids just before that if given the right food.
Carrots, Avocados and Sweet Potatoes are the most common first foods, in addition to the standard commercial infant rice cereal. While the traditional commercial rice cereal is often times the most popular, accepted, and promoted item…. it's so far from being the best.
Rice cereal is high in carbs, low in protein and can be made with breastmilk or formula – and while breast milk is a better option, formula is re-fortified with zinc, iron and nutrients that aren't absorbed nearly quite the same as the nutrients in breast milk.
While it may seem like a wonderful option that's highly recommended for babies… it's not the best option there is. Rice is a refined carb – white rice is processed, has little or no fiber, and lacks the nutrients that other whole foods would easily bring to the table. While rice cereal may be "refortified, those refortified nutrients aren't bioavailable to your child the same way that they would be if they were whole, raw nutrients.
Basically speaking: whole foods are always best, and when stacked against foods that have to be resupplied with nutrients because the nutrients were processed out to start with, then whole foods are always the better option.
White rice & flour products turn to sugar in the body almost instantly – affecting blood sugar and insulin levels. Not the best way to start an infant.
Our little one just turned six months on Christmas. She's been eating now for just over a month – we started with egg yolk, then avocado. My other kids loved sweet potatoes, and peas were always a close second. Bananas were popular too – when we could get them. We can't get bananas from our local farmer's market, so we rely on organic bananas at Costco and it's hard to find them ripe – they are always green and that doesn't work out too well.
Looking back to the other 4 kids, I don't recall ever starting them on commercial baby cereal – everything we gave our kids at that age we usually made ourselves so buying baby cereal wasn't an option.
Here are five of the best baby first foods for your young infant:
Egg Yolk
Hard boil an egg for 3 1/2 minutes – or, if you have an Instant Pot, place the eggs on a steamer basket with 1/2 C. water and place on high (manual) for 1 minute. After the pot beeps, remove immediately, run under cold water and remove the egg white (eat yourself or discard). You should have a nice, soft (warm) egg yolk.
Egg yolks from free range pastured chickens contain fatty acids that will help support brain and nervous system development.. If you don't raise your own chickens,you should be able to find a dozen pastured eggs for $5 at your local farmers market (CSA) – ours has them available when we pick up our CSA bag.
Our smallest absolutely LOVES the yolk – and with the Instant Pot, I can make one in just a few minutes.
Mashed Avocado
Avocados are such a wonderful first food for infants – they are full of fat (which is GREAT because babies need that fat for proper grown and for brain development). Not to mention they slice easily and require absolutely NO cooking.
That is pretty helpful.
You'll want to slice your avocado in half and pull out the pit – then slice, and dip into a dip – into a mixture of water (1/2 C.) and a Tablespoon of Lemon Juice. Bathing the slices helps prevent them from browning. You can freeze those slices on parchment and transfer to a freezer bag, or .. if you are feeding the baby right away, gently mash a small amount.
We can pick up local organic avocados for $1 each at our farmer's market in our CSA bag and they are a completely bargain – we'll cut it up, and give her a little, and save the rest for us.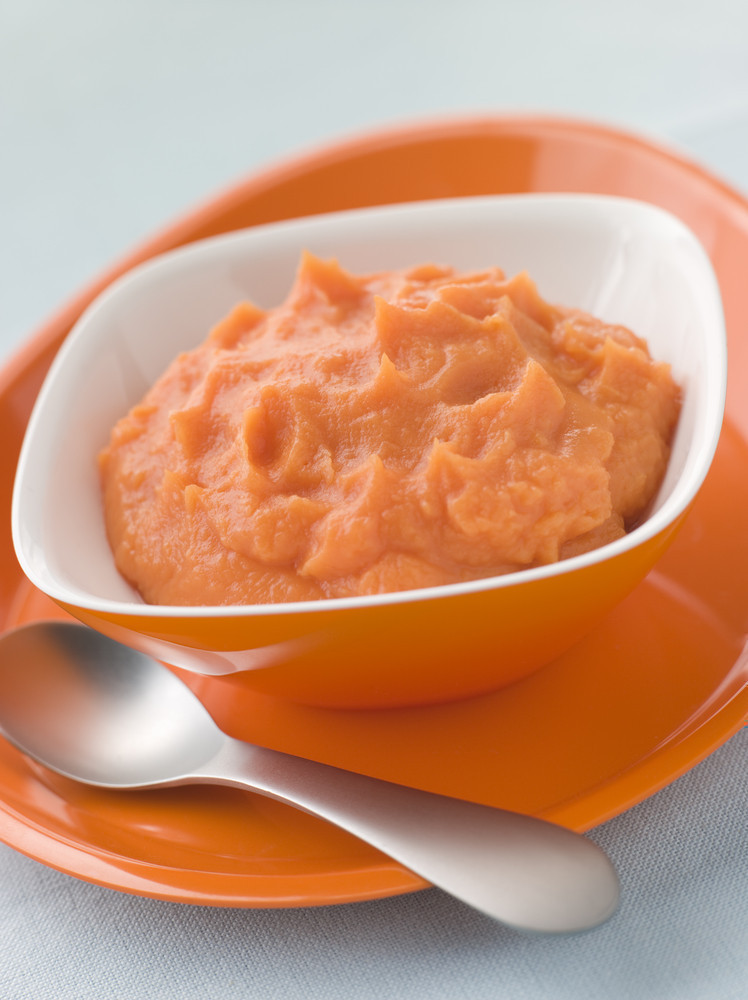 Sweet Potato
Sweet potatoes are rich in vitamins A and C, folate, iron, copper & calcium. They come in just ahead of carrots. The plus, is that they are really economical, too.
When buying sweet potatoes, local organic varieties are best. Never refrigerate them… instead, keep in a cool, dark place for up to 2 weeks – we keep ours in our pantry and it works out rather well. Not only do they freeze well, you can keep them in the refrigerator for up to 3 days after being cooked.
Sweet Potatoes can be cooked a variety of ways – you can boil, bake or, use your Instant Pot. I personally find the Instant Pot easier… because I can cook several at once and use the leftovers for Sweet Potato Rolls or Sweet Potato Bread.
Wash and peel your sweet potatoes, then cut into large pieces and place on a steamer basket in your Instant Pot along with 1/2 C. water. Use high (manual) pressure for 10-12 minutes, then release, remove and puree. You can add a small amount of the liquid when pureeing to make them a smoother consistency, then pour into an ice cube tray and freeze.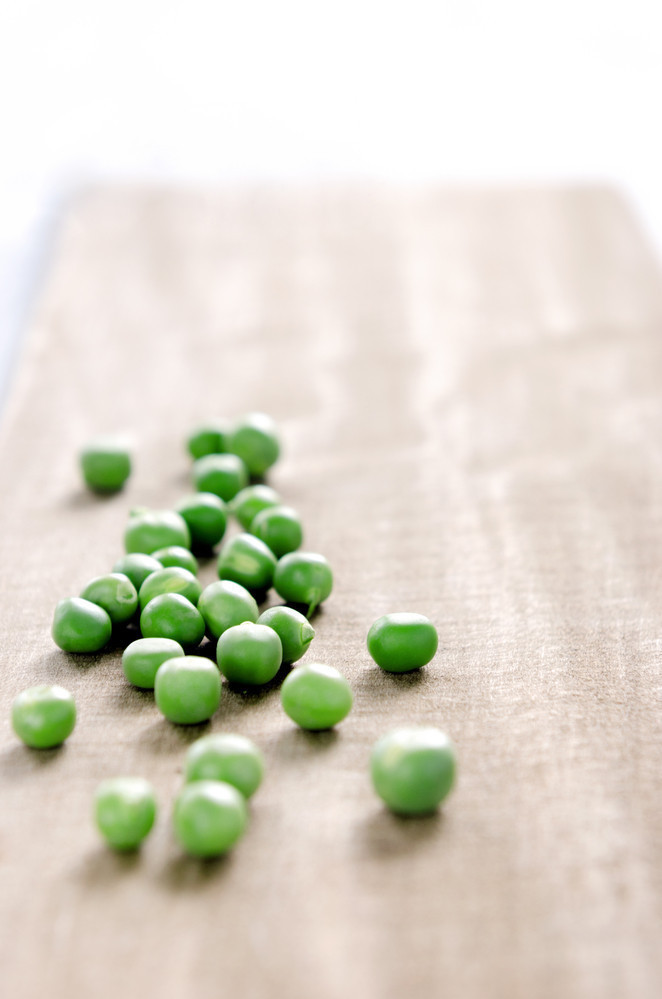 Cooked Peas
One cup of peas has more protein than a tablespoon of peanut butter, and provides more Calcium, vitamin A and, Vitamin C and Zinc. Because they are such a healthy food they are wonderful as a baby first food… the only trouble I have is getting the skins to puree completely – I use a sieve to make sure I get them as smooth as I can because the food processor (although great) doesn't get them as smooth as I'd like it to.
I then puree with a little water and freeze in ice cube trays before moving to a freezer bag.
Buy your peas from the Farmers Market, to ensure you aren't getting any pesticides (local organic is best) and use these tips;
You want a bright green color
Try for medium pods over large
Fresh peas are soft and smooth, not thick and hard skinned.
Do not buy them already shelled
Use them quickly once you bring home
To make steamed peas, open the pods and scrape out the peas. Then place them in a steamer basket in your Instant Pot or, stove top pan with just enough water to barely touch the basket. Steam them until they are very soft, drain them keep the water. Plunge your peas in a bowl of ice water, then place the peas in the food processor and add small amounts of the leftover water – puree until smooth.
Cooked Carrots
Carrots are a wonderful baby first food because they are rich in beta carotene. Of all the first foods, carrots were one of my kids favorites – not only that, they are relatively cheap at the farmers market (local organic carrots for $1/lb.)
Always opt for pesticide free carrots from your local farmer's market, and rinse in cold water – then peel with a veggie peeler. Dice well, then add to a medium saucepan, and add water Bring to a boil and heat 10-13 minutes until tender. Drain the carrots and keep back some of the water. Puree the carrots in the food processor, adding a little of the reserved water as needed.
No matter what you opt to feed baby when they start on solids, the best thing you can do is stay away from commercial baby food – breast milk is one of the healthiest foods you can give your infant. Once they start on solids, avoid purchasing commercial baby food and opt to make your own. Not only does it give you complete control over what's inside the food, it allows you to skip out on the unnatural flavors, preservatives, additives and thickeners that may be in there.
It also allows you to serve your child healthier options – nutrients in food that has been processed and canned to withstand long periods of time on the shelf cannot be compared to the nutrients in fresh local, organic food you prepare minutes before feeding your infant.
It might require more time, but in the end, it's the better option.
Related Posts: