Early last year we talked quite a bit about pads and tampons – they are definitely convenient, and they are necessary for most women.. but there are many reasons to avoid them.
It's incredibly hard to find out that something that you use regularly might be somewhat toxic for your health – even more, these days it almost seems like everything is toxic. Sometimes it seems like we have to avoid everything but the truth is that we can't control everything – but we can control the things that we come into contact with the most.
Although Tampons and Pads are very convenient (and almost necessary for most of us), they are not only very toxic items but also contain many chemicals. Considering how close you put them on or near (or in..) your body, that's cause for concern.
Most Pads use plastics – much like diapers, they contain special chemicals that permit them to absorb MANY times their weight in liquid – in addition to odor neutralizers and fragrances – they are essentially synthetic. Synthetic items prevent the body from breathing naturally (and leading to many other female problems…. I don't thin we need to be too descriptive!)
Tampons, on the other hand, contain plastic chemicals – while they also (in some cases) contain odor neutralizers and fragrances, they contain Phthalates (that make the finish on that plastic SILKY smooth) …
"and many tampons contain the ingredient BPA while the bleached feminine products give up disinfection by products (DPB's) that can create an abnormal cell growth through the body." (Source)
Why Worry About Cotton?
Cotton is abundant in the United States – unfortunately what many may not realize that Cotton (83%) is one of the four GMO Crops produced in the world – next to Soy, Canola and Corn.
"Eight of the 10 pesticides used on our U.S. conventionally produced cotton is classified as moderately to highly hazardous.
Cotton is one of the world's dirtiest crops because of those pesticides – and in 2010 (just 6 years ago, 90% of cotton was genetically engineered). (Source)
Just as recent as Oct. 2015, a study found that 85% of all tampon samples tested positive for Glyphosate. In the case of cotton and gauze, that figure was 100%." (Source)
That's a shocker for those of you that use Tampons – considering that we use them in our most sensitive area (where our skin is very delicate), those chemicals are being absorbed into our bloodstream.
Toxic Shock Syndrome (TSS)
Although not super common, Toxic Shock Syndrome is still something that can occur when using Tampons.
"When tampons first began to be sold, many women suffered from Toxic Shock Syndrome. TSS is a known risk from the use of tampons and is associated with an increased risk for exposure to Staphylococcus aureus (staph) or group A streptococcus (strep) bacteria.
TSS usually occurs when a tampon has been left in the vagina for too long, or when a tampon is used that is too thick for the current amount of flow. It is believed that the fibers from dry tampons can remain in the vaginal canal and trigger the growth of dangerous bacteria which causes TSS." (Source)
Why is this scary to me? It is because the more time goes on, the more I see and hear friends talk about reproductive issues ~ many of the problems we see in women's reproductive issues may very well be tied to much of this.
TSS isn't so much of a risk when considering pads, but for Tampons it is a cause for concern.
Natural Alternatives to Tampons & Pads
I'm thankful I have been on and off kids and breastfeeding for the last 10 years – but other women who are not as fortunate may use quite a lot more Tampons/Pads than others. It wasn't until just a few months ago that I had to think about them (and when I did, I chose the Blossom Cup).
Here are a few alternatives: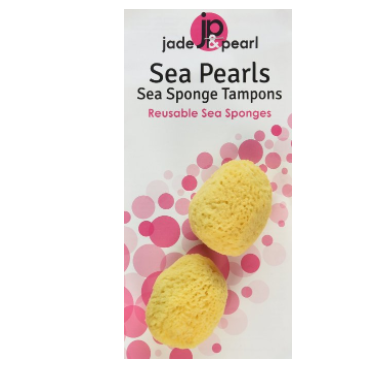 Sea Pearls are completely natural sea sponges that come from the ocean. They are reusable, and they can be trimmed down to extend their lifetime.
They are soft, & durable
They are a naturally renewable resource
They are sustainably harvested
free of chemicals, bleach, chlorine, fragrance, dyes or synthetic materials
reusable for up to 3-6 months or more
They usually come in a pack of 2 – and are available on Amazon.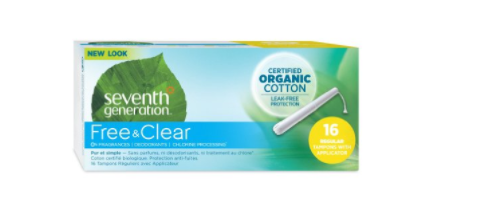 Organic Pads & Tampons
Organic Pads & Tampons are available on Amazon and at places like Sprouts & Whole Foods for just a few dollars more than your regular pads & tampons. They are made with Organic cotton and function the same as regular tampons and pads but are healthier.
There are many options for Organic Pads & Tampons on Amazon – one of the most well known brands is Seventh Generation.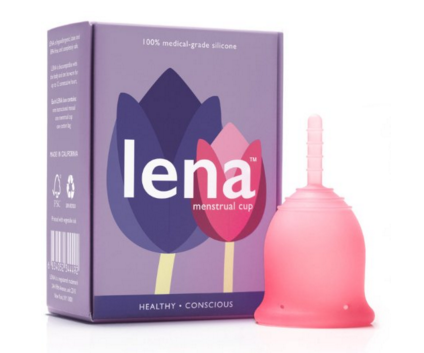 Menstrual Cup
Menstrual Cups soft sided and fit inside the vagina to collect your menstrual flow. They are much more comfortable than tampons and are leak proof but do have a steep learning curve when you first start using them.
The best way to determine which menstrual cup will work for you is to read the reviews on Amazon of the cups they have featured – there are several:
I personally use the Blossom Menstrual Cup and it doesn't have that risk of TSS – it can be worn for up to 24 full hours. At first, it was a struggle to adjust.. the learning curve was rather steep but reading the comments really did help.
Menstrual Cups usually come in two sizes (sometimes 3) — for pre or post child birth. No matter what brand you chose, read through the reviews to determine what size you might want to try first. The reviews really do help.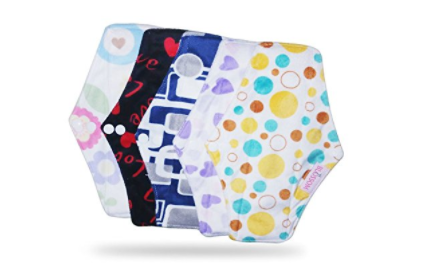 Reusable Menstrual Pads
If you don't think you want to use the menstrual cup, and the idea of organic pads and tampons is too expensive for you.. then you can opt for reusable pads.
Many of the reusable pads work wonderfully well, but there is also the inconvenience of having to wash them. For those that have a light flow, they might be an option – though the idea of reusing something might not be for everyone.
Blossom Reusable Cloth Menstrual Pads are just one option if you decide to take this route.
Have you ever thought about the chemicals in your tampons or pads? And have you tried any alternatives?