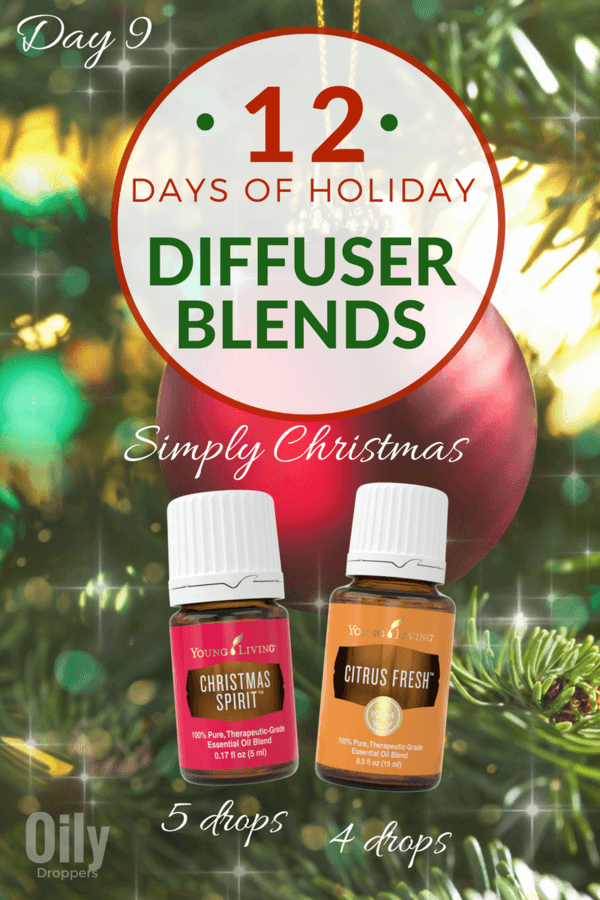 Just a few days ago we mentioned an amazing Christmas Cookies diffuser recipe for Christmas Spirit and Stress Away – and good gosh it smells AMAZING… and the plus? You don't have to add cookies to your hips – so it won't pack on pounds ;)
This diffuser blend is just as amazing too… take that same bottle of Christmas Spirit and mix with Citrus Fresh to make a diffuser recipe that is Simply Christmas.
Christmas Spirit Essential Oil:
Christmas Spirit™ is a sweet, spicy blend of orange, cinnamon, and spruce essential oils that tap into the happiness, joy, and security associated with the holiday season.
Citrus Fresh Essential Oil:
Combining Orange, Tangerine, Grapefruit, Lemon, and Mandarin oils with a hint of Spearmint, Citrus Fresh™ Essential Oil is wonderful for supporting immunity, emotional balance and is an uplifting scent. Citrus Fresh oil is a perfect replacement for chemical-based home fragrances—just combine a few drops with distilled water in a spray bottle and spritz throughout rooms and closets and over linens. Citrus Fresh topically comes with the bonus benefit of the citrus oils working together to tone and smooth the appearance of skin.
Christmas Spirit is amazing y'all… it really is. Have you ever been into Hobby Lobby around the holidays and as you enter, smelled that amazing scent? This rivals that.
Here's something you may not have known… it's better to diffuse intermittently across a period of time to allow your body to process the benefits of the essential oils you are using.
This month, you can pick up FREE Christmas Spirit and a $25 Gift Card (or, cash) when you grab the Young Living Premium Starter Kit. You'll score 11 Essential Oils, a diffuser, Christmas Spirit and $25 back – plus 24% of (wholesale cost) on your oils for life.
Read more about the promotion HERE.