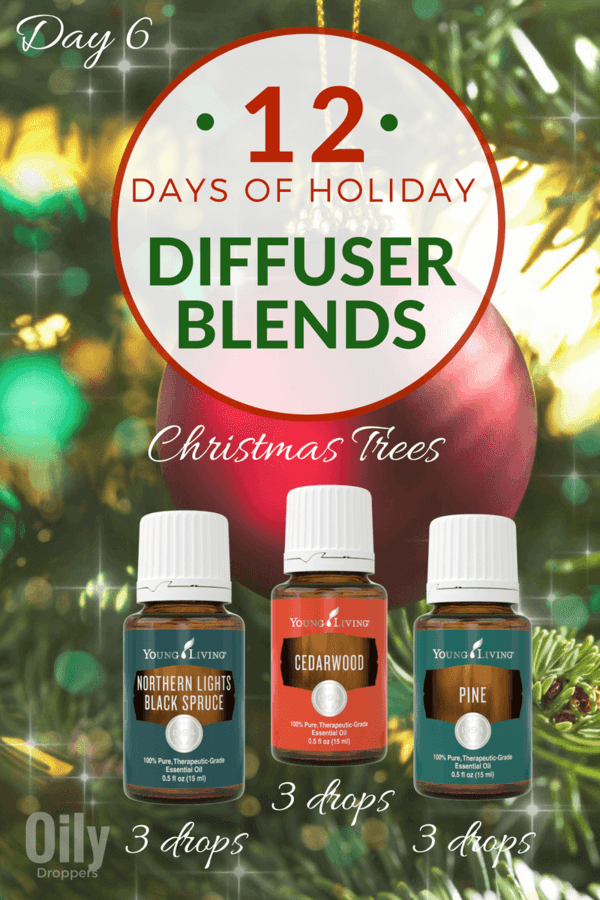 The smell of a real holiday Christmas tree is amazing – and every year, many people want to create that smell in their home, especially if they are going without a real tree.
As much as I love a real tree, I absolutely despise picking up needles. Last year that seems to be all I did. was walk around with a broom and dustpan picking up needles. That wasn't what I was willing to do this year… so the tree did not even enter a discussion in our home ;)
Thankfully… you can bypass those toxic air freshener products in favor of a healthier way to achieve that tree scent – and that is with the use of Essential Oils.
Today's diffuser blend combines 3 essential oils, which are each unique in terms of what they can do for your health. Combined, they smell like you are walking through a Christmas Tree Farm.
Amazing!
Pine Essential Oil:
Pine Essential Oil supports a healthy respiratory system. It's great for supporting tired muscles and joints, too. It is a refreshing yet calming oil that is wonderful for supporting mental and emotional fatigue. Pine Essential Oil is also one that is frequently adulterated. Turpentine, an inexpensive filler, is often added to commercial household and animal products – so please ensure you are buying a high quality essential oil (Young Living).
Cedarwood Essential Oil:
Cedarwood (Cedrus atlantica) has a warm, woodsy aroma that creates a comforting, uplifting experience. It's wonderful for supporting a healthy scalp, hair and skin. It's one of the best oils for lymphatic support, urinary healthy, cardiovascular health and is high in sesquiterpenes. It helps support healthy rest.
Northern Lights Black Spruce Essential Oil:
Northern Lights Black Spruce essential oil comes from Young Living's new Northern Lights farm in British Columbia, Canada. Diffuse this rich, woodsy, and invigorating scent during meditation to create a fresh aromatic atmosphere. It's great for supporting healthy skin. The oil contains naturally occurring constituents alpha-pinene, camphene and beta-pinene.
If you add to your Young Living Home Diffuser, the combination will run for 8 hours on the intermittent setting.
One of the best ways to get started with Essential Oils is to pick up this deal here – which has 11 Oils and a Diffuser – you'll grab a wholesale discount on oils for life and be able to get started with some of the best oils to take care of your wellness.