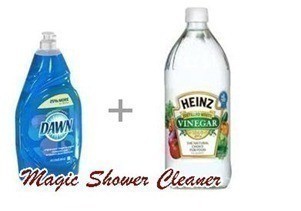 We all use tons of product in the shower – I know we have about 50,000 bottles in there right now. Last night at 3 a.m. I was in the bathroom, cleaning my shower with Dawn & Vinegar. I'm not sure why, but late at night I get the bug to clean…..and then, eventually, I find myself (several hours later) getting carried away. True story.
Magical bathroom cleaner is essential – why shall we work hard to scrub when we can find two things, mix them together and watch magic happen? Even better, we all have FREE Vinegar from Walmart – which makes it a better deal.  I first saw this on Pinterest months and months ago. Made it myself and then became a believer.
Heat up Vinegar (1 C.)
Pour in a Spray Bottle
Add equal amount of blue Dawn —> That's a ratio of 1:1
Get in the shower, spray the solution on walls, and floor, and doors and let it sit a few hours. Then, after a while, find an excuse to shower, and wipe it clean with a washcloth as you shower at the same time.
Next time you use it, you don't have to re-heat the vinegar. You can also use any color Dawn, I just had blue at the house.
Related Posts: