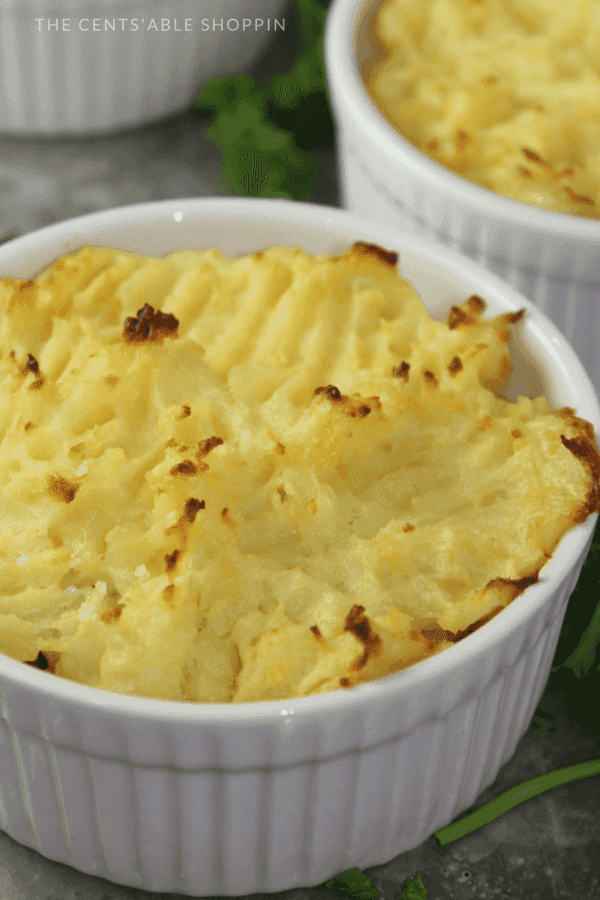 I haven't met anyone who doesn't appreciate a great Cottage Pie. We ate this often as kids – my mom was from Great Britain and she would make this frequently – except she would usually do it in a large baking dish.
So what's the difference between Cottage Pie & Shepherd's Pie?
Shepherd's Pie is usually made with lamb and cottage Pie is normally made with meat (other than lamb).
While a simple Cottage Pie or Shepherd's Pie can truly go fast around here, but this time I made just 3 of them – our boys were at their grandparents and my 2 smallest were sleeping. Which left 3 of us, and that didn't warrant a huge casserole dish (especially considering I was short on potatoes!)
We opted to use our larger ramekins to make individual cottage pies and it worked out well.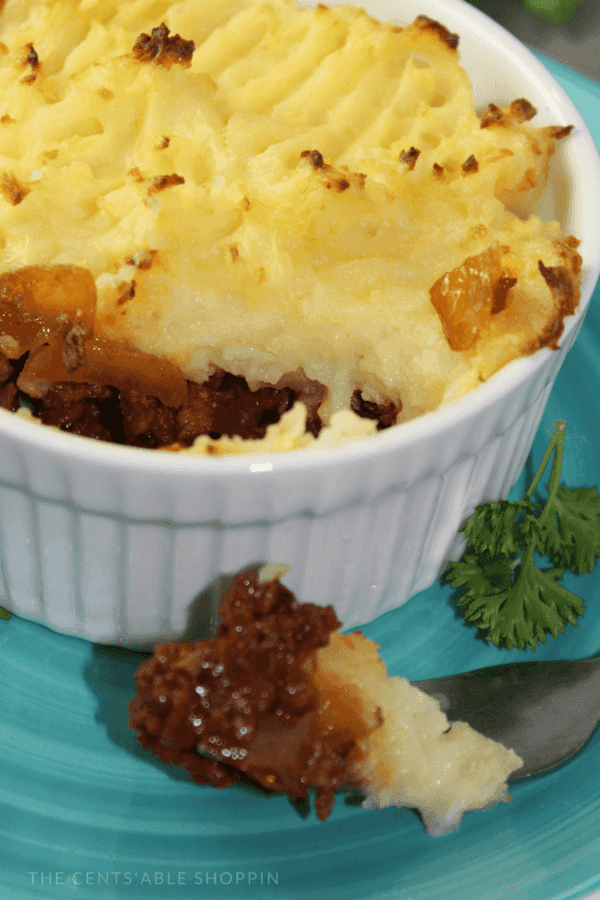 Have I ever told you how much I love using ramekins? They are perfect for pot pies, small desserts and – of course, cottage pies!
You'll want to skin and cook the potatoes first – if you don't have an Instant Pot, you can simply boil them on the stove for 20-25 minutes.
Cottage Pie
2016-12-21 12:16:15
Serves 3
A flavorful herb-infused meat and veggie pie with a crust of mashed potatoes.
Ingredients
8-9 small/medium Yukon Gold potatoes
1 lb ground beef, 85-90% lean
1 large carrot, diced
1/2 onion, diced
3 cloves garlic, diced
2 Tbsp tomato paste
2 Tbsp worcestershire sauce
2 tsp molasses
salt/pepper (to taste)
3/4 C. beef broth
2 Tbsp butter
1/4 C. heavy cream or half and half
Optional: 2 drops of each of the following - Rosemary Vitality, Marjoram Vitality, Black Pepper Vitality Essential Oils
Optional: 1 drop Thyme Vitality Essential Oil
Instructions
Skin your potatoes and boil them for 20-25 minutes until they are soft or, opt to use your Instant Pot and place them in the pot with 1/2 C. water for 8-9 minutes on high (manual pressure).
Once cooked, drain water and put the potatoes in a bowl - mash, and add the butter and cream. Add salt to taste & set aside.
In a skillet, brown the ground beef; add the carrots, garlic and onions and cook until softened, 6-7 minutes.
Season with salt & pepper, to taste, then add the tomato paste , worcestershire sauce, molasses & beef broth and continue to simmer until blended and flavorful.
If you are using vitality essential oils, add them at this point, stir to combine.
Preheat the oven to 350 degrees F and line a baking sheet with foil - set aside.
Grease an 8x8 casserole dish or, opt to use (3) 8 oz ramekins. Add 3-4 spoons of meat in the bottom of each ramekin, and then top with the mashed potatoes.
Spread the mashed potatoes over the top to cover the filling, and rake over the top of each ramekin (or the casserole) with a fork.
Place the ramekins on the baking sheet and transfer the baking sheet to the preheated oven. Bake for 30 minutes at 350 degrees or until the potato peaks on the cottage pies are light brown.
The CentsAble Shoppin https://www.thecentsableshoppin.com/
Love Cottage Pie? You might want to try these easy 2 ingredient sausage rolls, too!