Healthy Sweet Potato Chili is comes together quickly with delicious sweet potatoes, apple and turkey in a chili that's perfect for cooler weather!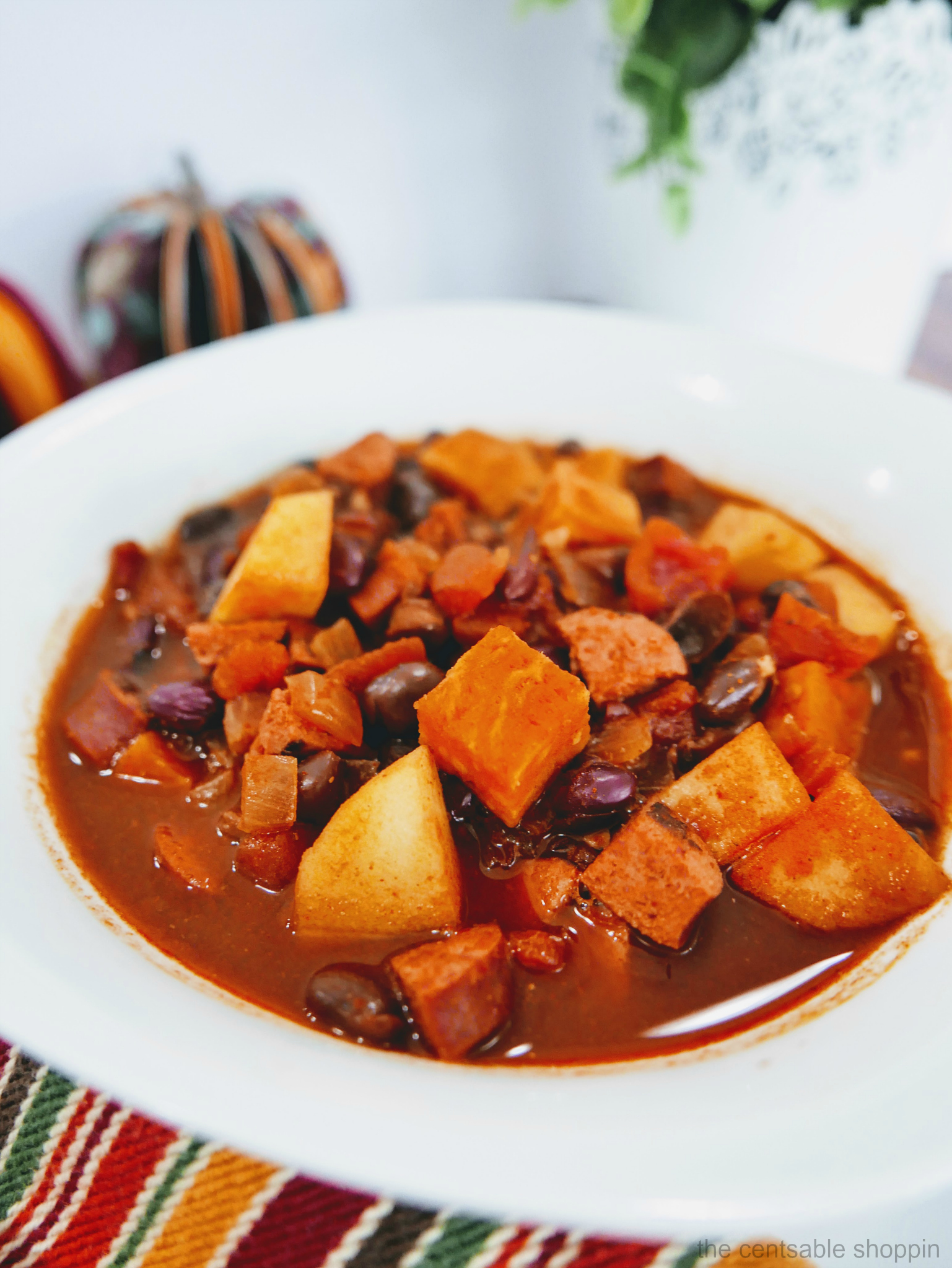 When temps start to drop and the smell of fall hits the air, one of the things I first think about is sweet potatoes. Kind of weird – don't you think?
I don't particularly think of sweet potatoes at any other point during the year except for fall. They are one of my favorite foods to make and eat – and use to make my own soap for the kids.
You're probably saying .. "Soap? Sweet potatoes in soap? Who does that?" I do.
Here's the proof:
It's safe to say that sweet potatoes are my go-to for almost every meal. If you haven't tried sweet potatoes with apples and kielbasa, then you're missing out, my friend.
Sweet Potato, Apple and Turkey Chili
This dinner is super easy to throw together and is absolutely perfect for when the weather starts to cool down. Ladle into bowls and serve up with some toasted French bread, or even some cheesy bread.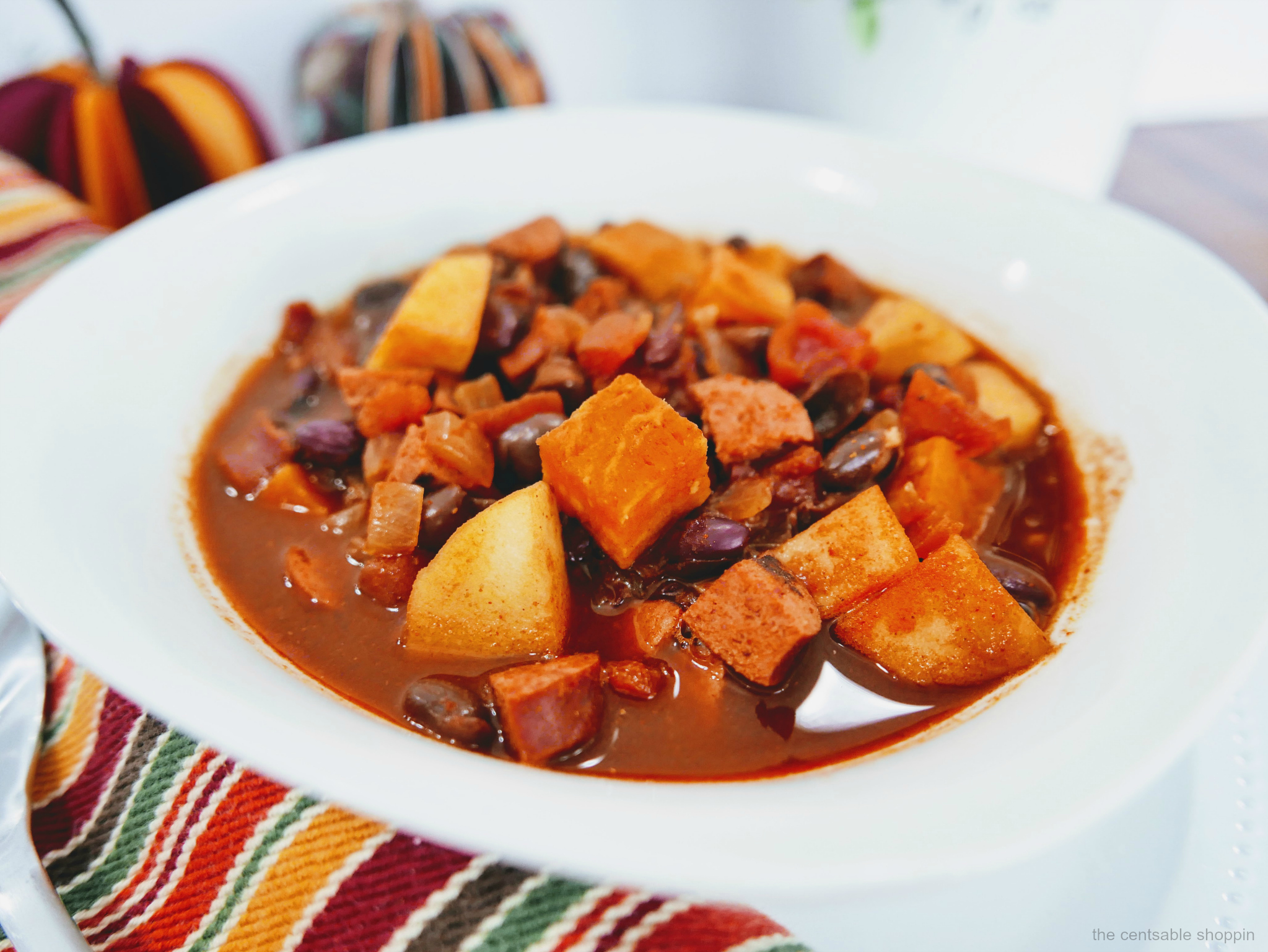 Not only does it make an easy weeknight meal, it works well for meal trains too. I've been doubling this recipe for the last few makes, and taking the doubled half to friends in need of a hot meal.
My last meal train was a family with four kids and this chili turned out to be a total winner. We dropped it off with a quart of yummy ice cream along with French bread and the kids tore it up.
Feel free to double the recipe for your family too – or, keep the doubled half and serve later in the week over a bed of rice. Two meals in one? Absolutely!
Did you make this recipe? Please take the time to rate it and comment to let me know how it turned out for you!
Sweet Potato, Apple & Turkey Chili
Healthy Sweet Potato Chili is comes together quickly with delicious sweet potatoes, apple and turkey in a chili that's perfect for cooler weather!
Ingredients
1.5

Tbsp

olive oil

1

sewet potato

peeled, diced

1

onion

diced

1.5

Tbsp

garlic

minced

2

Tbsp

chili powder

4

tsp

ground cumin

2

tsp

smoked paprika

1/4

tsp

salt

2.75

C

water

15

oz

black beans

15

oz

dark red kidney beans

14

oz

diced tomatoes

3

tsp

lime juice

1

Granny Smith apple

diced

13

oz

Turkey Kielbasa

cut into small chunks

sour cream

shredded cheese
Instructions
Heat the olive oil in a large pot over medium-high heat. Add the sweetpotato and onion, and cook until the onion begins to soften,approximately 3-4 minutes. Pour half of the lime juice over the apples tokeep them from turning brown until they are ready to be added.

Add the minced garlic, chili powder, cumin, smoked paprika, and salt.Continue cooking for 30 seconds, stirring constantly. Add the water, andbring to a simmer. Cover, and reduce the heat to medium-low. Simmerfor approximately 10 minutes, or until the sweet potatoes are tender.

While the sweet potato mixture is cooking, heat a large skillet pan overmedium-high heat. Add the turkey kielbasa to the pan. Cook approximately 5 minutes, stirring constantly, until the turkey is lightlybrowned on each side. Set aside.

Add the black beans, kidney beans, tomatoes, and remaining lime juiceto the sweet potato mixture. Increase the heat to high until the mixturereturns to a simmer, stirring often. Reduce the heat back to medium-low, and add the turkey kielbasa and apple. Stir well, and let simmer forabout 5 minutes. Remove from heat and serve. Top with cheese and sourcream if desired.
What's your favorite way to eat sweet potatoes? Do you have a favorite sweet potato recipe?