If you missed the opportunity to start saving in your 20's, don't worry. It's definitely not too late to start saving in your 30's with these tips.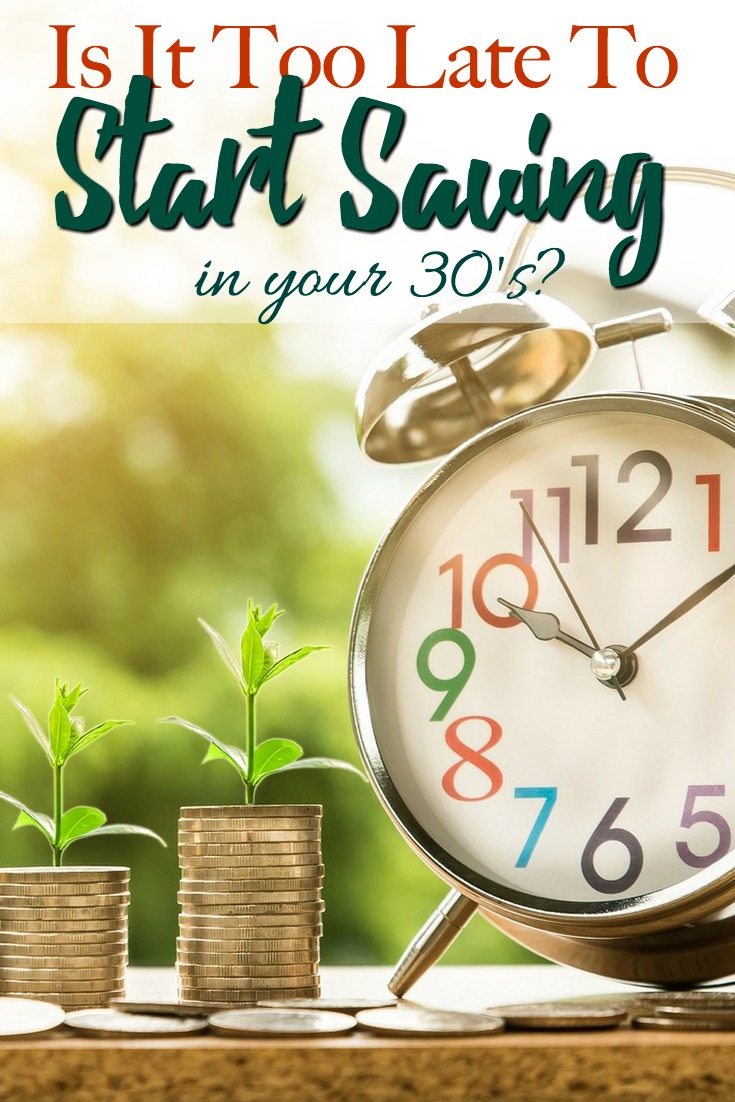 One of the greatest things about being young is the opportunity to take advantage of compound interest. While I know that is not what many people probably think of as being the best part of their younger years. I certainly didn't.
In my early 20's, I was fresh out of military service. I was also newly married – excited for what was ahead. I was excited for the opportunity to be a little more free. After all, I had spent the last four years between the hot desert of Arizona, Texas, Egypt and Kutwait.
Y'all, don't ever let anyone tell you that Texas isn't hot in the summer.
Compound interest works best when you start saving early. When you are in your 20's, compound interest is an incredible thing. You just have to do your own part to give that compound interest everything you possibly can, so you can multiply your money years down the road.
The magic of compounding is remarkable – but so is the magic of learning not to buy dumb stuff during the time of your life that you are most tempted to do so.
If you set up yourself right early in your 20's, you can reap some pretty serious rewards down the road when you are in your 50's and 60's. In your 20's, you may also be struggling – not only do you likely have some student debt, you may be a starving student working part-time for less than desirable pay. Face it – you might not even have a penny saved towards retirement, after all, you are in your 20's – you have plenty of time to worry about that other stuff later.
Think about it though…..
You finish school and fall in love with the man/woman of your dreams. You celebrate your graduation all while planning a beautiful wedding, then you quickly find yourself debating a house purchase, and you land yourself a car payment for that better job you plan on finding…
Before you know it, you have kids, and you're in your mid-30's – the years have passed and you haven't saved a penny – after all, every time you thought of getting "it" together, you found it to be the wrong time.
Is it too late to get yourself together?
Compound interest is obviously to your advantage in your early 20's… but at what point is it too late to get started? Is it ever too late to start saving?
Can you still successfully start saving in your 30's?
What if you missed that train completely – is all hope lost?
You'll be happy to hear that you can still start to save in your 30's and find yourself ahead of the game. While your 20's may have been the best time to take advantage of compound interest, your 20's might have been the most challenging time of your life.
Not only were you working on school, you were racking up some serious student loan debt in the process. Instead of working a high-wage job, you were probably starting out with a less-than-desirable salary with part-time hours just trying to get by.
After you graduated, you were struggling for years to make the minimum payments on those loans. You did this all while earning how to adjust to paying for your own place and a vehicle payment all while trying to land a decent job with an opportunity to earn an increasing salary.
Is it Too Late to Start Saving in your 30's?
While your 20's may have been the best time to start, it was really also one of the most challenging and expensive times of your life.
Back then, you may have only been able to put away $25 a month at most. Now that you are in your 30's, it might just be easier to put away for your retirement. If anything, you may have more disposable income in your 30's than you had ten years ago — thanks to a better paying job, and a lower balance on your student loans.
You may have even learned how to avoid buying crap you don't need in order to feel better. Sometimes age has its perks, and that perk is greater wisdom. ☺️
Open up a retirement fund at age 35 with just $500
Save $500 each month for 30 years, at an average rate of 8%
Ayou will have $750,000 by the time you retire.
Even better…
Open up a retirement fund at age 35 with just $500
Save $1,000 each month for 30 years at an average rate of 8%
You will have over 1.4 million by the time you retire.
(And no… you won't find those rates in your typical savings account… you'll need to talk to an investment professional to find the right investment vehicle.)
Getting yourself to stop the bad habits and get yourself into a routine to make that commitment to yourself is not going to be easy.
That path in your 30's is really no easier than it would have been in your 20's. You might be ten years older, but those old habits still remain.
If anything, you may have to face reality. Avoid making that car payment on a car you know that you really can't afford, or the big screen television you really want (but may not necessarily need). Or, the nasty habit of eating out several times per week – the one that's sabotaging your pocketbook.
What if I Can't Budget That Much?
Stop making excuses for the tiny expenses that add up to be significant dents in your budget each month. Even if it means cutting out those trips to Target. Come on, think about it — all of that "stuff" could be your potential savings working hard to help you retire.
There aren't any shortcuts to saving, and you may continually find yourself so discouraged that you quit time and time again. You might eventually confess that the whole commitment isn't worth the effort. After all, it's going to take too long to reach your goal – and who knows, you might not even be alive to see that time of your life.
It's always best to remember that it's better to cut back your spending now (and be a little uncomfortable) than to avoid saving altogether. Anything is better than struggling to make ends meet 30 years from now when you are at retirement age.
If you are one of those people that missed the opportunity to save in your 20's, and you feel defeated for not "nerding out" on personal finance then, don't worry.
You still have an opportunity to put forth your best efforts now.
The best thing you can do is start – and it's never too late to do that.