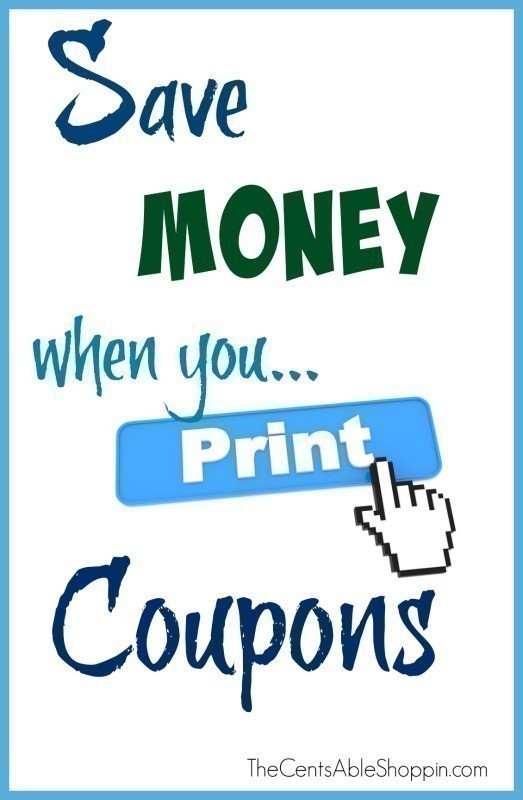 As you clip your way to saving money on groceries each week, you may find that your printing costs will increase – for some, they will go up quite significantly. Here are some ways to help you save when you print coupons off your computer.
Invest in a laser printer.
You'll cut your printing costs significantly – each cartridge runs for 2,500 pages (or close to), which most may find will last almost an entire year. You can find some really nice bargains on laser printers at Staples & Amazon from week to week. See recent deals HERE.
Change your Print Settings.
There is no need to print in color – retailers will accept coupons printed in Black & White without hesitation. Adjust your settings on the computer that you use the most to print by going into the Control Panel, and then Printers and Settings… set your printer settings to print in Grayscale or Black & White. .. and put it in draft quality.
Use Scrap & Recycled.
If you find yourself with a half sheet laying on your desk, keep it in the pile to go back in the printer. Have kids who love to color on scraps? If you do, then save those scraps to print on the back side. I have even used the back of heavy construction paper to print.
Print What you Need.
You don't need to print it all! Coupons come & go – and unless it's a REALLY high value offer, it'll still be there when you get ready to print it out. Unless of course we're talking about meat… produce etc. – always print coupons for meat, produce, eggs, milk and bread – as those are not always common items that you will save on.
Never pay more than $.01 for paper.
Take advantage of Staples Rewards, and stock up on those weeks that you can find paper for FREE after Easy Rebate, and coupon. Some weeks will score you a 10-Ream Case for free (or, close!), take advantage of grabbing as many as the Easy Rebate permits, so you don't have to pay full price later on. Don't miss the Deal we posted on Staples Paper this week HERE – for just $.01 & a WHOLE CASE for $4.99.
Learn how to Refill your Own Ink.
I say this with trepidation because some printer manufacturers don't want to see you do this… but there are plenty of online videos you can watch to learn how to do it properly. It can be done quite easily and for much less than buying the ink for much more in store.
Buy Online.
Find yourself a reliable place to order ink should you not be willing to purchase the full cost on the refills. Remember that cheap doesn't always equate to quality so do your research online before spending your money to have cartridges delivered. Cartridge World is a popular place for many.
Recycle your Cartridges.
Staples, OfficeMax & other stores will issue you credit for your Cartridges – you can turn around & use that credit (when available) to pick up an additional cartridge later on when you need to.
We have shared – now what are your tips?