Easily make your own no-crease hair ties for literally pennies each! These ties are perfect for a girl of any age – to gift, for birthdays, and more!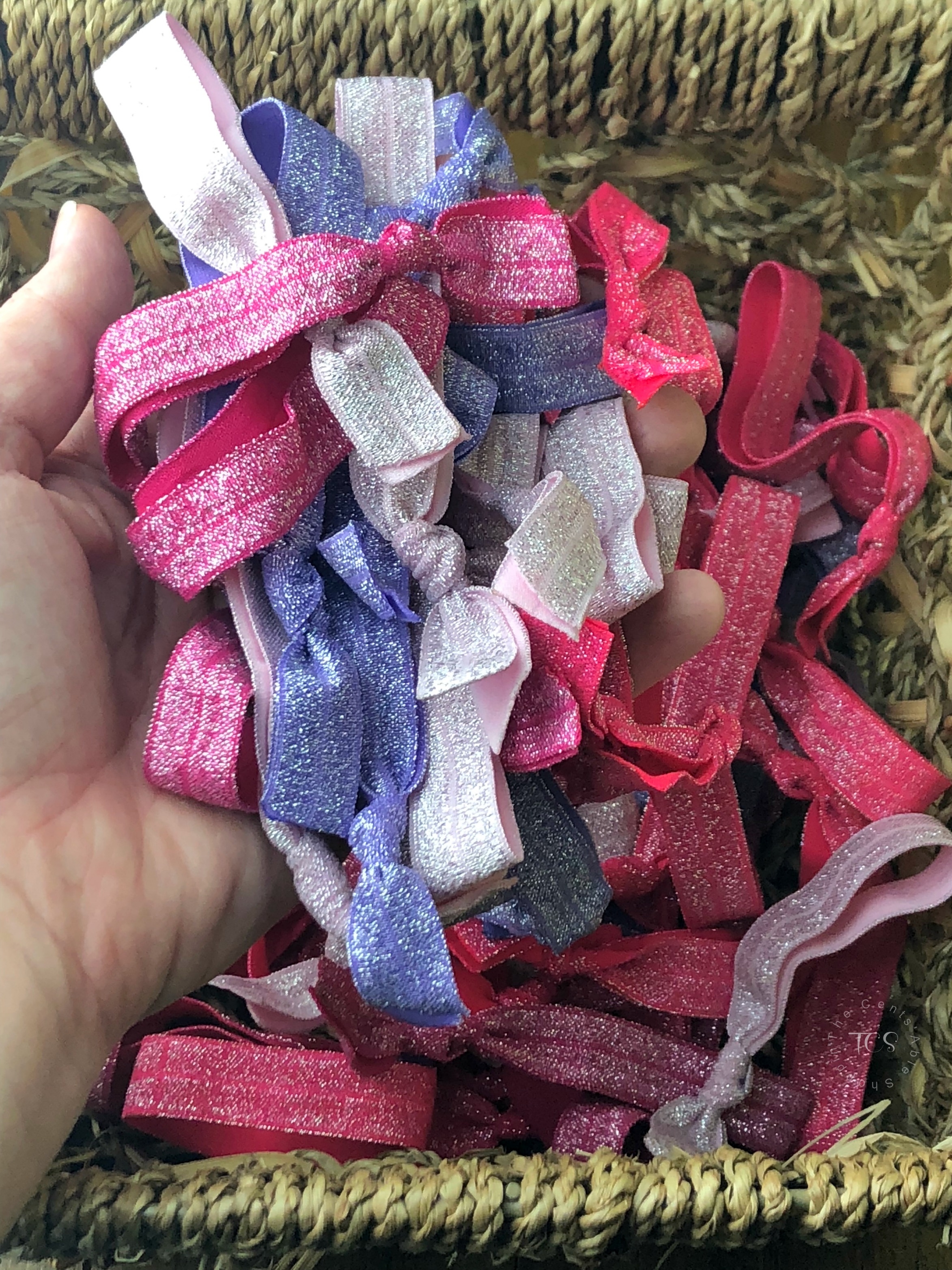 A mom of girls can never have too many hair ties. I love my boys dearly, but with four girls in the house, hair elastics are a hot commodity.
Every so often, we'll run out and buy a 25 pack of hair elastics at the store. Problem is, they seem to disappear faster than I can take them out of the bag and put them in the bathroom.
Really though – where do hair ties "hide"? I confess, losing hair ties might be just as easy as losing socks… I never seem to find them! On a good note though, sometimes my girls want something more than the cheap brown rubber elastics from the dollar store.
So colorful pink and purple glittery hair ties it is!
These hair ties are popular with girls of all ages. While you can typically find them at boutiques and Etsy shops, they are super simple to make yourself. All you really need is a letter-size piece of paper, scissors, 5/8″ elastic and a cheap lighter. That's it!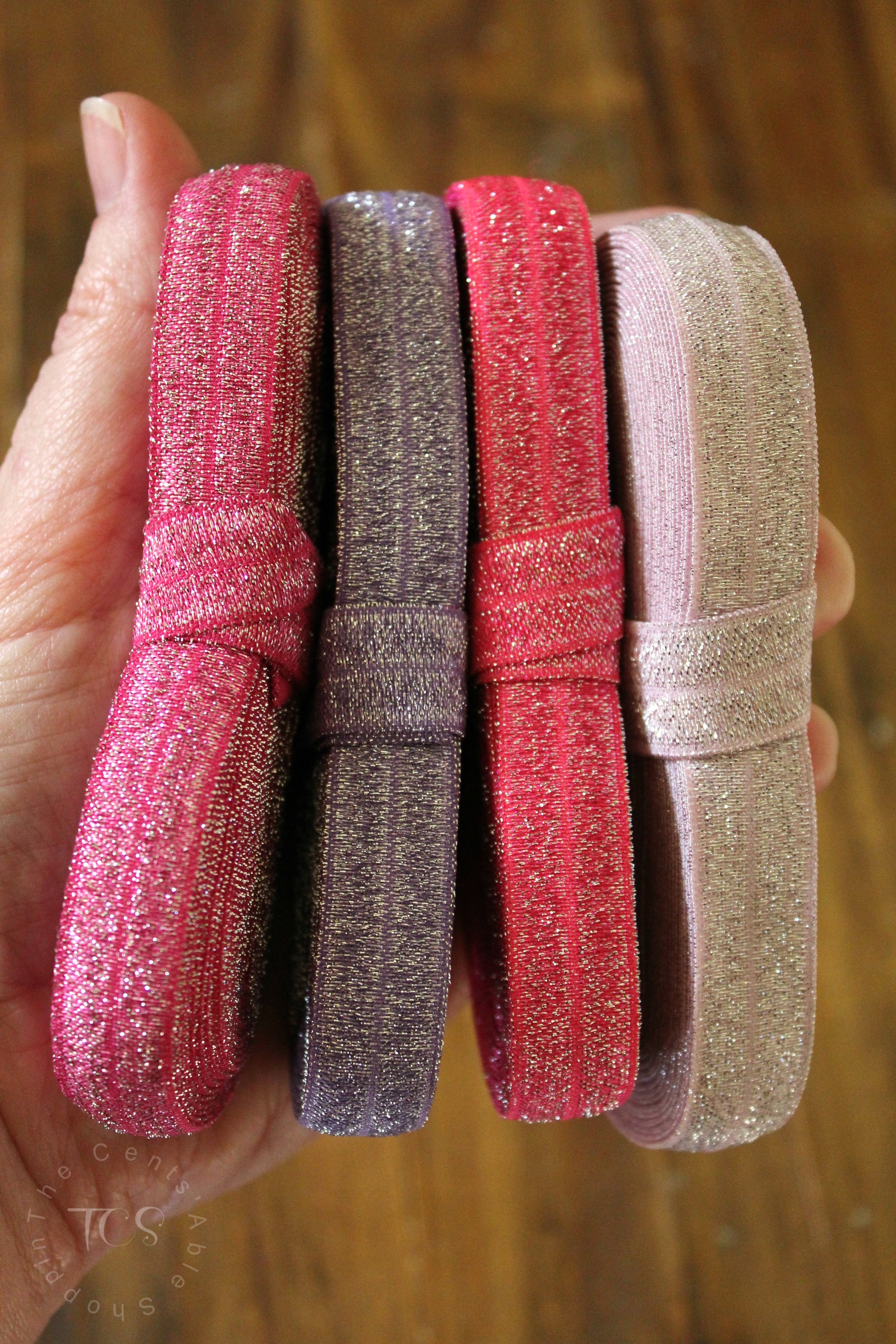 You can find 5/8″ elastic on Amazon. This specific glittery elastic above was purchased from Ali Express – $1.29 per bunch (so just under $6 for all 4 with free shipping).
No-Crease Hair Ties
ruler or letter-size piece of paper
scissors
lighter
INSTRUCTIONS:
Making these hair ties is basically as easy as cutting the ribbon. For thicker hair, you'll want to measure the length of the paper (11″). For smaller kids or those with thin hair, you'll want to measure the width of the paper (8 1/2″).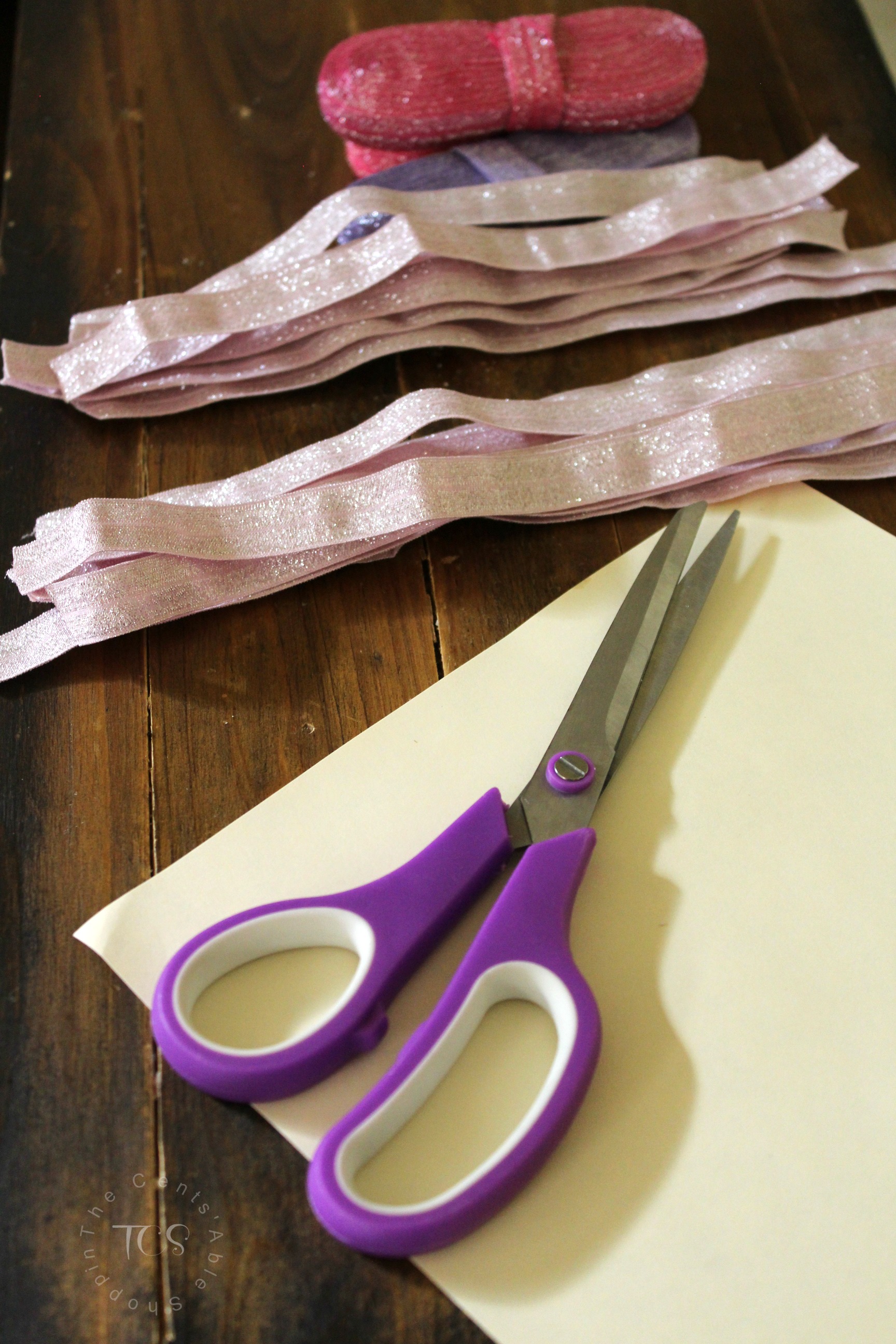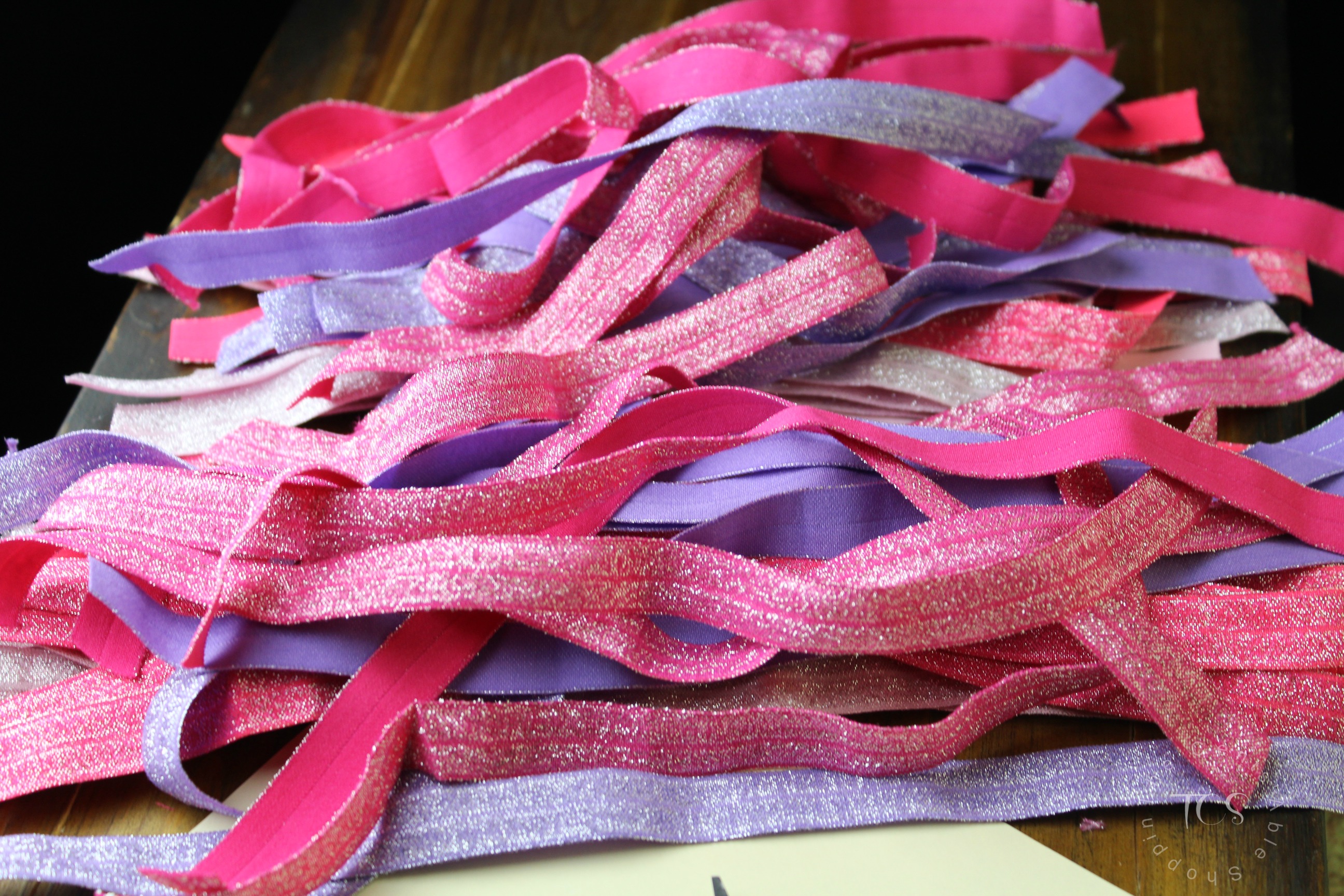 Once you cut your elastics, pile them up in two piles: one pile for long elastics, and one for shorter.
Fold the elastic so that the good side is facing outward. You'll be tying a knot in the very end of each one, so ensure the ends are lined up evenly. Then fashion a knot at the end leaving a little tail on the end.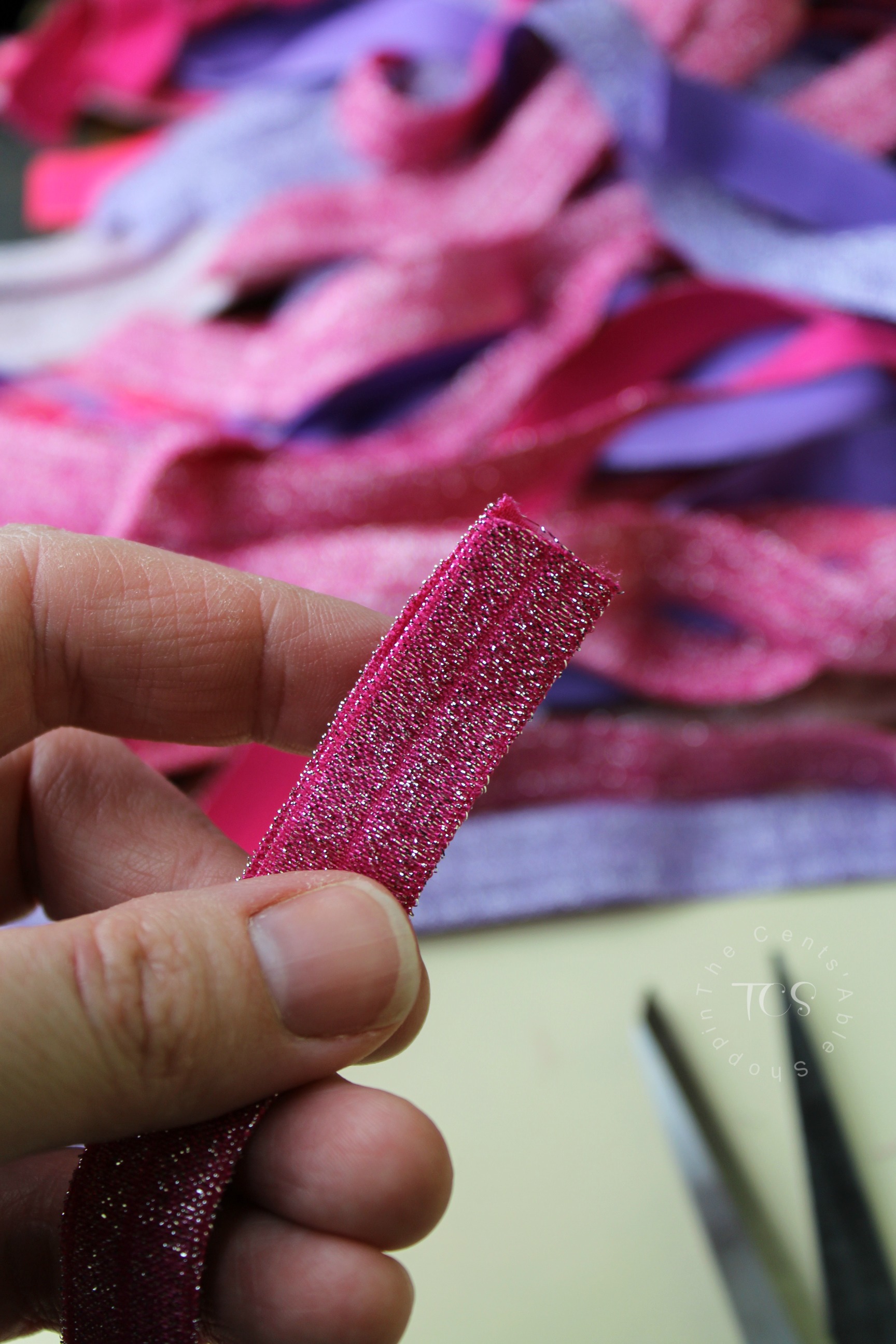 Out of all four rolls of 5/8″ elastic, we got a little over 60 hair ties. While tying the knot is probably the most lengthy part, it's done easily if you put your feet up and have them on your lap while you are catching your favorite Netflix show.
(And ask your oldest child to help, too!)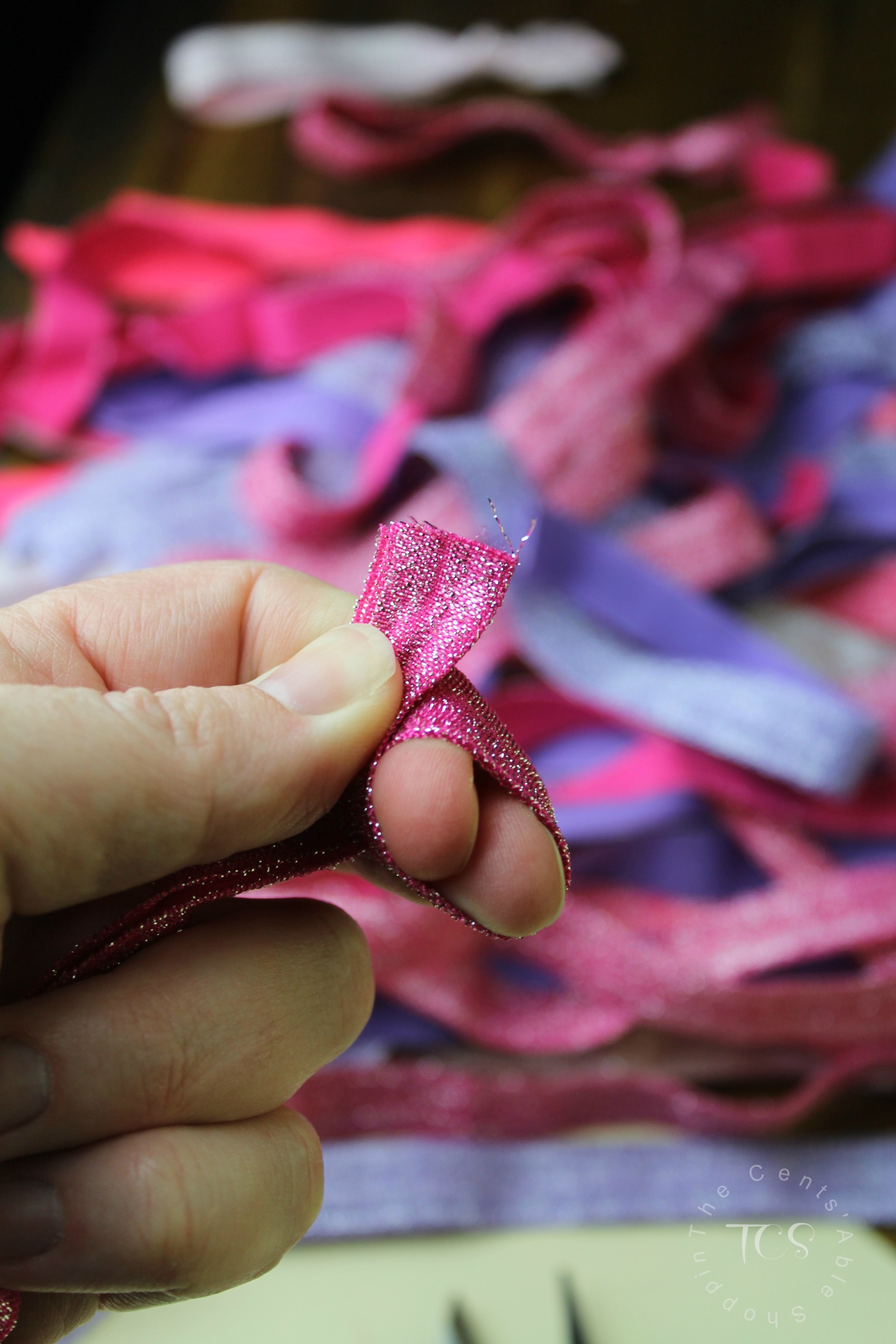 After you knot each, repeat until they are all finished. Then pull out your lighter and quickly seal the ends to burn the extra strings off.
*If you have your daughter/kids working on this project, I would suggest that they skip the last step and allow a parent to do it.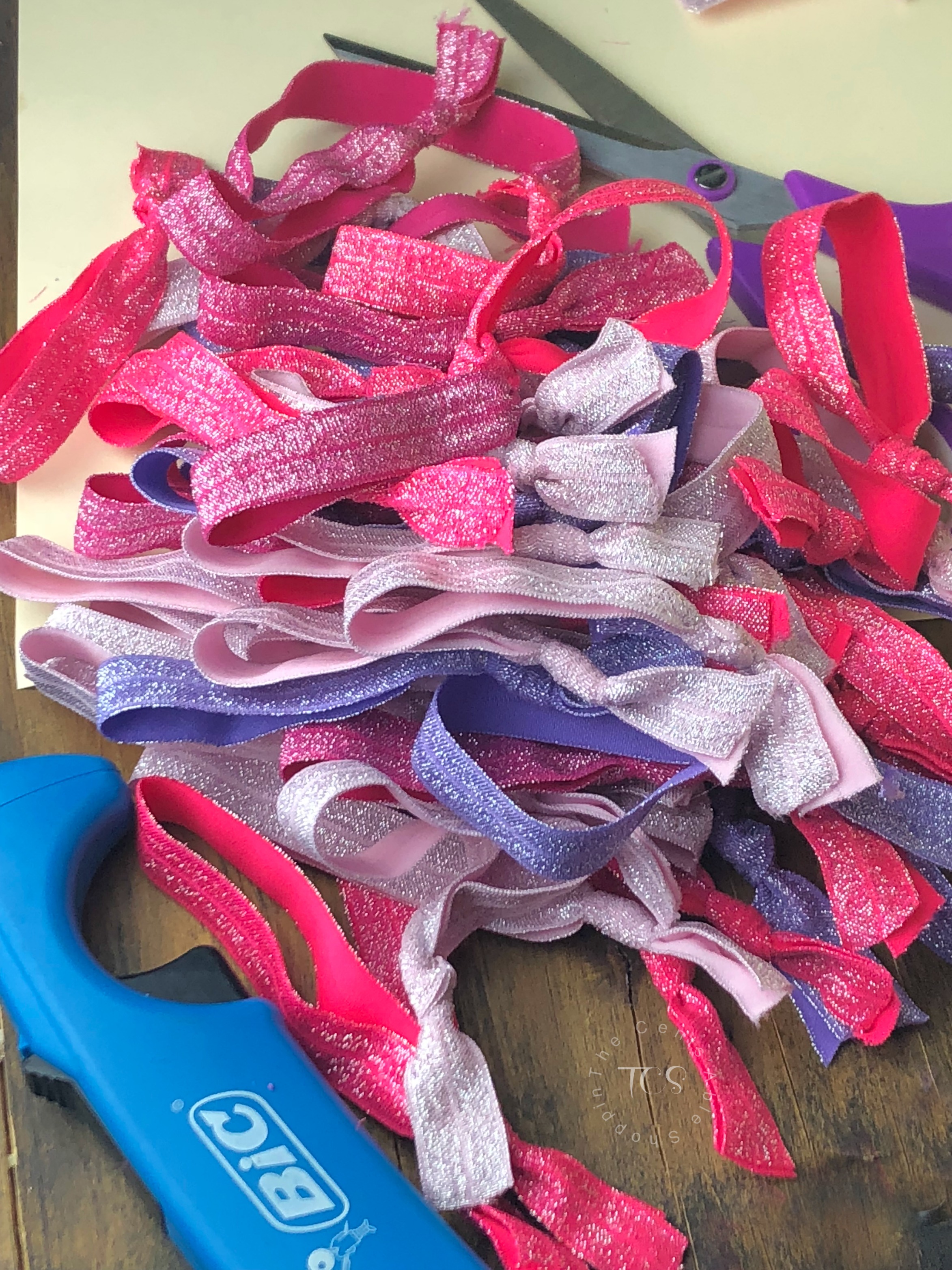 Give each a quick blow with your breath, and throw them in a basket.
Storing your Hair Ties
You can store your no-crease hair ties a multitude of ways:
Throw them all in a basket in the bathroom so the girls can grab and go.
Smaller hair ties can be stored on empty paper towel or toilet paper rolls in the drawer of the bathroom.
Use thicker card stock personalized with the recipients name (if you are giving as birthday favors for your daughter's party).
Buy a large carabiner ring from the Home Depot & keep them all on one loop.

However you choose to store them, they make a wonderful gift for any young lady, no matter the age. They are far more hair friendly than the restrictive elastics you commonly find in the dollar store.
These hair ties are completely washable. They will hold hair securely without leaving a huge indentation in your hair like those thick elastics you find at the dollar store.
If you are looking for more creative ways to store hair bows, you might want to check out this simple Hair Bow Wreath.