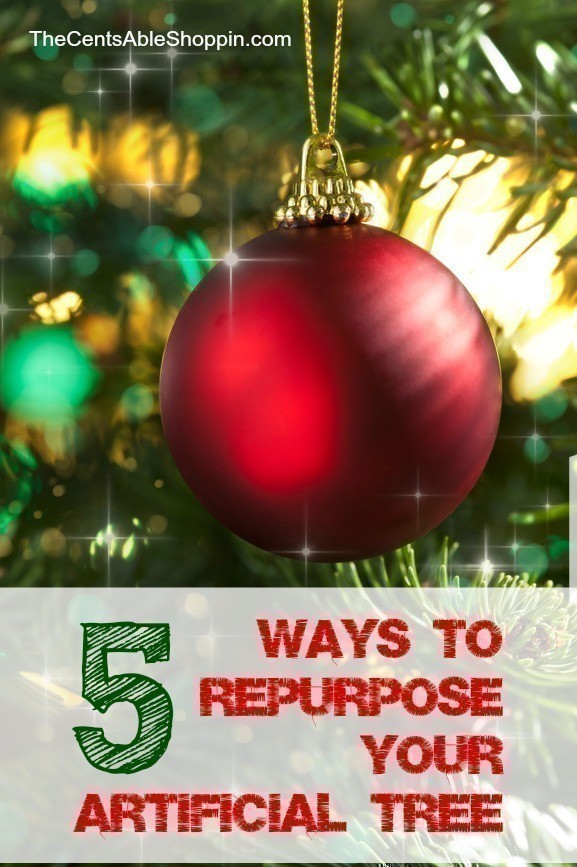 The time has come, after months of planning and anticipation it's time to take down that Christmas Tree that you so lovingly decorated and put up for the family. If you have an artificial tree it may, after a few seasons or attacks from kids or pets, be ready to be put out to pasture.
But you do not have to grab that tree and dump it in your recycle bin. You can actually use it to make lovely decorations or even gifts for next year!
Napkin Rings
Here's a great to spruce up your next holiday table. You need to choose some of the smaller branches to make this or use piece of an artificial wreath that also has served its time. These would make excellent hostess gifts as well for next year
Check out this Wreath Napkin Rings Tutorial.
Make a Mini Christmas Tree
Take a saw or have your hubby cut off the top of the artificial Christmas tree and put it in a vase, basket or container of your choice, decorate. Pretty easy peasy eh?
This would make a great centerpiece decoration for your table, mantle or a great gift for an older relative that may not be able to decorate their own tree.
Great ideas and photographs for this craft can be found here …
Wreaths
Another great way to repurpose the artificial Christmas tree is by using the branches to make wreaths.
Now these do not have to be specifically a Christmas Tree but you can use the green branches as background to make a spring wreath to decorate your house. An idea we loved was this we found were the person took a hula hoop, attached branches from her old artificial tree and made a large outdoor decoration.
Garland
Make indoor or outdoor garland for next year using the branches from your artificial tree – check out this post HERE.
It is so easy to make and such a great way to involve your kids in planning next years decorations.
Other Holiday Trees
If your kids love the idea of a tree, why not keep it up?
Many of these would also work for Christmas Clearance too! Did you spot a tree on markdown at 75% OFF? Repurpose it for next year if you can't pass up the deal.