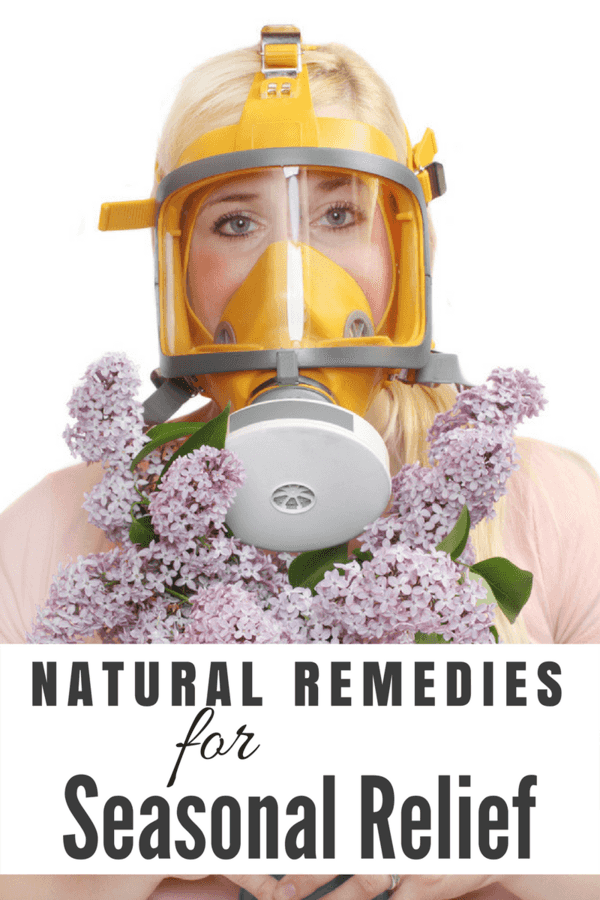 Change of seasons is approaching and if you have a sensitive nose, chances are you *might* be sneezing today.
Because we avoid taking Over the Counter items and prescriptions, we look towards natural methods to help us – we don't suffer from as many allergies now as we did a few years ago, and that is due in part to a different diet which relieved many of our allergy symptoms.
Because everyone reacts differently to different items though, it's important to try & find something that works best for you. Sometimes, these natural methods may give you immediate relief, and sometimes they take anywhere from 3-6 weeks to kick in.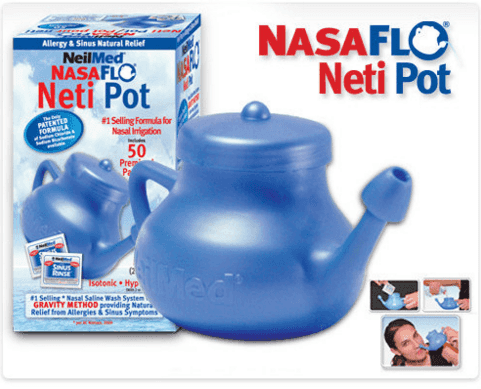 #1 – Neti Pots
Neti Pots are great for allergies & stuffed up sinuses – the treatment involves rinsing your nasal cavity with a saline solution that can flush out allergens, like pollen) and loosen mucous.
Pick up a Neti Pot at Walgreens or CVS (or, any major retailer). Fill it with a mixture of salt and warm water. You can buy pre- measured kits or make your own.
Then tilt your head to the side and pour the solution in one nostril until it flows out the other – repeating the process on the opposite side. Ensure you are using distilled water – and you can also incorporate Essential Oils too (Tea Tree and Rosemary work amazing!)
Nasal Rinse
10 drops Rosemary
6 drops Melaleuca
8 Tbsp of Ultra Fine Salt
Keep that mixture in a glass container (a small Jelly Jar works great) and use 1 1/2 tsp for every 1 1/2 Cups of distilled water.
#2 – Apple Cider Vinegar
We first mentioned Apple Cider Vinegar WAY back HERE. It's a great treatment for seasonal relief. I take ACV daily in water myself, and have found it works great for digestive support. Seasonal relief is another benefit of using it too.
Apple Cider Vinegar reduces mmucous and cleanses the lymphatic system; it promotes alkalinity and the pH balance of the body which is why it works so great for many remedies. For allergies mix the following:
1 Tbsp Organic Raw Apple Cider Vinegar
1 Tbsp Lemon Juice
1/2 Tbsp Raw Honey
Take that mixture 3 times each day – it will take a week to several weeks for that mixture to build up your immunity for those seasonal changes… so don't expect results immediately.
#3 – Raw Local Honey
Raw honey works because it has natural enzymes (since it hasn't been processed). You will want to stick with honey from your area — where the same sort of plants are blooming. Though Raw Honey will only work on Pollen.
Spring honey works best for the spring allergies (and thus, fall for fall) — as the flowers that the bees visit will contain a mix of plant chemicals (antioxidants, flavonoids, and more. (Src)
#4 – Garlic
Garlic is a natural immune system booster – and while you can take supplements (perhaps if you don't want to smell like Garlic), remember that supplements are no comparison for the real thing: Garlic. Cook or juice with whole cloves daily
#5 – Probiotics
Allergies themselves are the end result of an imbalance in the immune system that causes the body to react too strongly to a stimuli.
Believe it or not, your respiratory tract and the digestive tract are both immune barriers – it's THEIR job to project your body from outside invaders. While most people grab allergy pills, and eye drops, sometimes even antihistamines, in most cases, fixing your gut will help those allergies.
Leaky gut can result from chronic stress; it can also result from a diet high in sugar and processed foods. One of the ways to counteract leaky gut is to consume beneficial bacteria – fermented foods, Kombucha, and Kefir are all great sources, as is Raw Milk. Or, you can also use Probiotics, too. Read more about Leaky Gut HERE in this article by Dr. Flannery.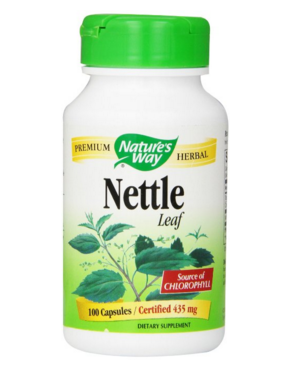 #6 – Nettle Leaf
Nettle Leaf is a natural antihistamine that can be very easy to find on Amazon (or other places, too). Nettle Leaf blocks the body's ability to produce histamine – find capsules on Amazon HERE.
You can also find Nettle Leaf Tea, too.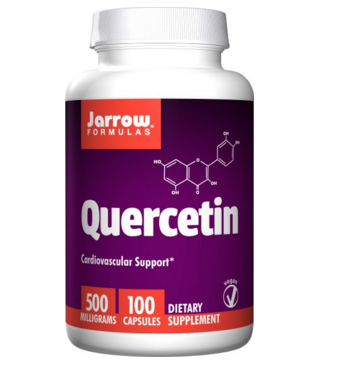 #7 –
Quercetin
Quercetin is great for allergies because it's a strong antioxidant with anti-viral properties (see HERE). It stabilizes mast cell membrane and prevents the release of histamine and other inflammatory agents. It's NOT immediate though! Just like with Apple Cider Vinegar + Honey, this can take 3 – 6 weeks before it finally starts to work. It's effective if you start earlier before allergy season OR, if you start the year PRIOR 🙂
You can find Quercetin on Amazon.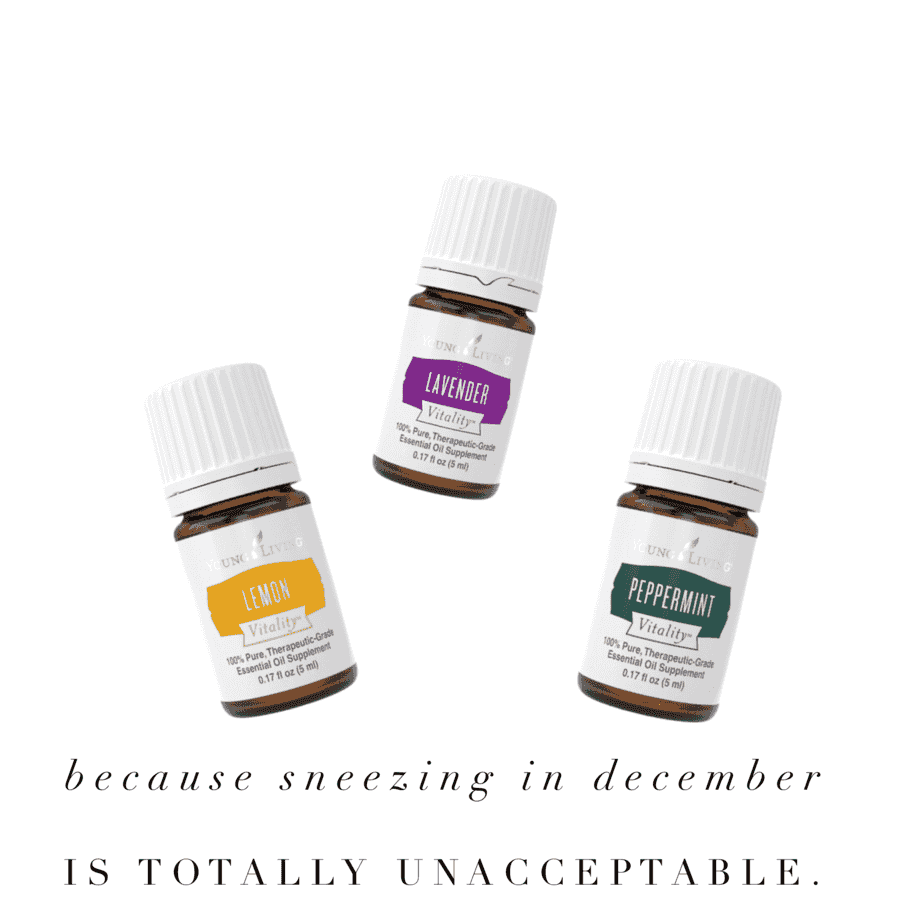 #8 – Essential Oils
Essential Oils are GREAT for seasonal relief… you can use them topically or aromatically, or internally.
Topically: Lemon, Lavender and Peppermint Essential Oils – combine in a 10ml Roller Bottle and apply to your neck.
Internally: Lemon, Lavender and Peppermint Vitality are dietary oils that can be combined in a veggie capsule (2 drops of each) and taken periodically as needed (morning, noon and night). You can also make your capsules ahead of time and freeze until needed. I just take out what I need for that day & so far we have been going two years using this method and it has proven successful for us.
Aromatically: Diffuse Lemon, Lavender and Peppermint in your home diffuser (if you have a Young Living Diffuser you can diffuse for up to 8 hours).
Make sure you are using proper essential oils – avoid the synthetic fragrance oils you buy in most grocers. You want something that is certified as GRAS (generally regarded as safe) by the FDA. You also want to avoid the synthetic oils sold at grocery stores because they are primarily for aromatherapy use only (not to use internally).
Read more about the Essential Oils we recommend by heading here.
Related Posts: