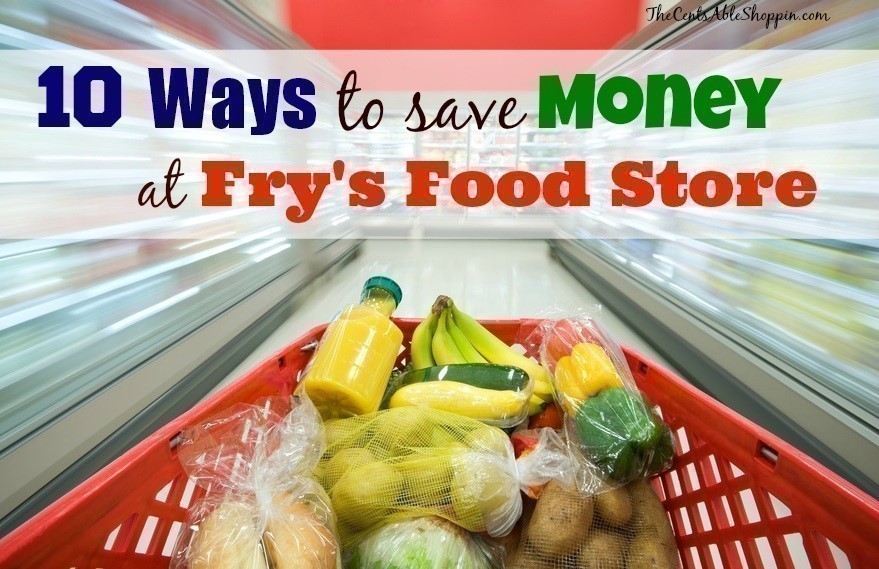 Do shop at Fry's? Of all the grocers in the Valley, Fry's ranks second next to Walmart for shoppers in store. Perhaps it is because of their generous coupon policy – or, their great sale prices.
I rounded up ten ways you can save at Fry's – you may have your own unique way of saving. These are just a few of my favorite.
Friday Freebies. Fry's will have a FREE offer you can load to your card – select Fridays as advertised in the ad. You can load the FREE offer on that designated Friday ONLY – redeem within 2 weeks in store. The limit is 1 per person.
Load to Card Savings Coupons. Every Wednesday, Fry's will release a new offer to save in store through a coupon you can load to your card. Look for this offer every Wednesday morning; once you spot the offer, log in and load to your card – it is a one-time use. Other coupons can be load throughout the week to card – do note that the eCoupons cannot be combined with paper & will not double to $1.00.
Coupons are Face Value. Coupons are ONLY taken at Face value. Stack those with sale items for a DEEPER discount.
Sign up for myFry's Extras. This is personalized savings just for you! Each week, Fry's will develop a list of new offers for you, based on your purchasing history. You can load those offers to your card. Although they are a price point, coupons cannot be used on these items.
Scout out that Clearance! Fry's traditionally marks down items on Tuesdays, mid-day. You may want to visit your store on that day, between 10:30 a.m. – 12:30 p.m. (that's normally the time they do this at my local store). Look for new closeout tags on the shelf; look also for items gathered in one clearance spot typically down the household aisle – your store may have a specific spot that they gather clearance items in. Most stores I have seen this spot be in the household aisle.
Link your Fry's card to Packages from Home. A small portion of your grocery bill will go to the Non-Profit Organization to help send care packages to troops overseas… not money savings for you, but it will lend to savings for the organization – which relies on donations.
Sign up for DBacks Rewards… and Sign up for Phoenix Suns Rewards. Both are similar! Earn 1 point per $1 spent on participating DBacks Rewards Items. Redeem those points for merchandise.
Use your Walgreens Register Rewards. If you shop at Walgreens, use those Register Rewards (which are manufacturer coupons with a valid redemption address) at Fry's – provided they don't say "Redeem ONLY at Walgreens" you can use them at Fry's to purchase items that are difficult to find discounts on – meat, dairy or fresh produce.
Shop the Mega Sales. Mega Sales cycle every 3-4 weeks at Fry's; they go 2 weeks in length and include many popular stock up items, with a special price when you buy in sets of 5, 8 or 10. Do note, that they are often so popular that you will find empty shelves – although you can pick up a rain check on ad items, over 80% of the items won't be listed in ad – leading you on a chase for 2 weeks to find them in stock.
Take Advantage of Fuel Rewards. Your final total paid earns fuel points – 1 point for every dollar. Those fuel points can be used to save on fuel – the current months points are valid through the end of the NEXT calendar month (they do not roll over). Even better, every so often you can load a coupon to your card for 4X Fuel Points on your purchase of select gift cards & more.
There are so many other ways to save that are not included – feel free to comment with your own methods.