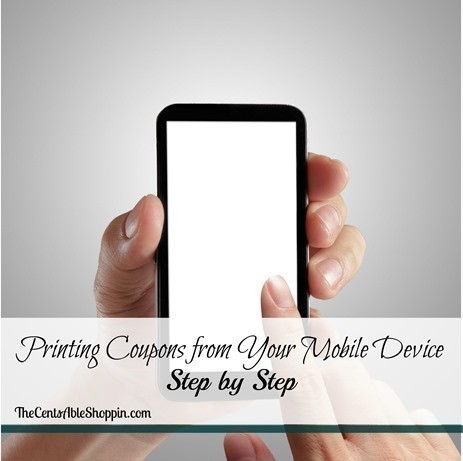 Over the last several days many of you have asked how to print coupons from your mobile device.
Having an iPad, iPod, or Android can be a tremendous asset, when it comes to printing coupons. But – it takes a number of steps & requirements to be able to print from these devices.
While nothing is guaranteed, here are a few tips that might help If you are looking to put your device to use.
Use a compatible printer.  If you print from an Apple Device, you must use a printer that is AirPrint compatible (scroll down to see which printers support AirPrint).  You can see what printers are included by heading to this list.  If you are printing from Coupons.com you will need to use an HP-Printer.
Have a Proper Network Connection.  To print from any mobile device you will need to have a wireless network. Set up your device to Wi-Fi mode and wait for it to search for your home network. Once you find the network, log in with the requested credentials – you should then be able to print using the network printer selected in the print application and by selecting the print command.
Install Printer Software.  If you are printing from an Apple Device, you will need to use Apple's AirPrint.  OR if you are using Android, you will need to Download PrinterShare – you can get the Free version or you can pay ($13) for a wider range of use.  The FREE version has quite a few limitations.
Grab your Coupons.  Grab the GroceryIQ app for Android or Apple  – and / or grab Coupons.com from the Apple store for your Apple Device. The Grocery IQ App allows you to print from your device provided you have a compatible HP Printer.
Several have commented that you cannot print from Android – you can,provided you have a compatible HP Printer.  You just need to take a few steps:
Download the HP ePrint app (from the Play Store)
Open that app
Make sure your HP ePrint Wireless Printer is recognized
Set Up and register your email for the printer
Select your option to go to your browser on the device
Once the screen appears, register or sign in
Sign in on the next screen
Click "Go to HP Connected", then select the Services tab at top
Click Savings Center
Browse & select your coupons
Those 4 simple steps should allow you to print – however, as with anything, they are not guaranteed. If you still are not able to print, you may just need to stick with your desktop computer.