Earwigs crawling around in your bathroom or kitchen at night can scare the living daylights out of you – or anyone, once the lights are turned on. Find out how to eliminate earwigs naturally!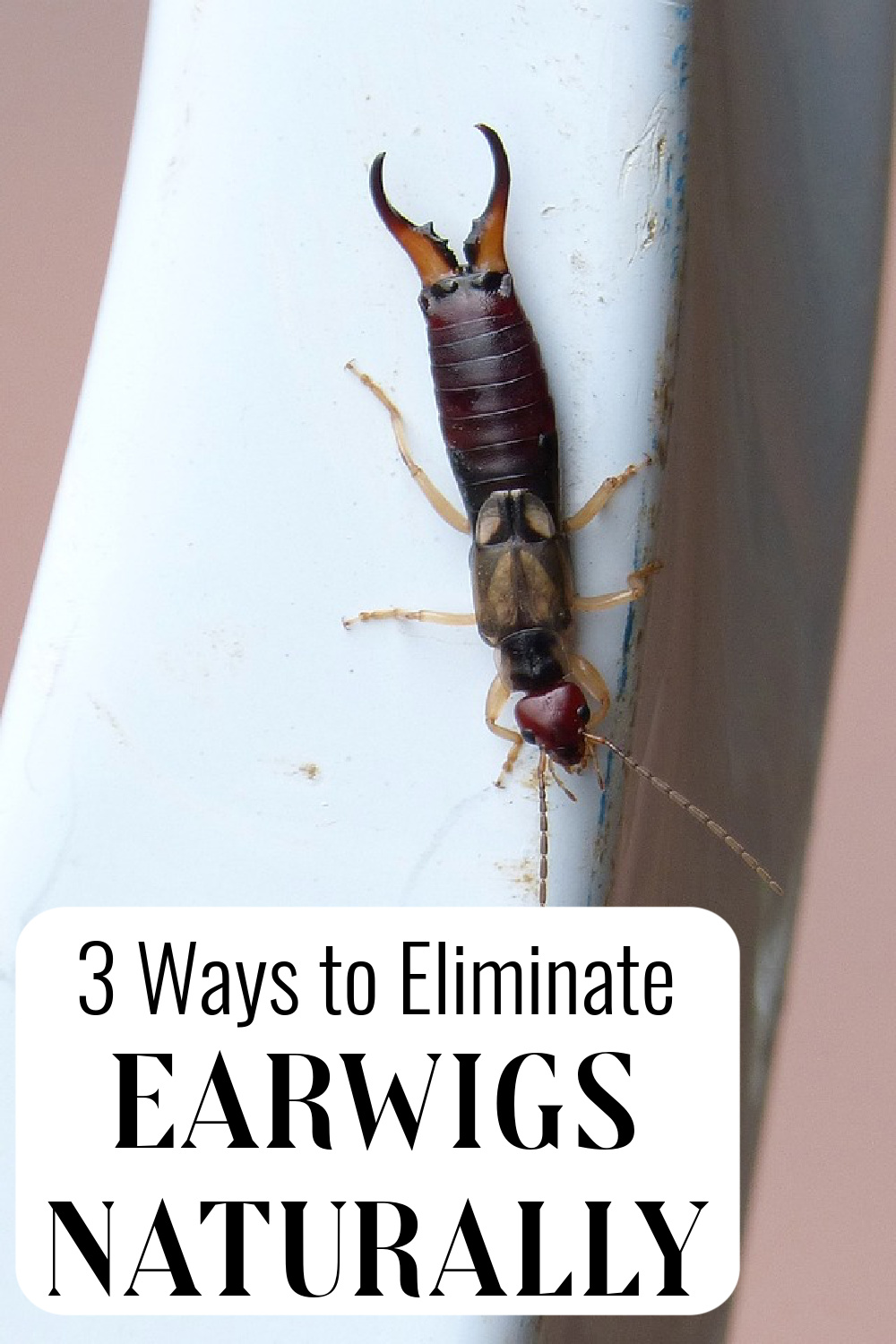 Image by Marc Pascual from Pixabay
Earwigs – are super popular around this time of the year in Phoenix. Not only do I dislike the hot, desert heat, apparently earwigs do too!
They love to come back into your home in the hot summer months to escape the furnace of temperatures outside. And the first place they love to congregate is the bathroom.
But why the bathroom?
The bathroom is their favorite hotspot to hangout – it's dark (at night), moist, and provides lots of fun places for them to hide.
What are earwigs?
Earwigs are creepy little creatures that can be a nuisance of a pest when they come into your home. They can leave your toilet and bathroom with a very foul smell from their yellow-brown secretion (think: poop 💩…) and they can also multiply very very quickly.
More than likely, if you spot one earwig, chances are, you will find a cluster-party of them. And a party indeed.
Earwigs are commonly known as pincher bugs – they have been around for millions of years. They are odd-looking little creatures – very skinny and long, with forceps that come out from their tummy. While they are not poisonous, they have little pinchers that can pinch. They crawl very quickly and grow anywhere from 5 to 25 mm, depending on the species of pincher bug they are.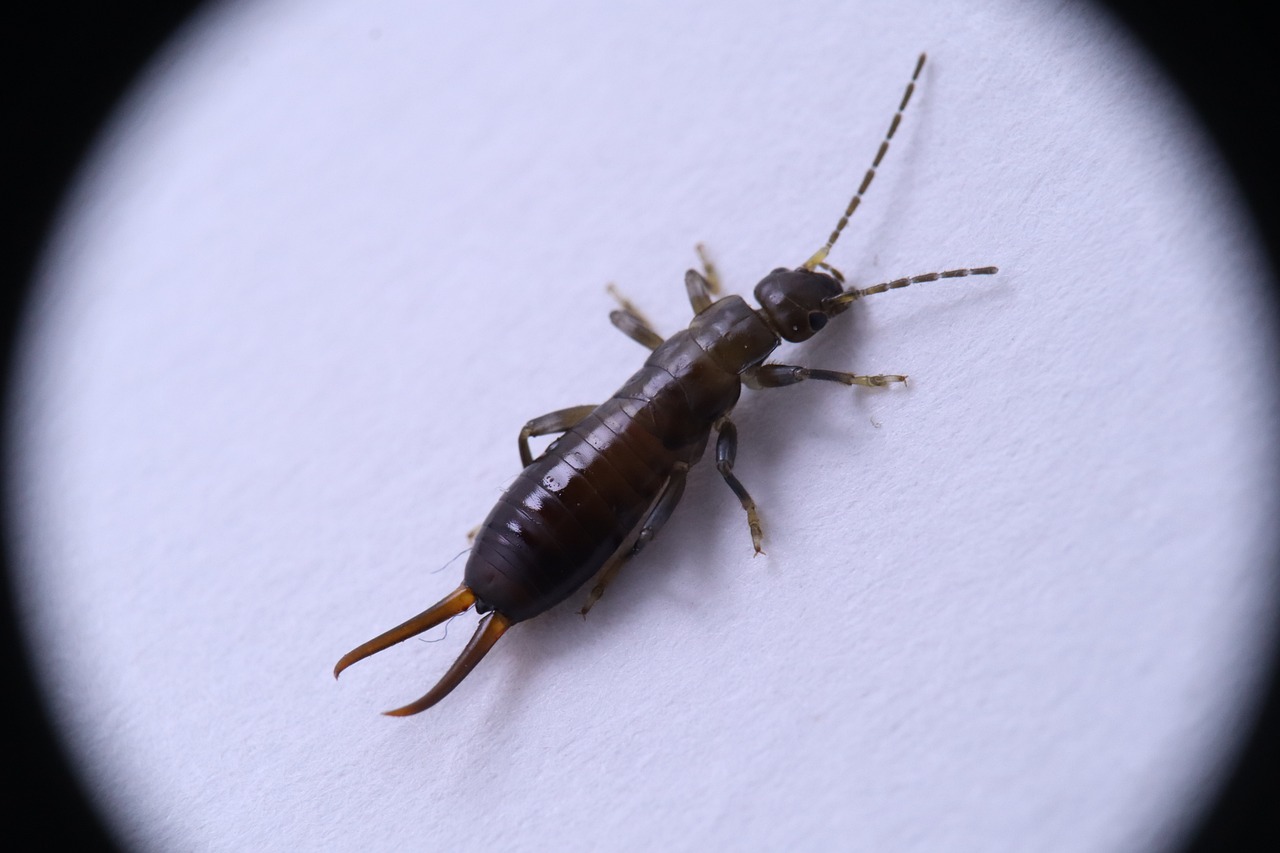 Image by Francisco Corado Rivera from Pixabay
Earwigs are not known to spread bacteria, but they are quite a nuisance. How do you spot one? You'll want to look for the following characteristics:
six legs
two antennae
two pairs of wings
long, reddish brown, sunny body
Female earwigs lay 40-50 eggs which can hatch in one week, making them hard to control if you find a few in your house. The baby earwigs become adults fairly quickly at just 10 weeks of age, and the reproductive cycle begins again. This is one reason that they are hard to contain.
Earwigs have a very foul odor (think pheromones), which helps keep predators away. However, it's not always to deter predators. This smell helps them attract other earwigs so that they can congregate in masse and nuisify your house.
Wait a second — is "nuisify" even a word? I think I may have created a new term. 🤓😉
Why do earwigs love the bathroom?
Earwigs love to congregate in masse in dark, moist places – preferably at night. This is one of the biggest reasons they love your bathroom! They love moist shower drains, tubs, sinks, and toilets. They also know that most people keep a bath mat on the floor that might be damp from earlier showers in the day.
Under that mat, they will hide out.
Earwigs will enter your bathroom through shower or sink drains, open doors, windows, leaky pipes and wall cracks. They are looking for moist, cool shelter and a dark place.
In that bathroom, they will hide out under rugs, cabinets, furniture, behind the toilet, on the baseboards, and even on the walls. During the night, they will crawl around your bathroom looking for food. Thankfully, you can use any of these natural solutions to eliminate them for good:
#1: Alcohol + Water Mixture

Alcohol is a surfactant – it will penetrate the earwigs waxy coat and kill it immediately once it comes into contact. To use alcohol and water, mix equal parts rubbing alcohol and water in a spray bottle and spray in drains, around baseboards, sinks, counters and under cabinets. This is a rather simple solution but it will eliminate them when used consistently.

#2: Dish Soap + Water Mixture

Dish soap is quite an effective insecticidal soap that can kill earwigs, too. You'll want to fill a spray bottle with water, and add a few drops of dish soap. Shake the bottle and then spray it in the places where you think they will hide (drains, baseboards, etc). Used consistently, this is an effective way to treat them over a period of a few days.

#3: Soy Sauce + Oil

Earwigs are always on the hunt for food. Not only does soy sauce have a smell, it will draw the earwigs to it and the cooking oil will trap them and drown them in the solution as they dip in there to "eat".

Simply place a bit of soy sauce and cooking oil in a few small containers in your bathroom. You can use one container or several – do not cover them. Aim for corners and crevices, or in your bath tub itself – earwigs will be drawn to the smell and drown in the solution.
Prevent them from returning
Once you have removed your earwigs from the bathroom, keep them from coming back by taking away what makes the bathroom a hot spot for them to hang out.
Encourage your family to hang up their towels and bath mat once they are done using the shower.
Vacuum the bathroom regularly to prevent the earwigs from finding food to eat.
Move plants out of your bathroom and into a different area of the house – plants can often times be a food source for earwigs.
Check the wall for holes and cracks where earwigs can get in.
Fix any pipes that are leaky or draining to prevent moisture from collecting and attracting earwigs.
Dehumidify your bathroom by encouraging family members to run the fan to eliminate the dampness and extra moisture.
With proper and consistent steps, you can eliminate the opportunity for earwigs to call your bathroom home – without the added expense of a pest control company.
The most important part of eliminating earwigs yourself, is allowing for consistent effort over a period of time.
You may not eliminate them overnight – but if you are consistent about using the techniques above, you will reduce the chance of earwigs finding a home within your home.