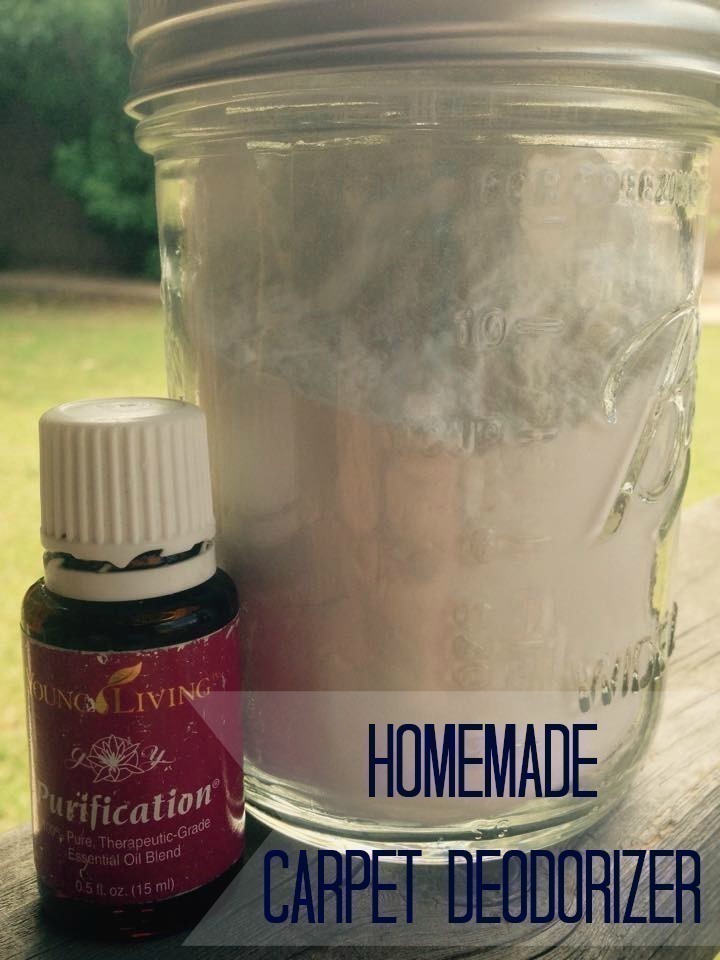 Do you use Carpet Deodorizer?
It is not something we use regularly, if even at all… but today we had an accident in the house on the carpet from one of the kids (our smallest…) so I got busy to try to fix. She hangs out with older brothers so she thought that taking off her diaper & running naked was the "cool" thing to do today.
Which is great, until they have to go potty. Then it's not so funny. :)
We do get our carpets cleaned every 6 months, but since we just had them cleaned 2 months ago, calling them back wasn't something I wanted to do – and since there are certain spots that seem to get more traffic than others, I figured that making some deodorizer will help this particular area smell better. I did clean it (so don't think I didn't) – but it needed some help on top of the cleaning.
Since I have small kiddos … using chemical cleansers is a no-go for me; I try to use what I have at home to remedy things and it works great for us. It's lower in cost, and allows me to have more control over what is in our cabinet.
I LOVE my Essential Oils, and they are a huge part of our household – they are concentrated super powered plants that you can use aromatically, internally and even topically. Just remember… that not all Essential Oils can be used internally (read HERE to hear more about the difference in essential oils).
This recipe for Homemade Carpet Deodorizer with Essential Oils is relatively easy to put together – I threw it together in a jar in less than 30 seconds, and cut a lid for the top in less than a minute.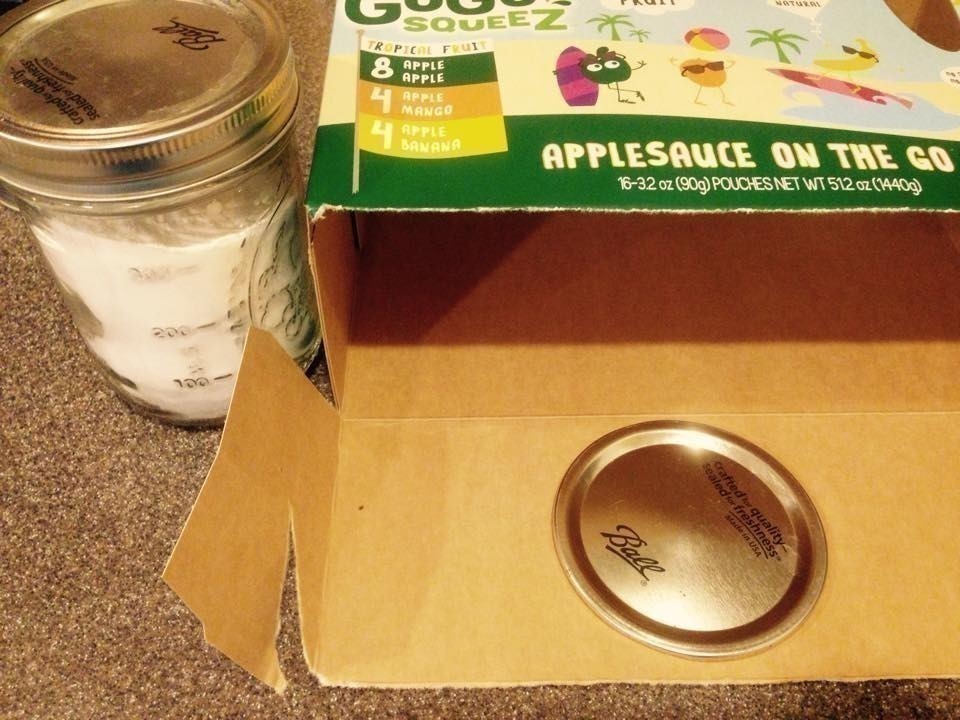 I used a GoGo SqueeZ Box that we had in the pantry to trace & cut a lid, then I popped that lid into the top of the ball canning ring and made my own holes to sprinkle the deodorizer out.
Homemade Carpet Deodorizer
1 box of Baking Soda (I had 3 boxes in the cabinet that I combined together into ONE jar)
1 Mason Jar – make your own lid
Sprinkle on your carpet, and then let it sit 5-10 minutes – then vacuum it up.
Purification Essential Oil is my FAVORITE for this... but you don't have to use that specific one – you can use any other combination of oils if you wish. If you have been reading the blog over the last year we wrote a post to show you ten ways to use Purification (I actually also use it in my laundry!)
Combine Lavender and Lemon…. or, Joy, or you can also use Bergamot too.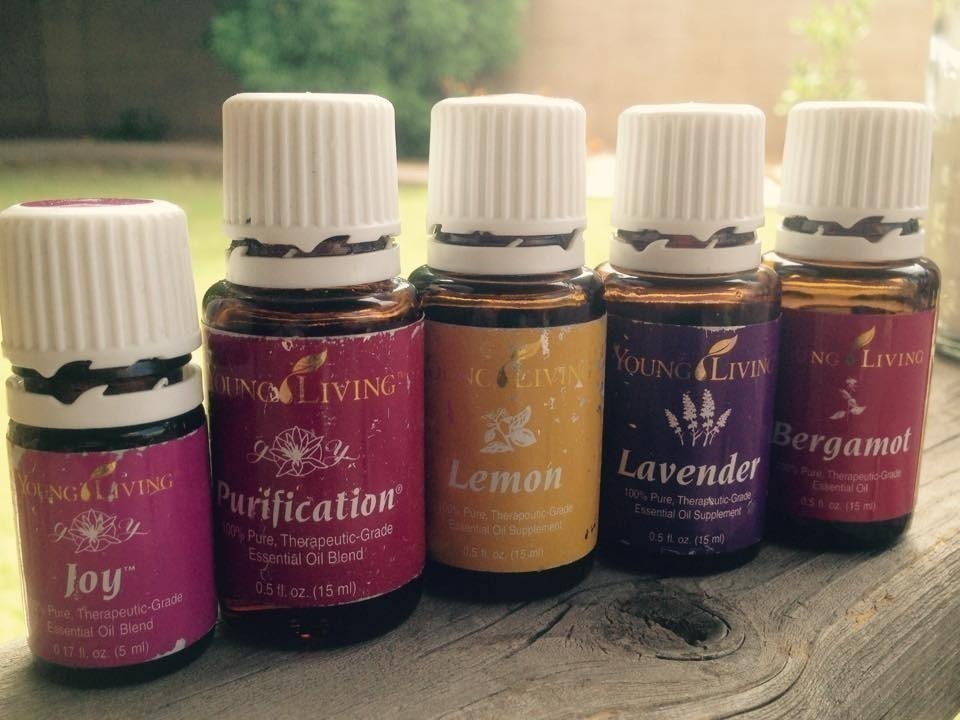 We use Young Living because they are the only company that has their own farms & can guarantee that no pesticides or herbicides are used. They do their testing with their own equipment, and they are in charge of their own essential oil farming operations… I love their Seed to Seal Promise.
Right now we have a nice BONUS promotion with Young Living – a HUGE starter Kit with 11 Oils, a Diffuser, FREE Reference Material & a $20 Target Gift Card. Not to mention you'll score 24% OFF future purchases.
Not sure what these oils can do to help you? Check out this reference guide ~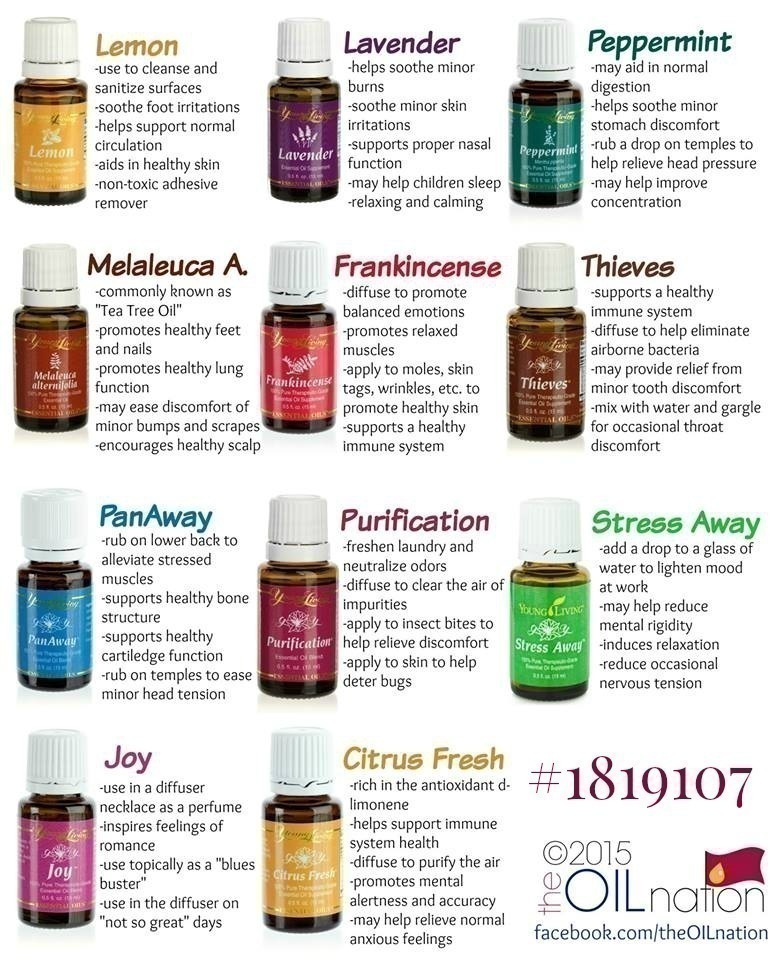 It's a great way to get started and learn more about how they can help your family (and includes some of the best for helping you find sleep, help with seasonal relief & more). Read more about the promotion on our last post HERE.
Disclaimer: These statements have not been evaluated by the Food and Drug Administration (FDA). These products are not intended to diagnose, treat, cure, or prevent any disease.
AND…Please try to remember that I am a Mom, and not a doctor. I love using homeopathic remedies for health in our own home, and likewise, I like to share those ideas with you. Do use your own best judgement for your household.